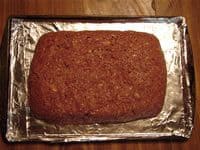 My meat loaf recipe is to die for and I am going to share it with you here on the site.
Several years ago I decided to try a meat loaf on the smoker (my wife thought I was nuts).
I had her mix up the meat loaf recipe like she normally would with all of the onions and green bell peppers and ketchup and red pepper flakes and a couple of eggs to help the 80/20 beef stick together better and then formed it into a rectangular shape about 2 inches thick onto a square cookie sheet.
Meat loaf Into the Smoker

I fired up the smoker with some mesquite wood and placed the meat loaf on the grate with a digital meat thermometer stuck into the center of it so I would know when it reached its perfect temp without having to open the smoker.
Note: Keep the meatloaf on the cookie sheet while it smokes.. it is a bit too fragile to place directly on the grate.
Update: Muffin Pan Meatloaf Experiment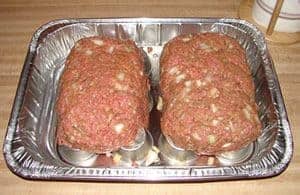 I have tried it since on a muffin pan to keep the meatloaf up out of the juices while still allowing the juices to collect in a container. It works pretty good if you are not after "pretty" food. Otherwise, it is not a great choice.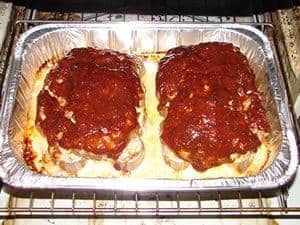 Here is is finished and as you can see.. it is really delicious but not as pretty as it could be. I did smother it with my own special barbecue sauce just about 30 minutes before it got finished and it was absolutely mouth watering good!
In this picture, I had it in the oven staying warm until dinner;-)
Back to the original smoked meat loaf..

I smoked it at around 250 degrees for 3 to 4 hours until the center registered 160 degrees.
Folks… that was the best meat loaf I had ever eaten and I have had my share of meat loaf!
I knew right then and there that this would be the meat loaf recipe my family would use for years to come… possibly for centuries to come.
If you want to try something a little different and blow everyone away then I recommend you give this a try.
I have listed a meat loaf recipe below that you can mix up and of course feel free to add, modify or take away ingredients as you see fit.
Simply form it onto a cookie sheet and smoke it like you would anything else with your favorite wood.
Good Luck and happy eating!
Easy Meat Loaf Recipe

2 lbs. ground beef
1 small onion finely chopped
1/2 green pepper finely chopped
2 cloves garlic minced (optional)
1 C. fresh bread crumbs or saltine cracker crumbs
2 eggs lightly beaten
3/4 C. ketchup
1/4 C. milk
Mix all ingredients in a bowl. blend the mixture about 4-5 minutes and then form onto a flat cookie sheet.
You can finish the top with ketchup or barbecue sauce if you like about 30 minutes before the meatloaf is finished smoking.