Hello friends and welcome to the August 2009 issue of the smoking meat newsletter. I am so excited this month due to the fact that we are talking about one of my favorite foods.. smoked buffalo chicken wings!!
Now I love buffalo wings the traditional way but I have never really got into smoking them or trying to do something different with them.
I received an email from a friend of mine at Bruce Foods (the guys who make the Cajun injector and Louisiana hot sauce) and he was telling me how their chefs had gotten together and mixed some wing sauce with barbecue sauce to really kick up the flavor of traditional buffalo chicken wings.
This got me to thinking which can sometimes be dangerous or even fatal but this time it worked out ok;-)
Read more on this in a bit..
Smoking-Meat.com in the Tulsa World!!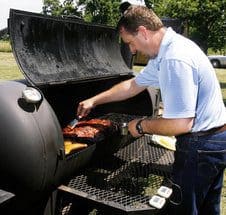 On July 1st, 2009 Smoking-Meat.com was featured in a full page article in the SCENE section of the Tulsa World, Oklahoma's second largest newspaper. We thought this was pretty good and thought you might like to share in our celebrating;-)
Read the archived article here
Injected/Smoked Buffalo Chicken Drumsticks
I decided to do something along the same lines except..
I would use drumsticks.. I would smoke them.. I would use my very own barbecue sauce recipe mixed with my new favorite wing sauce.. I would roll them in flour when they were finished and fry them up nice and crispy just like I like them.. and douse them with the wonderful sauce.
All of this with one little addition..
I would inject the sauce mixture inside of them as well just before smoking them.
———————————————————-
Here is the link to the Louisiana Wildly Wicked Wing Sauce that I used to mix with my barbecue sauce. You can probably find it at your local grocer with the barbecue sauce and other wing sauces.
If you can't find it then you can go to their website and order it pretty inexpensively (below).  I included a picture/link so you would know what to look for.This stuff is better than Franks in my opinion..you have to at least try it;-)
———————————————————-
My wife can tell you that when I get something in my head it is better just to leave me alone and let me go at whatever I am working on. I just won't be happy until that happens.
Well this happened with the drumsticks.. I have been playing with the Cajun Injector for a while now and I have to say that I am being totally won over to the idea of injecting juices, sauces, marinades, etc. into the meat before smoking it.
Creating the Perfect Sauce
The first step in this process was to find the absolute perfect ratio of wing sauce to my barbecue sauce so that it was not too hot but had a nice kick to it. I also wanted the barbecue sauce flavor notes to shine through as well.
After several hours of testing and chasing my wife around the house begging her to take yet another bite to see if was better than the last one.. I (she) decided that it was perfect;-)
For those of you who have had my barbecue sauce recipe you know that it is unlike any you have ever tasted.. it is the result of years of testing and changing until it morphed into this barbecue sauce from heaven.. (I am not conceited about it.. just confident).
Well you need my barbecue sauce recipe to make the smoked buffalo chicken wings.. er.. drumsticks the same way that I did but believe me when I say that it is so worth it.
The recipe that I came up with is below.
Injecting Sauce into the Chicken Drumsticks
I used the really nice, heavy duty Cajun Injector and injected about 3/4 ounce of this mixture into each drumstick just before placing them into the smoker.
I pressed the sharp end into the meat in about 3 different spots to try and get the liquid all inside the drumstick.
I highly recommend pouring about 2 cups of the mixture into a separate container for injecting that way the whole batch is not contaminated.
Smoking the Buffalo Chicken Drumsticks
Place the drumsticks directly onto the grate at about 230 degrees F. for 2 hours or until they reach about 165 degrees.
I used mesquite chips for about the first 90 minutes but I wanted a really smoky flavor. Feel free to use your own favorite wood.
Frying the Smoked Chicken Drumsticks
When the drumsticks were finished cooking I brought them in, brushed on melted butter, rolled them in flour and fried them up real nice in hot oil. After frying them, I doused them real good with the barbecue wing sauce mixture and placed them in the warm oven to await dinnertime.. not before eating a couple though!
This was the BEST Buffalo Chicken I had Ever Tasted!
These were the absolute best hot wings.. buffalo chicken wings I have ever tasted hands down. I knew at that moment that I had to share this recipe with my friends and here you have it.
The Entire Recipe in a Nutshell
I have paraphrased the entire recipe below:
Ingredients:
2 Packages of Drumsticks (about 26 pieces)
1 lb of butter
1 bottle of Louisiana Wildly Wicked Wing Sauce
Enough oil to fill large skillet
2-3 cups all-purpose flour
Jeff's Barbecue Sauce Recipe
Instructions for Barbecue Wing Sauce Mixture:
*Make a full batch of Jeff's Barbecue sauce following instructions carefully in a medium sized pot
*Melt 2.5 sticks of butter in microwave safe container
*Pour melted butter and 10 ounces of Louisiana Wildly Wicked Wing sauce into the barbecue sauce
*Mix together until well blended.
*Taste a little and allow yourself to be very happy
Instructions for Making Buffalo Drumsticks:
Wash and drain drumsticks
Inject about 3/4 ounce of the Barbecue Wing Sauce mixture into each drumstick using about 3 different locations
Smoke drumsticks for about 2 hours or until they reach 165 degrees F.
Heat oil in large frying pan
Melt a stick of butter
brush melted butter onto each drumstick
Roll Drumstick in all-purpose flour
Fry drumstick in oil for about 45 seconds.
Turn drumstick to other side and fry for another 45 seconds or until golden brown.
Brush on Barbecue Wing Sauce mixture and place in warm oven until ready to eat
Other uses for this amazing Barbecue Wing Sauce mixture include the following:
Scrambled/Fried eggs
French Fries
Chicken Strips
Hamburger Sauce
Salad Dressing??
I have tried all of these except for the Hamburgers and the Salad Dressing but I know it would work;-)
If you try this stuff and find it to be the best you ever had then please let me know.. if it is NOT the best you ever had then just keep it to yourself ;-)
Smoking Basics eCourse
I have had many of you asking for a re-send on the eCourse either for all of it or on days that were missed. This is usually due to a spam filter and is not preventable on my end.
For this reason I am offering this as a free download to newsletter subscribers. I have been doing this for a few months now but wanted to make sure that all of the new subscribers were aware of this freebie.
Download the entire eBook at https://www.smoking-meat.com/smoking-basics-ecourse-complete.pdf
My Famous Recipes – Make Them Yours!!
If you want to buy the store variety then by all means do so but if you want to wow your family with the best rub and sauce you have ever tasted then you can do that with my very own rub and sauce recipes.
I offer the recipes that allow you to make this right in your own kitchen and you will find the kids as well as other family members trying to sneak bites of it right out of the pan!
It is that good!
Here is a few emails I just received from some very happy customers:
———————————-
I have played with different rubs from various places, but your Rub and sauce kick butt no since looking any more this is it!!!!!
———————————-
Thank you for the great advice and for your rub and sauce recipe.  It's the best among the thousands that are out there!  My guests always say it's the best barbeque they've ever had.
———————————-
I purchased your rub and sauce recipe a month ago. I have tried almost every brand on the market, nothing comes close to this! It is good on anything. I can't keep from eating it while it is simmering on the stove!
———————————-
Jeff, your rib rub is the absolute bomb!!! Have used it on chicken, ribs, and used it yesterday on brisket.  Best brisket I've ever had.  Only the second time I've smoked anything.  Thank you for making this amateur look like a pro
———————————-
Jeff just wanted to say thanks….I made 4 slabs of baby backs today with the rub recipe and they were to "DIE FOR" I never even added a drop of sauce to them they were that good.. One of these days I'll make the sauce recipe and I could only guess that it to will be just as good …… Thanks Again for all the tips of the trade
———————————-
You deserve the very best and is is completely within your grasp! Only $18.95 and worth every penny.
Note: If you do not receive a download email within minutes of ordering, please shoot me an email letting me know and I will send the file to you as an attachment in an email.
Some Helpful Links
Smoking Ribs – /smoking-ribs
3-2-1 Ribs – /smoked-rib-recipe
Smoking Chicken – /smoking-chicken
Smoking Meatloaf – /meat-loaf-recipe
Smoked Pork Shoulder – /pork-shoulder-recipe
Join Me On Facebook and Twitter
As many of you know, I am now on Facebook and Twitter.. you get to see a little of my personal life as well as my posts about smoking meat throughout the week.
I would love for you to join me!
Facebook: http://www.facebook.com/tulsajeff
Twitter: http://twitter.com/tulsajeff