Barbecue supplies and equipment do not have to be top notch or expensive in order to smoke great meat!
[wptouch target="non-mobile"][raw_html_snippet id="adsense_after_p1"][/wptouch]
Amateur smokers sometimes feel they have to have the big stainless steel smokers and a big trailer to pull it on and all of the fancy gadgets and other miscellaneous barbecue supplies that go along with it to produce good smoked meat.
The truth is… the smoker and all of those gadgets play a very small part in the process. Sure that stuff is nice to have but it will not affect the taste of your meat. I have produced some of my best stuff in some "run of the mill" home-built barrel smoker with the bottom rusting out of it.
If you can afford the nice barbecue supplies and equipment then by all means Go For It but never feel like you cannot smoke a good brisket or slab of ribs without these things… YOU CAN!
When I started smoking years ago I had found an old Brinkmann water smoker at a flea market…I brought the thing home, cleaned it up and I learned to smoke on that thing.
The temperature guage just said WARM, IDEAL and HOT so I figured if I kept it on the very bottom end of ideal then it was around 200 degrees. You can still find these brand new and they work great believe it or not.
Here is a similar one I found at Amazon:

Char-Broil 4654301 Charcoal Water Smoker I have smoked many a turkey on one of them things and I had lots of fans too.
My Favorite charcoal smoker of all time is a Weber Smokey Mountain 22.5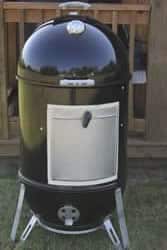 Some other barbecue supplies and equipment that I recommend are a Taylor meat thermometer for safety purposes and to let you know whan the meat is at the perfect temperature.
I have 4 of these babies so I can monitor the temperature of the meat in all areas of my smoker. I have these set up on a special rack that I made for the top of my smoker… my favorite sister-in-law says my smoking area looks like a "lab" ;-)

Taylor Digital Oven Thermometer/Timer
Here is my newest favorite remote meat thermometer. It is the Maverick ET-732, has a 300 foot range and dual probes. One for the ambient smoker temperature and one for the food. I have had one for a while now and I love it!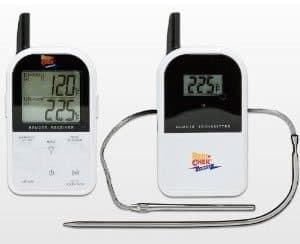 Fingers are not meant to be smoked… wear cooking gloves and be kind to the precious digits attached to your hand.

Eastman Outdoors 13-Inch Cooking Gloves
I have a barbecue tool set that I have been using for years. Cooking outdoors is so much better when you have the RIGHT tools. This item makes a great gift!

Charcoal Companion 19-Piece Stainless-Steel Barbecue Set
A rib rack is a must have item for anyone who wants to get more ribs in their smoker. It allows the ribs to stand vertically. As you can see by the picture, it can be used for other meat items as well. I just happen to be the very proud owner of 2 rib racks…would not live without them!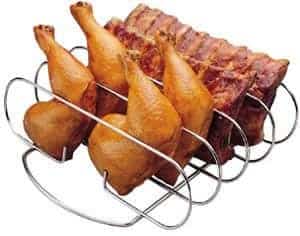 …and here is some wood chips/chunks so you can experiment with different smoke flavorings.