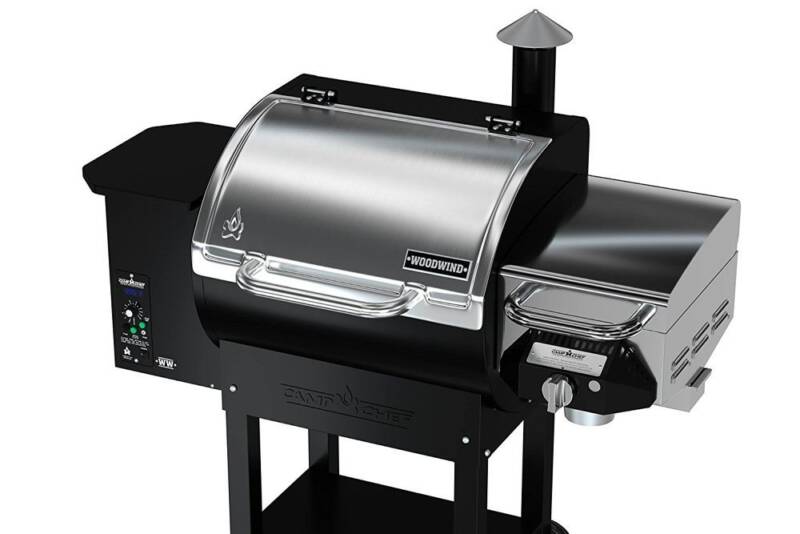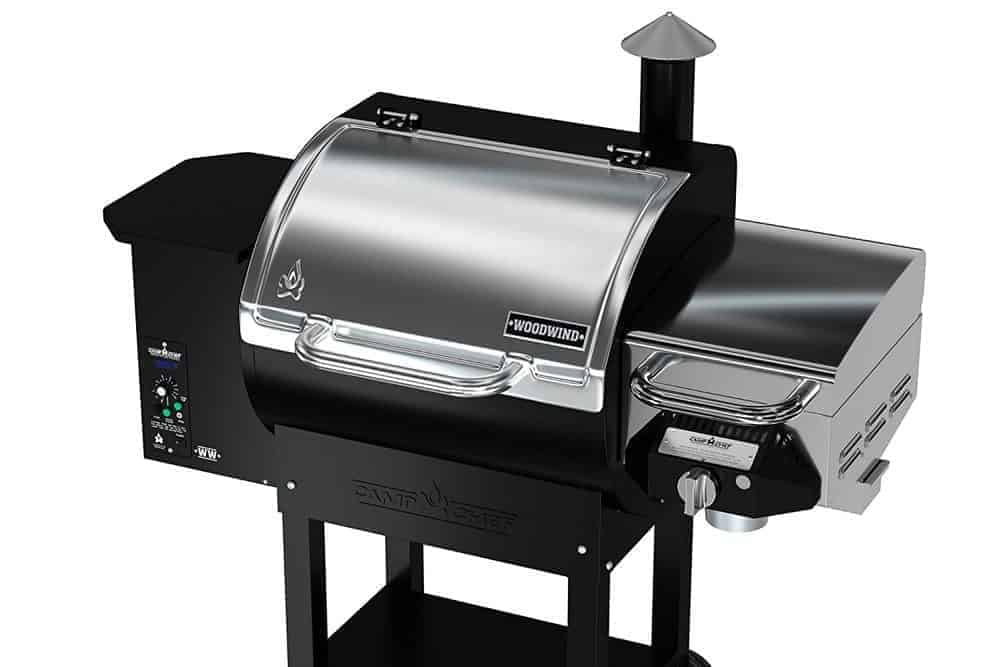 Let me just say that this is a great smoker and if you are looking for an easy to use smoker that uses REAL WOOD pellets for both heat and smoke, then this is the smoker to buy.
As you read down the page, I will talk about the various aspects of this smoker but if already know that you want one, then why not go ahead and get one on the way. With FREE shipping and a super awesome 3 year warranty, you really can't beat it!
Note: We do get a small commission when you purchase some of the products on this website, this one included and for that reason, I am very careful to promote ONLY the products that I absolutely love and recommend.
Here's  what showed up on my doorstep on delivery day.. boy was I excited!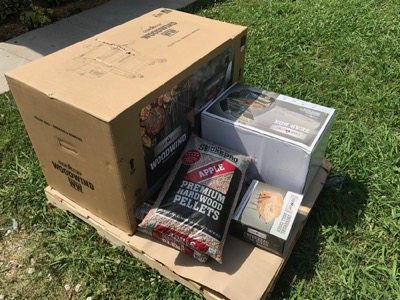 Sweet!
Putting it Together
It took me a couple of hours to remove the packing and put the grill together but of course, I was taking pictures and notes so that slowed me down some.
The assembly instructions are all of (2) pages with each section clearly explained and shown with pictures. Like most men (and some women I suppose), I tried to figure it out first and only consulted the directions when I got stumped =)
Seasoning
During unpacking, I noticed that several of the bare metal parts such as the grease drain pan were covered in oil and had to be wiped off with a paper towel. This is to prevent it from rusting during storage and shipping and is why it is extremely important to run the pellet grill for a couple of hours at normal smoking temperatures or a little higher before using it to cook food.
This "seasoning" process allows the oil to burn off so the flavors in your food come from smoke rather than manufacturing oils.
To season the Woodwind:
Camp Chef says to run the pellet grill at 350℉ for 30 minutes before cooking food to burn off oils used in manufacturing and to cure the paint.
After this seasoning process, the Woodwind is ready to use.
My Review
Most pellet smokers work on the same premise in that there's a hopper full of pellets. Those pellets get pulled into the firepot via an auger where they burn and that provides both heat and smoke.
To judge the other pellet smokers against smokers in the Camp Chef lineup, specifically the Woodwind, you have to look at the features, available add-ons and even the smoke production and level of smoke flavor.
Camp Chef has come to the table with several add-ons, features and capabilities that push them to the top of the pile in my opinion.
Here's the official feature list from the website:
Electric auto-start ignition
Dual LED temperature readout
Easy setting selection system
Automatic pellet auger
Included warming rack
Included meat probe
Patented Ash Cleanout system
Large capacity pellet hopper
Included recipe booklet
Pellet hopper cleanout and purge
160º F up to 500º F temperature range for slow smoking to grilling
Included bottom shelf
Four wheeled legs for easy movement
Smoke
Ultimately, when it comes to smokers, it's the resulting smoke flavor that sells me on the product.
The Camp Chef model has  a typical looking pellet grill controller but when you look at it closer,  it has a couple of extra settings. One for "Hi smoke" and one for "Lo smoke" both of which are engineered to produce more smoke while maintaining the set temperature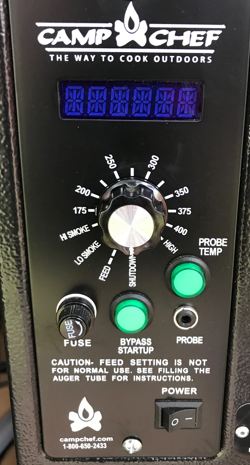 The Lo Smoke setting maintains an average of 160℉ and should be perfect for jerky, cool smoking fish, etc.
The Hi Smoke setting maintains an average of about 220℉. I have been using the Hi Smoke setting and not only getting great smoke flavor but beautiful smoke rings as well.
Like most pellet smokers, the chimney cap can be adjusted to allow more or less smoke out and this can make a difference in the smoke flavor as well.
Features
Dump Shoot for the Hopper
This may be a feature on some other brands of pellet smokers at higher price points however, it is not a feature that I have seen on other brands of smokers at the same price point.
I can't even tell you how many times I have used a plastic cup or my hands to dip out handful after handful of pellets in an effort to change out the pellets on other pellet smokers such as the Traeger. Doable but it's a slight aggrivation.
On the Camp Chef Woodwind, you will notice a chute at the rear of the hopper, located at the bottom and angled downward. Pull out the knob on the side of the hopper and the pellets come pouring out into whatever container you choose.
There's even a hook on the drain chute so you can hang a plastic pail to catch them in. Sweet!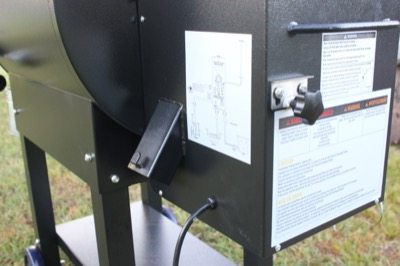 You no longer have to dip out the pellets or forego pellet changes until they all burn up, you want a different flavor of pellet today? No problem!
Ash Cup
Most other pellet smokers have no method for catching the ashes and easily emptying them after each use. I have been vacuuming out my Traeger after every use since I've owned it. Heck, I even have a special vacuum for it that can withstand reasonably warm ashes so I don't have to wait to long to clean up after I'm done cooking.
Note: If you have a pellet smoker that requires vacuuming, you need one of these! The canister is made of metal and the ends of the hoses are metal so you can vacuum ashes out of the smoker, fireplace, or grill before they cool down completely.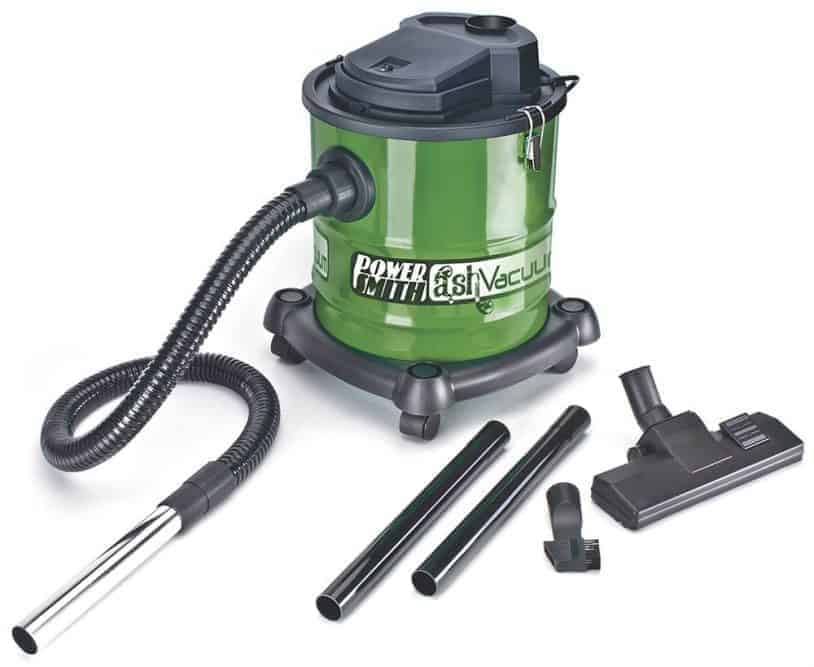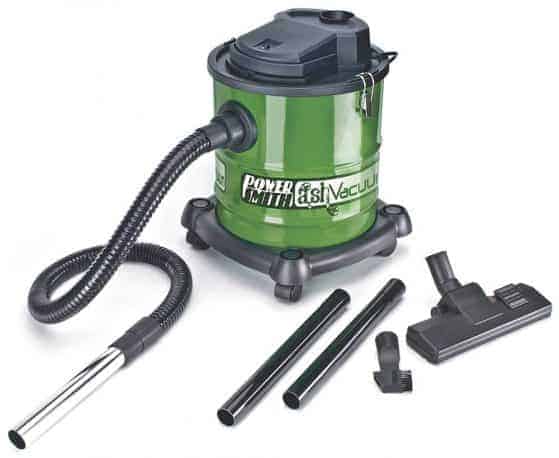 Enter the Woodwind– there's a really handy little ash cup on the bottom that catches the ashes.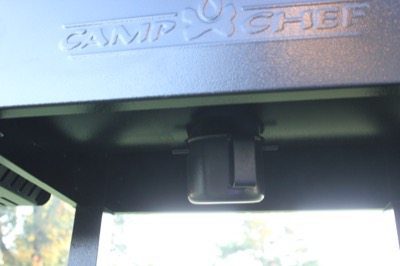 Like the chute on the hopper, there's a knob on the right side of the smoker that allows the ashes to drop down into the cup when you pull it open.
You can still vacuum out the inside of the pellet grill from time to time to keep it clean since some ashes do end up  in the bottom of the smoke chamber but you no longer have to do it in order to cook. The ash cup keeps the ashes out of the firepot so it can work like a brand new one every time you fire it up.
It seems like such an easy fix for a problem that's been plaguing pellet grill owners for a long time, Camp Chef solved it and it's a brilliant feature that saves me a ton of time.
Sear Box
This is an add-on but one that I highly recommend.
How many times do we get finished smoking things like steaks, chicken, etc. and we need to put a sear on something or crisp up the skin on the chicken or get some grill marks on the burgers or hotdogs? I don't know about you, but I usually fire up the grill or use the broiler in my oven to take care of these items that need a little extra something.
Camp Chef has created a somewhat small but very useful propane fueled grill that attaches to the right side of the unit. This sear box is capable of temperatures as high as 900℉ and with the heavy duty cast iron grate you can lay out some awesome grill marks and a nice sear without ever leaving the pellet grill.
The surface area is about 12″ x 16″ and 184 square inches of cooking area.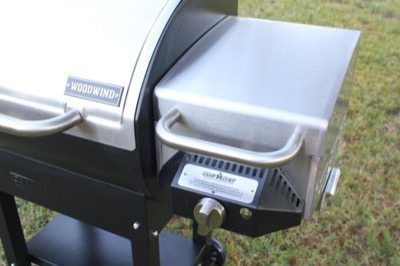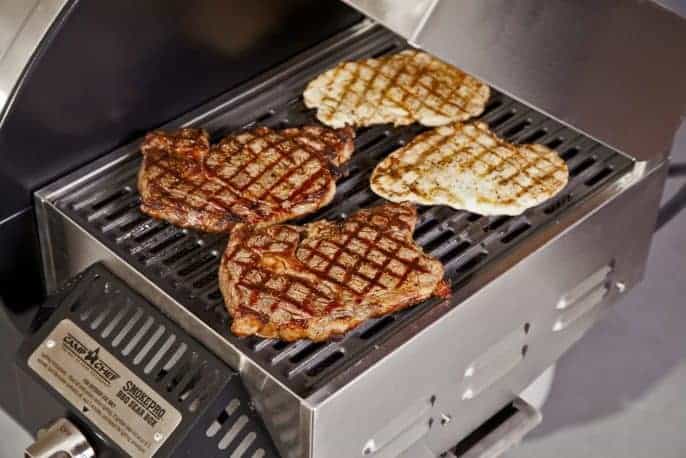 There's a piece of metal between the flames and the grate that contains hundreds of small holes to allow the heat thru but discourage the grease from dripping through and causing flare ups. It's called the flavor screen and does a pretty good job in my opinion.
This pellet grill also comes with a probe input on the control panel and a meat probe. This allows you to monitor the temperature of the meat you are cooking via the control panel.
The probe is passed into the smoke chamber via a small port in the top left side of the smoke chamber.
You can also push a button on the control panel to see the meat temperature or the pit temperature as you desire.
Along with the features I have mentioned, here's a few specs on the smoker that may interest you:
Hopper
Holds about 16-18 lbs of pellets. At normal smoking temperatures, you can expect to go through about 1 lb of pellets per hour.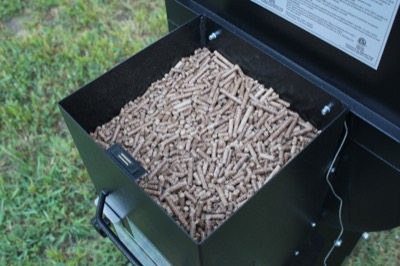 Cooking and Warming Grate
The cooking grate is coated with porcelain and is 19.5″ x 22″.
The smoking/warming grate sits above the cooking grate and is 6″ deep and 24″ wide. It can be used for cooking or to keep things warm while the other food cooks. This comes standard on the Woodwind and is NOT an add on. Many of the other pellet grills require you to purchase extra grates.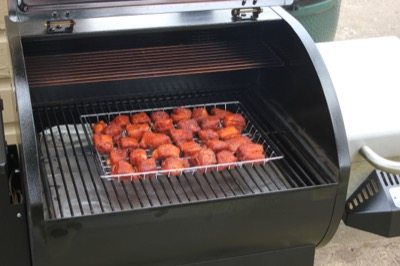 The Camp Chef Woodwind is capable of temperatures between 160 degrees and about 500 degrees making it the perfect unit for cool smoking, hot smoking, braising, baking, grilling, barbecuing and searing.
In case you can't tell, I'm a huge fan of the Camp Chef Woodwind simply because it's easier to use and maintain. I can maintain and use the Traeger and other pellet grills in the same way, but I just work a little harder doing it.
If you haven't watched their video, it'll demonstrate most of what I've mentioned above. Check it out at https://www.smoking-meat.com/woodwind.
I love to promote great products and this here is one of those products that I love to use and I know you will too.
I will add more to this review as I use it and find out new tips and tricks.
Cost and How to Purchase
The unit is $899 if you get the sear box with it, or if you opt to get the unit without the sear box, it's only $699. A steal of a deal in my opinion considering what you get and how well it works not to mention all of the new friends that will start hanging around your house. You just can't put a price on that!
Now go on over to the Camp Chef website to learn more or you can purchase it and get your new "baby" on the way today with FREE shipping and an unheard of 3-year warranty.

Please let me know if you have further questions about this pellet grill.
I would also like to hear your own personal reviews and feedback on the Woodwind pellet grill in the comments area below.