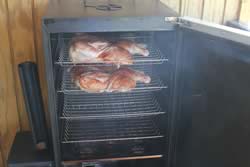 As far as electric meat smokers go, you can knock them but for the ease and convenience factor they are hard to beat for everyday smoke cooking.
[wptouch target="non-mobile"][raw_html_snippet id="adsense_after_p1"][/wptouch]
I now own a Cajun Injector smoker which is electric and a Bradley 4-rack smoker which is electric and I have to say that these models actually do very well and depending on your circumstances, may be exactly what you need especially if you live in an apartment or an area where open flames are not allowed.
I suppose the biggest reason some people decide to use an electric meat smoker is for convenience. You will not find most purists using one (something I am not).. they like to tend the smoker the old fashioned way and find great pleasure in the bond between man, wood, and fire.
When it's all said and done, an electric unit allows a complete novice to be able to turn out a pretty good piece of smoked meat with very little knowledge or skill.
It also allows an expert to smoke a piece of meat almost completely unattended while taking care of other duties.
I borrowed an electric meat smoker several years ago before I had units of my own just to get a feel for the unit and to decide for myself the advantages and disadvantages to using an electric unit.
I was immediately put out by the fact that it had no way of adjusting the temp. I understand now that some models have temperature controls and some do not but that really aggravated me right off the bat.
I had selected some choice spare ribs for the occasion and had them all ready for the smoker only to discover that the ribs would not fit on the rack.
I had did not have my weber rib racks with me and so I rolled the ribs into a circle using a metal skewer to hold it intack and set the ribs vertically on the metal grate.
The meat was done sooner than expected which led me to believe that the smoker cooked hotter than the normal 220-230 range that I liked.
We have discussed this to some degree in the forum and it was discovered that you can in fact buy an electric smoker with temperature control or just install a rheostat in line like a dimmer switch for lights but with a
higher amperage rating.
An electric smoker in my opinion is only good for those who do not want the hassle of having to watch the smoker and work at maintaining the correct smoking temperatures. I have friends who feel this way and that is perfectly fine however, for someone like myself who enjoys a little more control even if that means I must stay close by during the entire smoke, it is not recommended.
Update

I wrote that article more than six years ago and it seems as I get older that comfort means more and more to me. I rarely do the all-night cooks any more and believe it or not, the electric models are looking more tempting especially now that I own a couple of models that allow me to set the actual temperature that I want it to maintain.
Cajun Injector

A company by the name of Cajun Injector sent me a cabinet style electric smoker several years ago to try out and I have been quite impressed believe it or not. It is an insulated cabinet with five racks..well four and a half I guess.. with a side chute for adding wood chips or pellets. It also has a pan in the bottom to catch drippings and a water pan for adding some moisture to the air and to create a barrier between the heat and the meat.
The heat/timer controls are completely digital and allow you to set it to maintain a certain temperature for a certain time.
All in all, if you are in the market for an electric smoker then this type of smoker is a great unit. You just can't beat how easy it is to use but I don't want to give the impression that it is a hands-off model. You will still need to add wood chips or pellets about every 30 minutes or so and perhaps more often than that depending on what type of wood you use.
I plan to experiment with putting a few larger wood chunks in the chip tray to see if I can get more smoke time out of it. But until then, just not having to deal with the temperature fluctuations of a charcoal or wood smoker is nice at times and makes this a very nice unit to keep on the patio for those special occasions.
There are also other electric models which are much more expensive but do take the cooking to a higher level such as the Traeger and the Bradley units which the ability to feed smoking wood, in the form of pellets or bisquits, to the firebox.
This particular model is no longer available from Cajun Injector however, a very similar smoker to this model is the Masterbuilt 30-inch electric smokehouse and can be purchased via Amazon.com by clicking HERE.
I have also received a test unit from Bradley which I have come to really enjoy using. It is a lot more hands off than the Cajun in that you load it up with "pucks" of wood and the smoker unit feeds a new "puck" every 20 minutes to keep the smoke going steady for hours on end.
Using the Bradley smoker, you could essentially, load it up with meat, set your temperature and your smoke time and leave the unit completely unattended for quite a while. Many folks may find this quite tempting!
I love it when I have things to do that take me away from the house but also have food that needs to be cooked.. it certainly does the job for you when you just can't be there to do it yourself.
This smoker is available on Amazon.com with free shipping by clicking here.
Also see my articles on the wood smoker and the propane gas smoker.