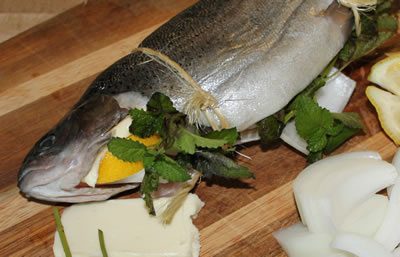 Hello and welcome to the February 2007 edition of the Smoking Meat Newsletter! With warmer weather on the horizon I am beginning to feel a little more gung ho about being outdoors. Lately, I find myself dreaming of finishing up long, put off outdoor projects as I lazily watch thin blue smoke puff out of my smoker and disappear into the distance.
Here in my neck of the woods, the season for trout fishing is drawing to a close as the waters get warmer and these cold water fish dive into cooler waters down below in an attempt to escape the inevitable end that summer brings here in Oklahoma.
I realize I don't have too many more fishing days left but until then you can rest assured that I will be smoking some now and then in my smoker while I can still get them fresh.
I also realized that I have not discussed smoking trout in this newsletter and I think it deserves more than just an honorable mention.
In case you have not caught on yet… In this edition we are going to discuss delicious smoked trout and while I am extremely partial to trout, this process will also work on other types of fish as well for a really, tasty dish.
Here is the lineup for this month.. enjoy!
How to Smoke Trout
My personal method for cleaning, brining, smoking and eating smoked trout
Introduction
Smoking trout is something that we have not covered and while you may not have access to trout specifically, this method of smoking will work on other fish as well.
I usually do not brine trout however, I will cover it in case you want to try it.
Preparing the Trout
In cleaning the trout it is best to cut the fish's head off and then make a shallow incision from the anus to the gills. You can then hold the fish up with one hand and use the other hand to gut the fish making sure to get the bloodline that runs along the length of the fish.
Wash the fish in some salty water to help get rid of any bad flavors and lay the fish aside for brining.
Brining Trout
I use a pretty basic brine that basically consists of the following:
2 Cups Water
2 TBS Kosher Salt
1 TBS Cajun Seasoning
Feel free to add some hot sauce, wine, pepper, low sodium soy sauce, etc.
Let the fish brine completely covered for about an hour making sure the brine is able to get into the inside of the fish as well as the outside.
Once brining has completed, lay the fish on a paper towel and let the skin dry a little while you get the smoker ready.
Smoking the Trout
Prepare the smoker for about 150 degrees with a mild wood such as pecan, apple, oak or alder. Regular smoking woods like hickory and mesquite can be a little strong for fish in my opinion.
Lay the trout directly on the grate leaving space between them and laying them open so the smoke can access all parts of the fish.
Let the fish smoke for about 25-30 minutes at this low temperature to help dry the outside of the fish so that it can be firmer in the later stages of smoking.
After about 30 minutes raise the temperature on up to about 225 degrees to finish the smoking process.
Most fish is safe to eat at 145 degrees and much beyond this the fish will start to dry out too much.
Here in Oklahoma the fish range from about 8 to 10 inches on average and this size will be ready to take out of the smoker in about an hour.
Eating the Trout
The trout can be eaten as is with some good sides like hush puppies and cole slaw or the meat can be removed from the skin, flaked and used as a dip like the recipe below:
Trout Dip
3/4 pound smoked trout
1 package (8 ounces) softened Cream cheese
2 tablespoons half and half
2 tablespoons lemon juice
1/4 teaspoon garlic salt
Instructions
Remove bones and flake the fish. Combine all ingredients mixing thoroughly. Chill. Serve with assorted crackers, chips or vegetables.
Other Fish
This procedure can be used with other fish like salmon, tilapia, catfish, crappie, etc. with varying results depending on what types of fish you and your family like to eat. Chances are good that if you like the fish fried or baked then you will absolutely love it smoked.
Go ahead.. give it a try and if you do not have a chance to go fishing then pick up some fresh fish at the market. It may not be quite as fresh but I can guarantee you that it will be delicious right out of the smoker.
By the Way..
If you have not taken advantage of my rib rub and barbecue sauce recipes then I think you should take care of that right now.. the sales of recipes and other products are what keeps this website going day after day, week after week, month after month and year after year.
Many of you have been so generous in giving money to the tip jar at the top left of this page and that is appreciated so much.
I get emails almost daily from good folks telling me how the rub and sauce recipes are worth every penny and are absolutely the best they have ever eaten.. here is one of those emails..
Jeff, I'm a rank amateur at this smoking but I bought your rub recipe Saturday and did my first spare ribs. They were terrific!
Dennis
Thank you for supporting the greatest smoking meat site online with your finances (every dollar counts) and in return I promise to keep answering emails, writing newsletters, producing helpful products and doing everything in my power to support your smoking habit!
The Smoking Meat Store
As we have mentioned before.. the Smoking Meat Store is up and running and the neat thing is that it could be a huge money saver for you on certain items. The store carries many different types of smoker and smoker supplies and most items over $25 ships FREE!
This could potentially save you money and help support the website all at the same time.. a WINNING combination.
Head on over to the Smoking Meat Store
Jeff's Naked Rib Rub and BBQ Sauce Recipes
If you are truly serious about barbecue and cooking outdoors for family and friends then you need my rub and sauce recipes. It is the two tools that you absolutely need in your barbecue toolbox and the are the second most important investment next to your smoker in my opinion and lots of folks agree.
These recipes are a result of my passion for barbecue and smoked meat and I am only too happy to hear when they are a huge success at your house.
If you would like to experience these recipes for yourself (and you should) simply click the link below to read more testimonies or click here to go ahead and order.
Note: This is an immediate download which means just as soon as you order you should receive a download link within minutes.
Please email me right away if you do not receive an email within just a few minutes of ordering so I can jump into action and find out what is going on.
I have an outside company that handles this for me and I have to keep them on their toes.. my goal is 100% satisfaction and I won't be satisfied until you are. I PROMISE.