Hello and welcome to the June edition of the Smoking Meat Newsletter home of the hottest smokin' topics month after month bar none!
Last month we discussed one of my favorite grilling items.. country style ribs and if you missed that issue then I think you should check it out soon by clicking here.
I have been looking forward to this June issue with great anticipation and today I got to eat the results of the topic at hand.. delicious smoked meatloaf.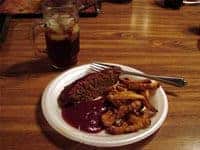 Now I have been doing this for quite some time now.. years actually. I started doing it back before you ever heard about it online or in the scores of BBQ forums across the internet.
I am sure I was not the only one doing it but you just never heard talk of it much like you do now.
After trying various recipes and concoctions and trying to come up with the most perfect meatloaf I have decided that there is not a perfect recipe.
The most perfect recipe is taking your very own family recipes whether it be Mom's famous meatloaf or Grandma's country style meatloaf or that recipe that has been passed down for generations in it's own unique way and just simply apply smoke to it.
Now I am going to show you how I do it and I happen to think that mine is absolutely heavenly but yours may be too if you apply some smoke to it.
Jeff's Heavenly Smoked Meatloaf
For this recipe I tried to keep the ingredient list very simple and to me that makes the recipe easy to follow and something you can whip up anytime since you will have most of these ingredients already on hand.
Ingredients
3 lbs Ground Chuck (I like 80/20)
3 eggs
1 cup ketchup (use BBQ Sauce for a nice variation)
1 large onion, chopped
6 cloves garlic, chopped (equivalent to 2 TBS)
1 cup crushed saltine crackers
2 TBS Worcestershire
5 splashes of Tabasco (about 1.5 TBS)
2 TBS Salt
1 TBS Pepper
Optional Ingredients
I am not big on bell pepper in my meatloaf but if you like it then by all means add in a half cup or so.
Directions
Add all ingredients to large bowl and mix with hands for best results. Make sure to mix really well.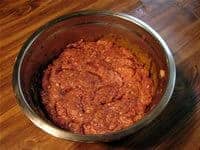 Click on picture to view 1280 x 960
Pour mixture onto large cookie sheet and form into a rectangle about 9W x 12L x 2H
Tip: Cover cookie sheet with foil for easy cleanup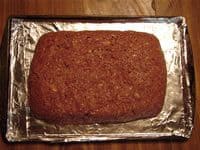 Prepare smoker with mesquite wood chips/chunks or your favorite smoking wood and start a fire to maintain 225 degrees.
Once smoker is maintaining 225 degrees and begins to smoke, place cookie sheet with meatloaf in smoker.
I used one of my smaller smokers for this recipe and only allowed it to smoke for the first hour and a half. For the remaining 2 hours I only applied 225 degree heat with no smoke.
About 30 to 40 minutes before the meatloaf is finished whip up some of my Famous BBQ Sauce and pour 1/2 cup on top of the meatloaf and spread it all over the top and sides of the meatloaf.
I took this picture in the dark so it looks a little overexposed with the flash but it should give you the general idea.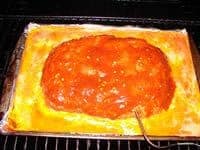 Total time for the meatloaf will be around 3.5 hours
Pull it from the smoker when it reaches 165 degrees and let it sit for about 20 minutes before slicing to allow the juices to redistribute throughout the meat.
This is how pretty it will look when it is finished smoking:
The kids and I also made crinkle cut french fries dusted real good with Bayou Shakedown from CrazzyCajun.com and some extra BBQ Sauce on the side for dipping the fries in.
My 3-1/2 year old who barely eats anything ate 2 good sized pieces of this meatloaf and told me I was the best cook in the world (good thing mommy was out of earshot at the moment) and I think you will love it too.
Let me know how it goes if you try it and feel free to use your own recipe or experiment with some variations on this recipe.
Note: You can use ketchup to top this recipe just like you do ordinary meatloaf and it will still be good but if you want it to be something that will make your mouth water every time you think about it for months and years to come then it really needs to be topped with a top notch barbecue/finishing sauce like my famous and unbeatable "Goodness Gracious Sakes Alive" BBQ Sauce Recipe.
Guaranteed to be the best you ever ate or your money back!
I get emails almost every day now from folks all over the globe who are so happy they decided to give the recipes a try.. you owe it to yourself to try my BBQ sauce recipe on this meatloaf for the best results.
 Jeff's Naked Rib Rub and BBQ Sauce Recipes
If you are truly serious about barbecue and cooking outdoors for family and friends then you need my rub and sauce recipes. It is the two tools that you absolutely need in your barbecue toolbox and the are the second most important investment next to your smoker in my opinion and lots of folks agree.
Eric from New Hampshire wrote..
Jeff, I finally got around to making your rub and BBQ sauce recipe this past weekend and man was I in for a grand surprise!
I expected them to be good but nothing better than a lot of other recipes that I have used.
I was almost knocked off my feet with flavor! My wife said the sauce was the best she had ever ate and I tend to agree;-)
Keep up the great work! Thanks for the website and for making the recipes available to a guy like me who is learning how to smoke meat.
Let me know when you get your videos completed.
Thank you Eric for the kind words.. I put my heart and soul into those recipes as well as this website and I feel fortunate to have so many fans..
If you would like to experience these recipes for yourself (and you should) simply click the link below to read more testimonies or click here to go ahead and order.
Note: This is an immediate download which means just as soon as you order you should receive a download link within minutes.
Please email me right away if you do not receive an email within just a few minutes of ordering so I can jump into action and find out what is going on.
I have an outside company that handles this for me and I have to keep them on their toes.. my goal is 100% satisfaction and I won't be satisfied until you are. I promise.