If you are a nacho lover like me, you're going to love the flavor that the smoke adds to these smoked chicken nachos!
Chicken tenderloins are brined in buttermilk for a very short time, smoked and then cut into small pieces for the nachos.
I will show you how to build individual nachos using the tiny, bite-size scoops but be sure to see the "easier method" as well at the end of the instructions.
Helpful Information
Prep Time: 25 minutes (includes building the nachos)
Brine Time: 1 hour
Cook Time: 1 hour
Smoker Temp: 225-240°F
Meat Finish Temp: 165°F
Recommended Wood: Pecan
What You'll Need
6-12 chicken tenderloins (chicken breast or even chicken thighs will work)
1 quart of buttermilk
¼ cup of coarse kosher salt
1 large bag Tostitos® Scoops!®
Shredded cheddar (or whatever cheese you like best)
3-4 jalapeños, stem removed and sliced (pickled jalapeños is also an option)
1 tomato, diced
Salsa
Sour cream (the kind in a squeeze tube works great for this)
Guacamole
Whatever else you like on nachos
Thank You!
---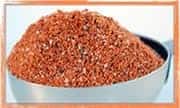 Every once in a while I receive a complaint from someone because I sell the recipes for my rubs and sauce instead of just giving them away for free..
Here's the scoop: The revenue from the recipes is a big part of what pays for all of the services required to keep this website and newsletter going month after month however, there is absolutely no obligation to purchase them.
I want to send out a huge thanks to all of you who have had a part in keeping this machine going for more than 12 years now– you know who you are.
I feel that I have the best job in the world and I absolutely love creating these smoked recipes. I'm able to do this because of you.. THANK YOU sincerely!
Make the Buttermilk Brine
Why brine? That's a great question!
Brining is a scientific process by which water/moisture is pulled into the fibers of the meat where it gets trapped. Some of the salt and other flavors in the brine are also pulled in.
During the cooking process, the heat tends to dry out the meat but because there is now more water trapped in the meat fibers, even after some drying, it ends up more juicy due to the extra water.
We often use plain water with salt (a 6% salt solution) but I like to use buttermilk with chicken.
Buttermilk and chicken go together so well! The buttermilk has enzymes that tenderize and flavor the chicken and if you mix salt into the mix, you can both brine and tenderize at the same time. It's a win-win for everyone!
This is a process that you can use on these chicken tenderloins but it also works equally well on chicken wings, whole chickens or even a whole turkey.
Pour one quart of buttermilk into a pitcher or plastic container.
Add ¼ cup of coarse kosher salt and stir until the salt is dissolved.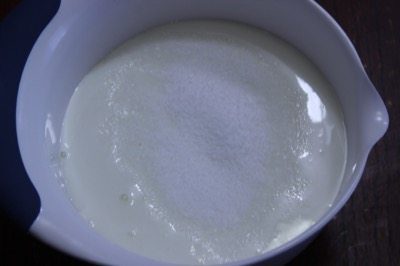 The brine mixture is ready to use.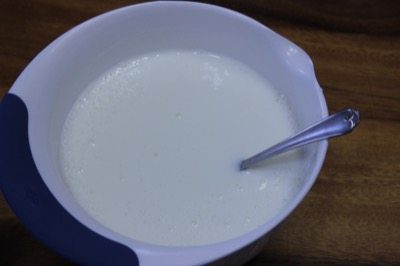 Brine the Chicken
Put the chicken tenderloins in a container or small bowl and generously sprinkle Jeff's original rub (purchase recipes here) on one side.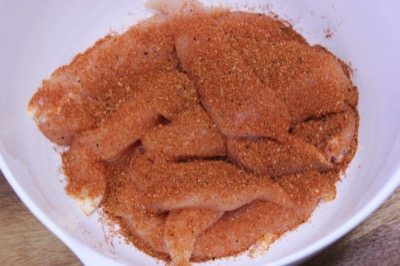 Stir the chicken around to fully coat the chicken.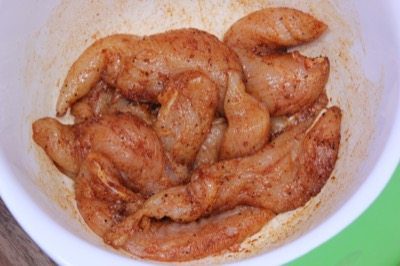 Pour the buttermilk brine over the chicken to cover.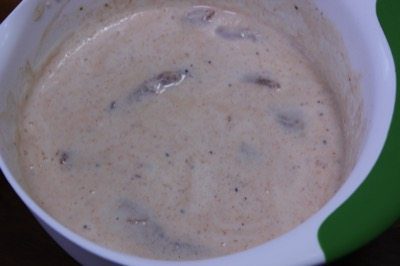 Place the container of chicken into the fridge for 1 hour.. no more than that. If you need to leave them in longer for some reason, cut the salt in half.
At the end of 1 hour, pour off and discard the brine.
Rinse the chicken well under cold water.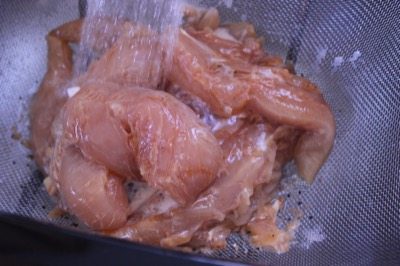 Seasoning
Place the chicken onto a flat surface such as a paper plate.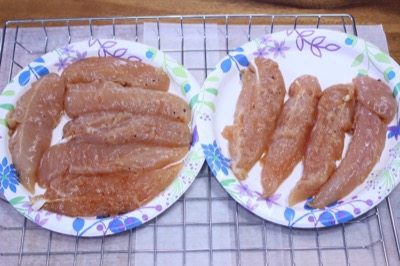 Liberally season both sides of the chicken tenderloins with my original rub (purchase recipes here).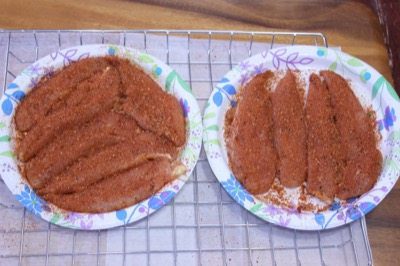 Once both sides are coated with my rub, place the chicken on a Bradley rack or Weber grill pan and they are ready for the smoker.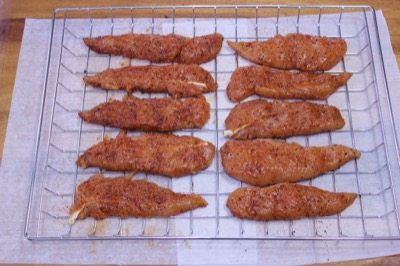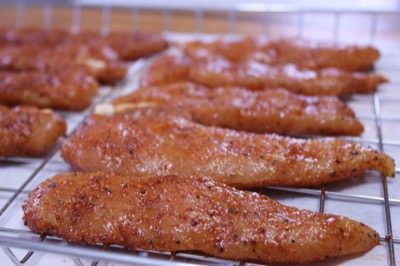 Smoke the Chicken Tenderloins
Set up your smoker for cooking at about 225-240°F using indirect heat and pecan wood for smoke. You can use any other smoking wood that you have available if you don't have pecan.
If your smoker has a water pan, fill it up.
Once the smoker is ready, place the chicken in the smoker and set a timer for about 40 minutes.
If the chicken looks like it's drying out on the outside, spray it quickly with some olive oil or brush on some butter.
Check the pieces of chicken with an accurate quick reading thermometer such as the Thermapen.
Remember, using an accurate thermometer like the Thermapen is the only way to know when the chicken is safely done to the correct temperature.
These are usually fairly thin so it will not take long for them to reach 165°F.. their safe done temperature.
Just as soon as they are done, remove them from the smoker.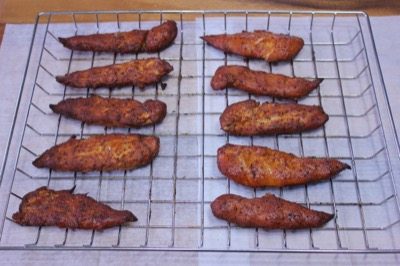 Cut and Sauce
Use a sharp knife to cut the chicken into small pieces.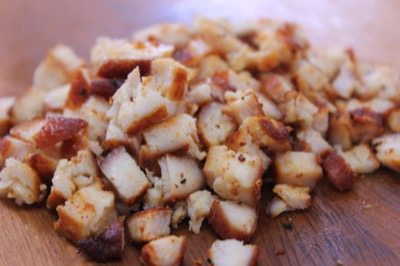 I recommend mixing in some of my barbecue sauce (purchase recipes here) for another layer of flavor but this is completely optional.
Just 2-3 of the tenderloins will be enough for about 24 scoops depending on how much chicken you use in each nacho.
I used 2 TBS of sauce for about 1.5 cups of shredded chicken but you can add more or less as desired.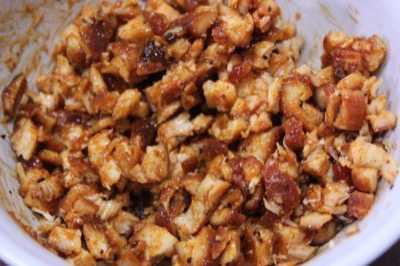 Lay Out Scoops!®
In each bag of Scoops!® you'll find that some are broken so you may need to take a minute to pick out the best ones if presentation is important.
Lay the chips out onto a flat cookie sheet.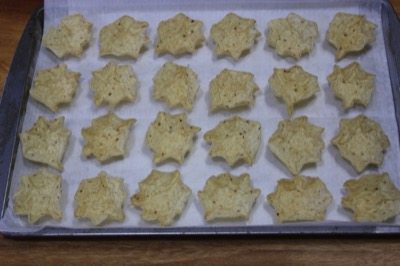 Meat and Melted Cheese
Spoon about a teaspoon of chicken into each chip then when all of the "tiny bowls" are filled, top them generously with the shredded cheese.
I used a mix of  white cheddar and sharp yellow cheddar.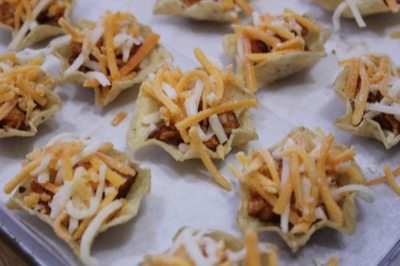 Turn on the broiler in your oven and place the pan of nachos under the broiler to let the cheese melt.
Make sure it does not burn.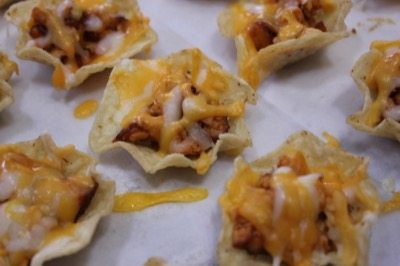 Add the Toppings
Quickly add sour cream, guacamole, jalapeños, salsa, etc. onto the top of each nacho.
This process is best accomplished if you have some helpers.. kids love to help with things like this so enlist them and don't worry if a few pieces of this or that falls by the wayside.
I like using sliced jalapeños with the seeds still intact but if you have small eaters or those who don't like it very hot, you can use tame pickled jalapeños or leave out the peppers altogether.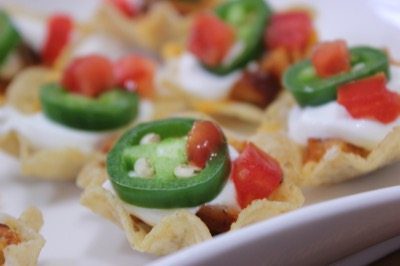 Serve the Nachos
Lay the pan out and let the hands start grabbin'!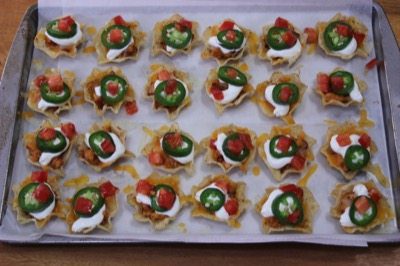 Smoked Chicken Nachos – Easy Method
If you are one of those that feels like these individual scoop nachos are just too much work.. you can do these the easy way by just laying down a bed of chips and sort of  "dumping" everything on top. Meat first then the cheese. Melt that under the broiler for a minute or two then add the toppings.
Quick. Easy. No problem.
***Note: you get the Texas style rub recipe free with your order!
If I could give these recipes away, I would do that. I really want you to have them! But, then, this is how I support the newsletter, the website and all of the other stuff that we do here to promote the art of smoking meat.
Read these recent testimonies:
"Love the sauce and rub recipes. So far I have used them on beef ribs, pork ribs, and different chicken parts. Can't wait to do a beef brisket. Texas rub is great as well!" ~Peter S.
"I tried the rub on a beef brisket and some beef ribs the other day and our entire family enjoyed it tremendously. I also made a batch of the barbeque sauce that we used on the brisket as well as some chicken. We all agreed it was the best sauce we have had in a while." ~Darwyn B.
"Love the original rib rub and sauce! We have an annual rib fest competition at the lake every 4th of July. I will say we have won a great percent of the time over the past 15 years so we are not novices by any means. However, we didn't win last year and had to step up our game! We used Jeff's rub and sauce (sauce on the side) and it was a landslide win for us this year! Thanks Jeff for the great recipes. I'm looking forward to trying the Texas style rub in the near future!" ~Michelle M.
You see the raving testimonies and you wonder, "Can the recipes really be that good?"
No worries! Make up a batch and if it's not as good as you've heard.. simply ask for a refund. Now that's a bargain and you know it. Let's review:
You decide you don't like the recipes.. you don't pay!
The recipes are absolutely amazing!
Once you order, there'll be no more recipe ads in the email version of the newsletter
Well.. what are you waiting for.. click on the big orange button below to order the recipes now.

I really, really appreciate the support from my newsletter friends and be sure to let me know if you have any questions about this.
Jeff's Smoking Meat Book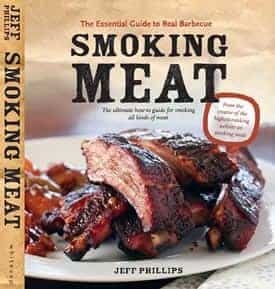 The book is full of recipes and contains tons of helpful information as well. Some have even said that "no smoker should be without this book"!
With more than 800 reviews on Amazon.com and a rating of 4.7 out of 5 stars, it comes highly recommended.
It is a Bestseller in Barbecueing & Grilling books on Amazon.
Amazon | Barnes & Noble | German Edition
Digital versions available via Nook | iTunes | Kindle
Get Almost Anything at Amazon
If you enjoy the newsletter and would like to do something helpful, then..
The next time you decide to order something at Amazon.com, use THIS LINK to get there and we'll get a small commission off of what you purchase.
Thank you in advance for using our special link: http://www.smoking-meat.com/amazon
Printable Recipe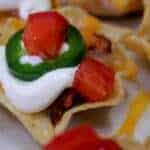 Print Recipe
Smoked Chicken Nachos
The smoked flavor that comes through in these smoked chicken nachos is simply mesmerizing. Uses smoked chicken tenderloins shredded or cut into pieces.
Ingredients
6-12

chicken tenderloins

1

quart

of buttermilk

¼

cup

of salt

1

large bag Tostitos® Scoops!®

Shredded cheddar

or whatever cheese you like best

3-4

jalapeños

stem removed and sliced (pickled jalapeños is also an option)

1 to

mato

diced

Salsa

Sour cream

the kind in a squeeze tube works great for this

Guacamole

Whatever else you like on nachos
Instructions
Make the buttermilk brine by mixing 1 quart of buttermilk with ¼ cup of coarse kosher salt. Stir in salt until dissolved.

Sprinkle

Jeff's original rub

generously on one side of the chicken tenderloins and stir them around to coat.

Pour brine over chicken to cover.

Place the chicken in the fridge for 1 hour.

Remove the chicken from the fridge and rinse the chicken well under cold water. Discard the brine.

Lay the chicken pieces on a flat surface and sprinkle

Jeff's rub

on both sides.

Cut or shred the chicken into small pieces.

Place the Tostitos® Scoops!® on a cookie sheet and fill with a small amount of chicken.

Cover the top of the chicken with shredded cheese and place under the broiler for a minute or two to melt the cheese. Make sure it does not burn.

Add sour cream, guacamole, jalapeños, chopped tomatoes, salsa, etc. on top of each chip and serve right away.