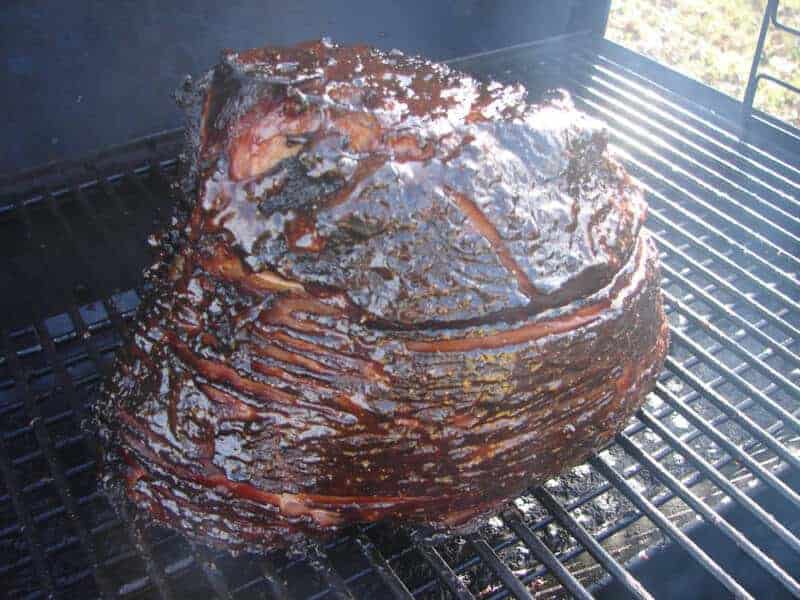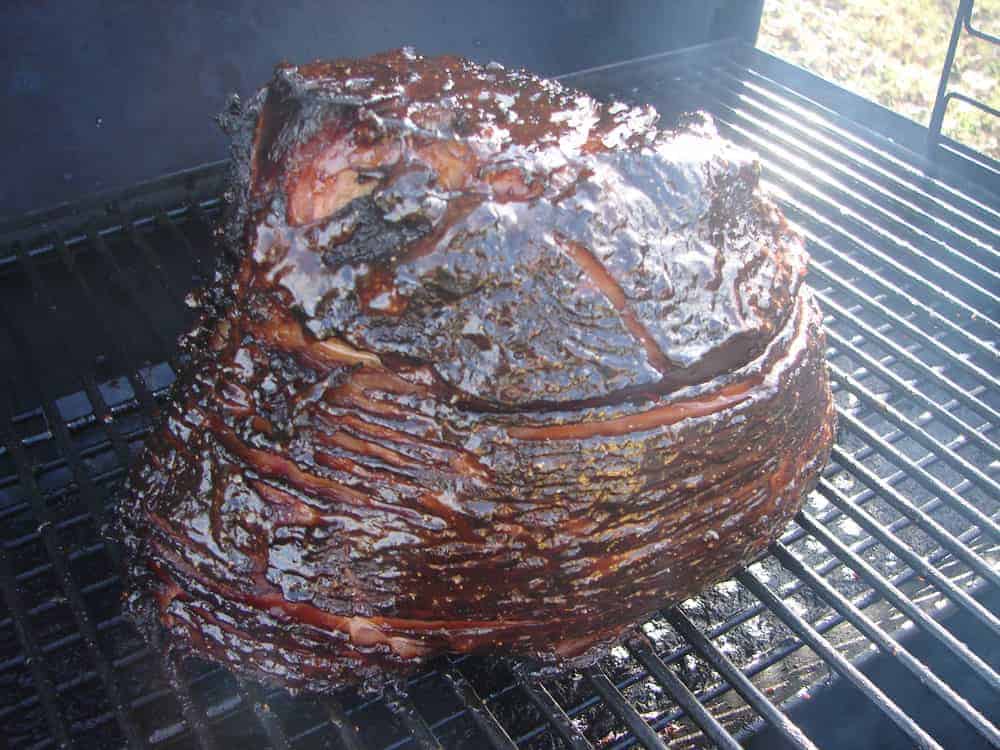 Hello friends and welcome to the Easter 2010 edition of the smoking meat newsletter. With just three weeks away from this grand holiday, it is time to start thinking about the food for the occasion.
I don't know about you, but when I think about Easter, I think about things like smoked Ham, eggs, corned beef, you know the traditional stuff so in honor of this I am going to go over a lot of information on smoking that ham.
How to Smoke a Store-bought Ham
I have mentioned this before in earlier newsletters that the early American settlers use to start curing their hams around November and the hams would be ready by around Easter. This may have been a big part of why we think of Ham when we think of Easter.
At any rate, that is a long time and most of us just aren't setup for that kind of an undertaking. I generally buy my hams already cured and sometimes they are even already smoked or at least they are labeled that way.
Don't let this fool you into thinking that it is actually gonna taste as good as something you smoke yourself.. I can assure you that it will not.
Purchasing a Ham
I recommend a spiral sliced ham with the least amount of water/solution added as possible. If it says "Ham/water Product" it is not what you are looking for.
You need a real honest to God Ham that is labeled "spiral sliced, bone-in ham" of around 10 pounds or so if possible for best results.
This ham will probably already be smoked from the factory but trust me.. it is a different process and what you will do at home in your own smoker will drastically change the flavor of the ham for the better.
Prepping the Ham with My Rib Rub
Unwrap the ham and throw away the glaze.. I have something better. Place the ham on a cookie sheet or cutting board and very carefully rub it down with a light coating of yellow mustard (the kind you use on ballpark hotdogs). This will act as a sticking agent to help the rub to stick.
Don't worry, it won't taste like mustard after it smokes. The flavor just goes away somehow.
Pour on about a cup of my rib rub and just massage it in.. all over and don't forget the bottom side that it is sitting on.
Leave the ham sitting on the counter for a few minutes while you go get the smoker ready.
Setting up the Smoker
I almost always use real wood to smoke the ham with as it needs a lot of smoke to really flavor up the ham in my opinion. When I bite into it, I really want to taste a robust smoke flavor.
I tend to use my brinkmann smoke-n-pro or my custom stick burner for this. For this exercise, I have opted to use the Brinkmann as it is a little smaller and for one ham it does just fine.
You can use charcoal to start with or build a fire from twigs, paper and small kindling depending on what you have available.
If you opt to use charcoal then I recommend a full chimney of charcoal to start with then you can add more if you need to. Once you get some heat going, you can start adding sticks of oak, mesquite, hickory or pecan to the top of the coals to get some really good smoke flowing.
We are looking for a temperature around 230°F
Let me just mention that you can also use a gas, electric or other charcoal smoker if that is what you have. Just make sure to keep some good smoke going throughout this process.
Smoking the Ham
Once the smoker is up to temperature and smoke is flowing out, place the ham on the grate and close the lid on the smoker. Your only job for the next three hours is to keep the heat at around 230°F and to keep a light smoke flowing from the smoker.
Make sure the dampers or vents are adjusted so that plenty of air is getting into the smoker and that plenty of air is able to get out. In other words, a smoker that is completely sealed off is not a good thing.. you must have some airflow into and out of the smoker.
Let the ham smoke for about 2.5 hours then you may want to glaze the ham with a mixture of barbecue sauce and honey.
Glaze Recipe
1/3 Cup Jeff's Barbecue Sauce
1/4 Cup Honey
Glazing the Ham
Brush the glaze onto the ham all over about 30 minutes before the ham is finished. The ham will not only taste great but it will have a beautiful sheen to it. Magazine quality I tell ya'!!
When is it Done?
Because this newsletter is about smoking a pre-cured and pre-cooked ham, we are only having to heat it up to a good eating temperature and safety is not the focus as it would be if we were cooking raw meat.
I have found that about 3 hours at 230°F gets it perfect and the ham is juicy and delicious.. not dry in the least.
Serve it Up
Set the finished ham on a really nice dish and just place it in the center of the table.. the aroma and the visual is just out of this world!
What About Smoking a Ready-to-Cook Ham?
Smoking an already cured, ready-to-cook ham uses a similar process except that you have to make sure that you take the internal temperature all the way to a safe eating temperature of 160°F.
You will be looking at somewhere around 45 minutes per pound at 225°F. If you are using a non-wood burning smoker, be sure to keep the smoke flowing for at least the first 3 hours or so to make sure the smoke is able to really flavor the ham.
Use a digital probe meat themometer to monitor the internal temperature of the ham and be sure to remove it from the smoker just as soon as it hits 160°F.
At around 140°F or so you can start glazing the ham with any number of glazes which can range from barbecue sauce/honey mixture, equal parts whiskey and butter, caramel sauce, fruit glazes, etc.
How to Smoke a Ham – Video on YouTube
I made a video a while back on smoking a ham..for all of you visual learners this should be a lot better than following text.