Some of my favorite Memorial day foods are, of course, burgers and hotdogs and then there's ribs, brisket, chicken and a whole assortment of sausage links, boudin and even smoked bologna if you are in the Oklahoma area.
This is a collage of tips and how-to information that I think you will find very useful as you prepare for your cooking on this Memorial day holiday. If you have further questions, allow me to recommend Smoking Meat Forums where you can usually get an answer to your question within mere minutes.
And now.. let me give you a few quick tips to help ensure that your Memorial day cooking is a huge success!
Burgers and Hotdogs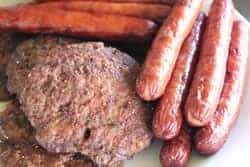 I guess one of the main things that lots of folks do on holidays is hamburgers and hotdogs and while this is normally fare for the grill, I often do these in the smoker and trust me when I say that it adds a lot to the meat to spend a little time with some smoke. The last burger/dog party that I hosted had folks asking for take-home bags.. they were amazed at the wonderful smoky flavors on the burgers and even the hotdogs.
Place burger and/or hotdogs on the smoker grate, sprinkle my rub on the burgers or just some salt/pepper for added flavor. Keep the smoke going the entire time if you are not using a wood fired smoker.
Note: Hamburgers and hotdogs will take about 1 hour in the smoker at 225-240 degrees.
These can also be done on the grill as usual.. with smoke. Turn the grill down just a little lower than what you'd normally cook them and if it's charcoal, just throw on some wood chips or put a foil chip packet on top of the coals for some good smoke flavor.
If it's a gas grill, you can lay a foil chip packet just over one of the burners and get some good smoking action. Turn that burner on high until the packet starts smoking then you can turn it down a little to keep it smoking without catching fire.
Here's how to make those foil chip packets: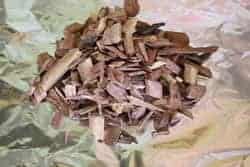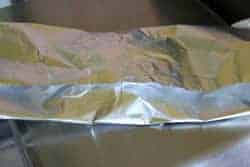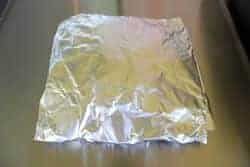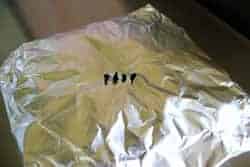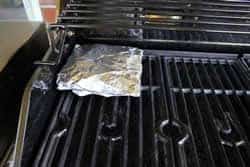 Just a note: these chip packets can be used anytime you grill and/or they can be placed on top of the charcoal in your charcoal smoker to keep the smoke going. Make several ahead of time so they can easily be replaced as needed.
How to Grill a Perfect Burger
Place burgers on grill with medium high heat. Once you see the juices start puddling on top of the meat they are ready to flip over. Flip and cook an additional. 2-3 minutes for best results.
Once you flip them consider using my rub recipe generously on the top of the burger. The rub melts into the beef juices and creates a wonderful flavor that is second to none on the burgers. If you don't use my rub, be sure to salt and pepper both sides really well as they cook.
Smoking Pork Ribs
Ribs are not difficult regardless of whether you use baby backs or spares. The key is to remove the membrane, use a good rub for flavor, and let them smoke cook until they are as tender as you like them.
On spare ribs you will want to remove the flap of meat that runs along the bone side of the ribs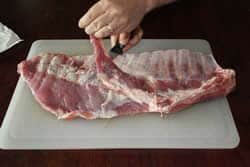 Remove the Membrane: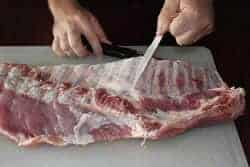 Apply my rub recipe to the ribs in a layer that is just thick enough so that you can no longer see the ribs. If you like, you can apply a thin layer of yellow mustard first to help the rub to stick or you can use some cooking oil like canola or even olive oil if you don't want to use the mustard. This can be done the night before or right before you place them in the smoker and is really up to you.
Smoke cook the ribs for 6 to 7 hours at 225-240 degrees or until the ribs get as tender as you like them.
I usually lift them up by one end with tongs and when they bend about 90 degrees and almost break in half, they are done. It's that or just take a bite and see if they are tender enough.. that's always a good option;-)
And finally, here's a video that I did a year or two ago that will walk you through the entire process:
3-2-1 Method for Spare Ribs
If you like the ribs to be "fall off the bone" tender then see my article here.
Smoking Brisket
I wrote a really good brisket smoking article on this back in July 2009 and I don't think I can really do better than what I've already done in that newsletter write up.. be sure to give that a read if you are wanting to do brisket as it covers everything you need to know about smoking brisket and is chock full of great brisket smoking tips
Smoking Chicken
Here is an article that I wrote back in 2010 that shows you how to smoke whole chickens, chicken quarters and even boneless, skinless chicken breasts. Definitely worth a read if you are looking to smoke up some chicken this holiday.
Note: almost all poultry is best if it is brined first. Be sure to read my page on brining meat if you are doing chicken or turkey as this can play a huge part in making sure the chicken or turkey is juicy and tender.
Smoking Brats and Sausages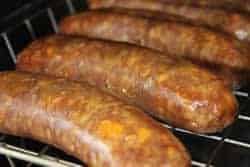 I don't want to go into a lot of detail on brats, sausages and boudin except to say that these make excellent treats and are really great for holiday get togethers and events.
My one word of caution is to not overcook brats.. they should be smoked at 230 degrees for about 2 hours and that is plenty. Any more than that and they will become tough and not as good as they could have been.
Some sausages can handle a little overcooking.. not the brats.
Smoked Boudin
Boudin is amazingly good smoked.. about 2-3 hours at 230 degrees and some good mesquite, pecan, oak or hickory and you are good to go.
Here is an article about smoked boudin
***Note: you get the Texas style rub recipe free with your order!
If I could give these recipes away, I would do that. I really want you to have them! But, then, this is how I support the newsletter, the website and all of the other stuff that we do here to promote the art of smoking meat.
Read these recent testimonies:
"Love the sauce and rub recipes. So far I have used them on beef ribs, pork ribs, and different chicken parts. Can't wait to do a beef brisket. Texas rub is great as well!" ~Peter S.
"I tried the rub on a beef brisket and some beef ribs the other day and our entire family enjoyed it tremendously. I also made a batch of the barbeque sauce that we used on the brisket as well as some chicken. We all agreed it was the best sauce we have had in a while." ~Darwyn B.
"Love the original rib rub and sauce! We have an annual rib fest competition at the lake every 4th of July. I will say we have won a great percent of the time over the past 15 years so we are not novices by any means. However, we didn't win last year and had to step up our game! We used Jeff's rub and sauce (sauce on the side) and it was a landslide win for us this year! Thanks Jeff for the great recipes. I'm looking forward to trying the Texas style rub in the near future!" ~Michelle M.
You see the raving testimonies and you wonder, "Can the recipes really be that good?"
No worries! Make up a batch and if it's not as good as you've heard.. simply ask for a refund. Now that's a bargain and you know it. Let's review:
You decide you don't like the recipes.. you don't pay!
The recipes are absolutely amazing!
Once you order, there'll be no more recipe ads in the email version of the newsletter
Well.. what are you waiting for.. click on the big orange button below to order the recipes now.

I really, really appreciate the support from my newsletter friends and be sure to let me know if you have any questions about this.
Jeff's Smoking Meat Book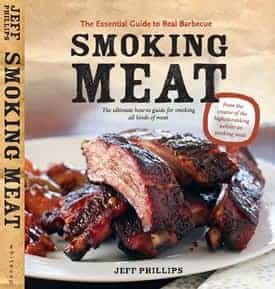 The book is full of recipes and contains tons of helpful information as well. Some have even said that "no smoker should be without this book"!
With more than 800 reviews on Amazon.com and a rating of 4.7 out of 5 stars, it comes highly recommended.
It is a Bestseller in Barbecueing & Grilling books on Amazon.
Amazon | Barnes & Noble | German Edition
Digital versions available via Nook | iTunes | Kindle
Get Almost Anything at Amazon
If you enjoy the newsletter and would like to do something helpful, then..
The next time you decide to order something at Amazon.com, use THIS LINK to get there and we'll get a small commission off of what you purchase.
Thank you in advance for using our special link: http://www.smoking-meat.com/amazon