More Turkey Tips & Thanksgiving Recipes
Here's how my huge mistake resulted in the Best pulled pork I have ever tasted!
Good day,
Welcome to the November edition of the Smoking-Meat.com monthly newsletter. This newsletter is all about turkey tips, but while we're at it, I'm going to share how you can benefit from a huge mistake I made!
---
My Huge Mistake!

I know I promised more turkey tips in this issue and we will get to that but something wonderfully bad happened a few weeks ago and I just have to share it!
It all started when the guys from the church pumpkin patch asked me to bring some pulled pork. I said sure (I never pass up an opportunity to smoke meat!). They were each going to bring another item such as cole slaw, baked beans or dessert.
It was to be 4 of us manning the pumpkin patch that Friday and so I decided to smoke the seven pound bone-in pork butt on Thursday evening, let it cook all night and then pull it Friday morning early.
Well all went well at first.. I had my daughters mix up a batch of my top secret rib rub. They coated the hunk or meat with French's yellow mustard as usual and coated the pork butt real good with the rub. They then placed it in the fridge until I was ready.
By the way.. you can order my rib rub recipe which is especially good on pork shoulders, ribs, brisket, and yes even on turkey. I offer the rub and sauce recipes as a set for a measly $18.95 and you never have to buy store bought stuff again. This will save you money and you will be using the same stuff that has made me so successful!
Get the Recipes | Read Testimonies
Now back to the story..
I fired up the big boy full of Oak, apricot, and Bartlett Pear wood and around 6:15 in the evening I placed the pork butt in the smoker and began my long relaxing evening while maintaining a temperature of 230 degrees in the smoker.
I did some work around the yard and later on came in to do some work on the computer for a while. I started getting real sleepy around 11:30 PM and decided to do something I have never done before. I brought the pork butt in the house double wrapped it in aluminum foil and put it in the oven at 230 degrees. (you purists can shoot me later if you like or send me some hate mail).
I set the alarm on my clock for 4:30 AM.. my estimate of when it would reach around 190 degrees or what I feel is a good pulling temperature.
Don't ask me what happened but I awoke at.. gulp.. 6:30 AM! 2 hours past when I was supposed to. Now.. I know that pork shoulders are tremendously forgiving and all but this one had to be perfect. I am supposed to be something of a pro and I had probably taken "forgiving" to the outer limits.
I fly downstairs with my feet hardly touching the stairs and fling open the oven door to find my pork butt at 208 degrees.. I felt sick at my stomach all of a sudden. I turned the oven off and decided to let the pork shoulder cool down for 30 minutes or so before opening it up and seeing the overcooked, dry heap of what was supposed to pulled pork.
I still work a day job so I had to go on into work and make sure everything was running ok.. I would then return home as soon as possible and pull the meat and see if it was even edible. I get to work and one problem after another confronts me.. things just are not going well at all. I do not make it back home until after 10:00 AM.
I got home a little after 10 AM and the pork had cooled to 163 degrees. I opened the foil and the pork just kink of fell apart on its own.. It smelled really good and was surrounded by a pool of melted pork fat. I tore off a piece of it and tasted it.. I could not believe it! It was the best tasting pork I have ever tasted! I tore off piece after piece from different areas of the meat and all of it was so juicy and moist and bursting with flavor!
I was so excited.. I scooped the pieces into a foil pan and then spooned most of the juices from the foil onto the meat so it would help it be juicy when I reaheated it later that day for the guys at the pumpkin patch.
Later that day..
I got back home from work around 4:15 PM and placed the foil pan of pulled pork into the oven at 275 degrees and began making a batch of my delicious barbecue sauce. My daughters already had the ingredients laid out for me so it took about 15 minutes and after a few taste tests I poured the sauce into a pint jar and capped it off.
At 5:30 PM I showed up for my scheduled shift at the church pumpkin patch with the pulled pork in tow. I have never in my entire life heard so much oohing and ahhing as I heard that day. All of the guys said it was the best they had ever eaten and of course I tried to look humble but it was hard 'cause inside I was mighty proud!
A mistake I hope I repeat many times over and again!
To do this yourself here are the basic steps:
Order my rub and sauce recipes if you haven't already (you will not get the same professional taste without it)
Do the mustard and rub on the pork butt
smoke it to 140 degrees heavy with oak, apricot and pear (or other fruit wood)
double wrap in foil
Place in 230 degree oven (or leave in the smoker) until it reaches approx. 208 degrees
Let it sit and marinate in its' own juices without unwrapping for another 2 hours
Open foil and watch it fall apart before your eyes.
Invite the neighbours and serve the pulled pork with my special sauce recipe (expect to be made into a neighbourhood celebrity!)
Send me an email and thank me for changing your life! (ok.. maybe I am taking that one a bit far)
More Tips on How to Smoke the Worlds Finest Turkey

Last month I went into a great bit of detail on smoking the holiday turkey and if the ton of emails I have recieved is any indication.. a lot of you are really practicing up. That is good! I like that!
Now the one thing I did not cover in last months newsletter in regards to the actual preparation of the turkey is brining. Aside from smoking the turkey, brining is probably by far one of the greatest discoveries I know of in terms of helping poulty, namely turkey, be the best it can be.
Most of you probably know about brining.. it is a fairly active topic in the meat smoking arena but according to all of the emails I have recieved there is a little confusion and I want to try to eliminate the confusion and turn you on to the this easy method of producing the worlds finest tasting smoked turkey.
You will need a few supplies.. a 5 gallon bucket, some kosher salt, some white granulated sugar and a few minutes of time.
For a 12 pound turkey you will need to put about 2 gallons of water in the bucket. Add in 2 cups of kosher salt and 2 cups of sugar and you can also add in any other spices or flavorings that you think will make the turkey taste good. Note: avoid things with high salt content such as soy sauce or the end result will be too salty.
Place the turkey down in the bucket and use a heavy plate or a brick inside of a ziploc bag to keep the turkey submerged since it has a tendency to want to float in the salty water.
Now.. you have to keep the turkey in a 40 degree or less environment and this can be accomplished several different ways.
You can take the bottom shelf out of your fridge and set the bucket in the fridge.. this is usually what I do however during the holidays this is a little aggravating for my wife since she is usually cooking and baking other things as well and claims to need ALL of her fridge.
The second method is to reduce the initial 2 gallons of water to 1.5 gallons and dump in a gallon or so of ice cubes to keep the water at a near freezing temperature. You can put the turkey in the brine before it is entirely thawed out to help cool the water also.
Every 2 hours or so.. remove the plate or brick and stir the water around a little to help ensure that all of the turkey is getting equal access to the flavorings.
Leave the turkey in the brine for around 12 hours.. when it is done brining remove the turkey and rinse with cold water for several minutes making sure to rinse inside and under the wings to remove all excess salt.
You are now ready to proceed as you normally would with smoking your Holiday turkey.
How to Keep the Turkey Breast Moist

Turkey breast meat has a tendency to get dry and the only way to combat this is to brine according to the directions above and to smoke it most of the time with the breast facing up and away from the direct heat.
I always recommend smoking the turkey for the first hour or so breast side down and then flipping it over for the remainder of the smoke time.. there are other things that people do to keep the breast moist such as covering the breast with a piece of foil after it reaches 140 degrees.
You can also be faithful about mopping the turkey every 45 minutes to an hour with apple juice or my famous mop water which consist of 1 cup of water, a stick of real butter, and 2 tablespoons of cajun seasoning or other spice mixture that you like.
Mopping will do wonders for the turkey in keeping it moist and juicy.
Our Family's Favorite Thanksgiving Recipes

Our Favorite Thanksgiving Menu

Smoked Turkey
Turkey Gravy Cranberry Sauce* Whipped Sweet Potatoes* Green Beans* Cornbread Stuffing* Iced Sweet Tea
Pecan Pie Pumpkin Pie Whipped Cream
*see recipe below
Basic Dressing (See Variations Below)

( No more stuffing out of the box.. make your own using my favorite family recipe)
2 stick butter
4 onions, coarsely chopped
2 c. coarsely chopped celery
2 tsp. dried sage
2 tsp. salt (+ more to taste)
4 tsp. coarsely ground pepper (+ more to taste)
6 1/2 c. chicken broth or turkey drippings (you can use more or less, depending on how moist you like your dressing)
2 loaves stale white bread, cut into cubes (9-10 c.)
2 bunches fresh parsley, coarsely chopped
2 large eggs, lightly beaten
In a large pan, melt butter over medium heat. Saute onions and celery for about 10 minutes, until softened and transparent. Add spices and stir to coat onions & celery; cook for 3 minutes. Add 1/2 c. chicken broth or drippings and cook for about 5 minutes, until broth has reduced, stirring often.
Remove onion mixture from heat. In a large dutch oven or very large mixing bowl, combine onion mixture with bread cubes, parsley, eggs and chicken broth. Mix well.
You can then stuff your turkey loosely with the stuffing, and cook the remainder in a buttered baking dish for 30-45 minutes at 375. However, we recommend that you cook your stuffing separately, and if you are smoking a turkey, you'll want to do this anyway.
Stuffing variations:
Cornbread Stuffing – use 4 1/2 c. each crumbled cooked cornbread and cubed white bread.
Fruity Stuffing – Add 1 c. each walnuts & dried cranberries or 1 c. each raisins and pecans.
Other tips – For "wetter" stuffing, use 1/2 c. more broth and 1 more egg; for dry stuffing, use less broth and brush top with butter 5 minutes before removing from oven.
Add 2 c. finely chopped green apples.
Perfect Cranberry Sauce

(Tired of using the canned cranberry sauce? Here is how to make the real stuff! Super easy and super impressive! )
1 c. sugar
1 c. fresh cranberries
1 c. water
Combine all ingredients in a small saucepan. Bring to a boil over medium heat, then reduce heat to med-low and simmer until thickened. Makes about 5 servings.
Whipped Sweet Potatoes

(makes 5 servings)
Our rule: NEVER use canned sweet potatoes. Yuck!
5 large sweet potatoes, baked, peeled and cut into chunks
1/2 stick butter, softened (Real butter, please!)
1/2 c. brown sugar
1/2 c. whipping cream (more if desired)
1 tsp. cinnamon
1/2 tsp. ground cloves
1 c. pecans (optional)
2 Tbs. melted butter
In a mixing bowl, beat together butter & brown sugar. Gradually add chunks of sweet potatoes alternating with cream until mixture is smooth. Add cinnamon and ground cloves. Pour into a buttered glass baking dish and bake at 375 for 30 minutes. Remove from oven. Sprinkle pecans on top, and brush with melted butter. Return to oven for 5 more minutes. Serve with whipped cream, if desired
Holiday Green Beans

(Taking green beans to the next level)
(makes 8 servings)
3 lbs. fresh green beans, rinsed, ends trimmed
2 Tbs. olive oil
1 onion, chopped
1 1/2 tsp. salt
2 Tbs. coarsely ground black pepper
1/2 tsp. kosher salt
1/2 c. cooking wine
Heat olive oil over medium-high heat in a skillet. Add onions and sauté for 5 minutes. Add green beans and sauté for another 5 minutes, tossing with onions, and adding oil as needed. Pour cooking wine into bottom of pan and sprinkle beans with salt. Cover and reduce heat to medium low. Simmer for about 10 minutes. Remove from heat and toss with kosher salt and coarse pepper.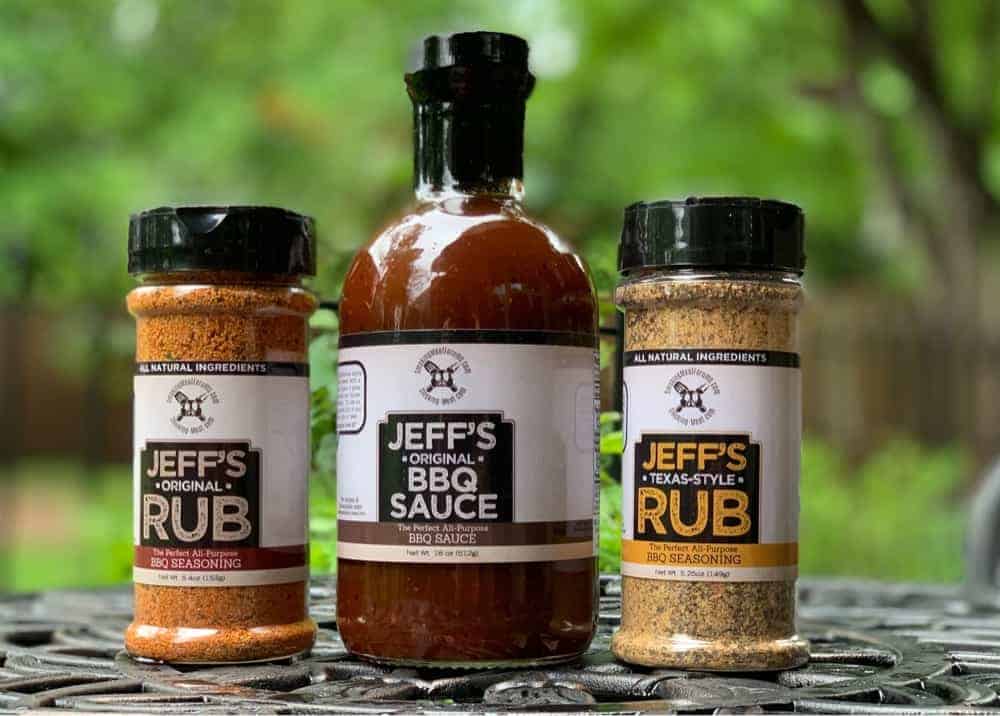 Order Jeff's Rubs and Barbecue Sauce TODAY!
✅ My rubs and sauce will be the best thing you've ever tasted and it's a great way to support what we do!
Note: You can also order the formulas for my rubs and sauce and make these yourself at home. Grab those HERE and download immediately.