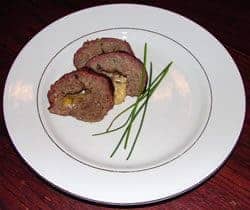 Welcome to the October 2008 edition of the Smoking Meat Newsletter! In this writeup I have put together a really good recipe for you.. not only easy but very, very tasty.
We'll get to that in a moment..
Please keep in mind that this site is supported solely by the products that are offered, my awesome recipes and your generous donations. If you appreciate this site and all of the services that we provide, then show it with a little green. For those of you who do this already.. thank you!
With no further ado.. let's get right to this months writeup.
The Making of a Smoked "Fatty"
If you visit the Smoking Meat forums then you will know that one of the favorites over there is smoked breakfast sausage chubs also known as "fatties".
There are tons of ways to do these with some of the favorites being stuffing the center with things like cheese, veggies, eggs, etc.
In this edition, I am going to keep it relatively simple but then you can take and build on what I show you depending on how indepth you want to go and how creative you want to get.
I purchased 2 of the long chubs of breakfast sausage.. one was hot and the other mild.
I cut the plastic lengthwise on the hot flavored chub and let the sausage roll out onto the cutting board.
I carefully pressed the sausage out into a 1/4 inch thick flat about 8 inches wide and 16 inches long or so.
I had purchased some Gouda as well as some sharp cheddar for my experiment and had my daughter grate each one and place them in separate containers.
I also purchased some fresh chives and had them chopped into very small pieces.
I first sprinkled a generous portion of cheddar on the sausage that I had rolled out and then topped it with about half of the chives.
At this point, I carefully rolled the sausage back up as best as I could and re-formed it into a chub like it was originally.
It does not have to be perfect.
I repeated the process with the other chub only using Gouda and chives on it instead of cheddar.
It was a beautiful sight and I could hardly wait for it to be finished.
At this point I covered the sausage and set it back in the fridge while I went out to get the smoker going.
Maybe it was the nip in the air.. not sure.. but I chose hickory as my wood of choice. As many of you know, hickory is not my favorite wood. I like it ok but I like mesquite and pecan so much better.
For some reason, I wanted hickory this time so that is what I used.
Less than an hour later I had smoke and temperature ranging between 220 and 230 degrees F.
I laid down a piece of foil on the grate and set both stuffed chubs on the foil.
I also had some small baking potatoes that I had pierced and coated with olive oil that I would smoke until soft and then my wife would make into potato cakes.
These potato cakes go great with the sausage patties and with a little of my special barbecue sauce on the side it is a crowd pleaser and then some.
My wife is the potato cake guru and I will include her special recipe below. The smoke flavor just gives them a little wow factor.
I monitored the "fatties" until they were done about 2.5 hours later. I let them go until the internal temperature was around 165 degrees.
The cheese was oozing out here and there and the aroma was out of this world.
I have to say that I barely got these to the counter before we were cutting into them and popping the pieces in our mouths.
I do recommend letting them cool for a few minutes to allow the cheese to firm up just a bit.
Serve the sausage on a plate with potato cakes (recipe below) and a little warm barbecue sauce on the side.
This makes a great breakfast treat or an anytime treat that will leave your family and friends begging for more.
It is so easy, the preparation is quick and doesn't require that you stay up all night tending the fire.
This also works well for those of you who use propane, electric or charcoal smokers.
Try it out and let me know how you like it!
Smoked Potato Pancakes
5-6 medium-sized smoked potatoes, peeled & mashed
butter, cream, salt & pepper to taste
2 eggs, beaten lightly
3/4 c. all-purpose flour
1/3 c. red onion, minced (optional)
4 Tbs. fresh chives, chopped
kosher or sea salt
coarsely ground pepper
3 Tbs. canola or vegetable oil
Instructions
1. Add [real] butter, whipping cream, salt and pepper to mashed potatoes to taste;
create a smooth, but NOT runny consistency.
2. Chill potatoes in a covered bowl for a few hours or overnight.
3. Remove potatoes from refrigerator, and fold in eggs, flour, onion & chives.
4. Heat 3 Tbs. oil in a large skillet over medium-high heat.
5. Spoon 1/4 c. potato mixture into pan to form each pancake. Flatten pancakes a little, if necessary.
6. Cook pancakes 2-3 minutes on each side, or until golden brown.
7. Remove from heat and drain on paper towels. Sprinkle with kosher salt and coarse pepper, and serve immediately.
8. Garnish with fresh chives.
Serves 6
More Information
Be sure to check out all of our pages at www.smoking-meat.com and wyntk.us for more information on smoking meat.
My Recipes
Here are just a few of the hundreds of testimonies that I have received in the last short while from folks who have bought the recipes and wanted to let me know that they are every bit as wonderful as I claim.
"I purchased your sauce and rub recipe and used it several times now. By far, the best I have ever tasted and I always get rave reviews from guests!!!"
"I Just smoked a butt and it turned out fantastic. I even tried your sauce recipe and it was delicious"
"I recently purchased your rub and sauce recipe. The first day I had off from work I got all the ingredients together and followed your "BIG MISTAKE" directions. I want to let you know you don't have to return my money. It was terrific. Thank you."
"Ok, I paid for your rub and sauce recipes. My wife thought I was crazy. I was wondering myself. I have yet to try the rub because I have a good supply of some from Texas but I will be trying yours. However, your sauce recipe has been tried, and tried and tried. I think I need to buy bulk ketchup at this point. It is simply the best BBQ sauce I have ever had"
"Your rub and sauce are the best ever!!!!"
"I used your rub and sauce which is some of the best I've tasted"
"You are the bbq master. I just wanted to say thanks again. i have a 15 yr old daughter that ever time i cook she says ewwwww to everything. i did your rib rub yesterday and wow she shocked me.. she had two servings on those ribs. And my father for someone who doesnt like pork ribs sure put them away. Thanks again keep up the good work."
"thanks for making my weekend great with that recipe. I have more friends that want me to ribs for them. But they want me to cook it because I have the weber built and the Naked Rib Rub recipe. WOOHOOOO!!!!"
"Just wanted to let you know your sauce is fabulous. I do not use store bought sauce anymore for anything. Thank you!!"
You get the idea!!
Only $18.95 and you never have to buy the store-bought stuff again. The recipe is easy to make, uses common ingredients and you will love yourself for it time and time and time again!!
Order the recipes with some options by going to the recipe sales page or if you are in a big hurry you can go to https://www.smoking-meat.com/order to be transported straight to my buy-now page.
Note: A download email will arrive in your email inbox within minutes of ordering.
The email will contain a link along with a 6-digit numeric password which will allow you to download the recipes as a PDF file.
If you do not receive the email.. first check your junk/spam folder. If you still do not find it, send me a quick email (jeff at smoking-meat dot com) and let me know that you did not receive it and I will personally work with you to make sure you get the recipes and are able to open them in a format that is best for you.
Be sure to send me a testimony after you try them out.. you will be amazed.. I PROMISE!!