Pit Boss Lockhart Platinum Series Pellet Smoker Review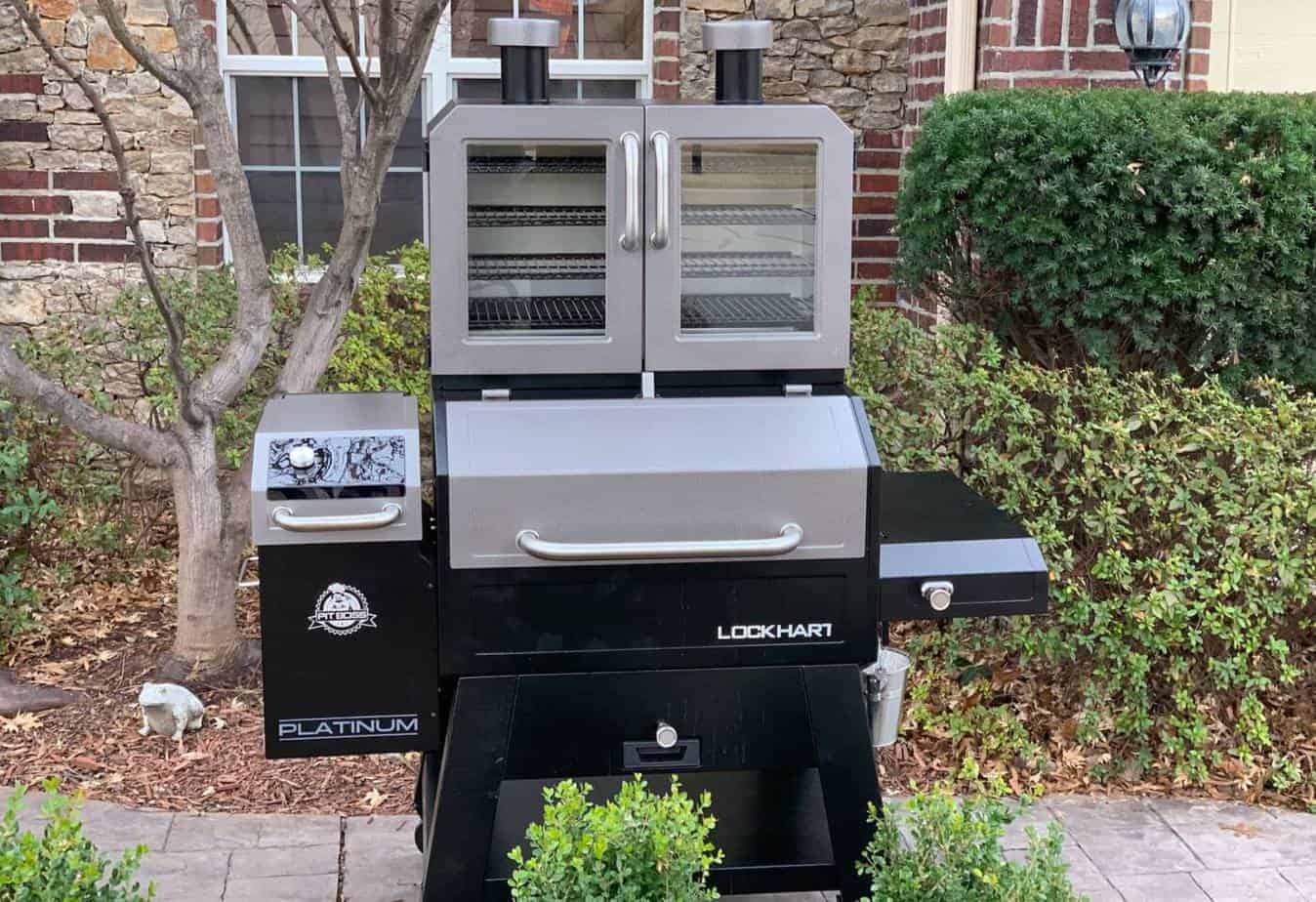 It's large, in charge and it's the newest thing from Pit Boss! Introducing the Pit Boss Lockhart, one of the platinum series pellet smokers just released and carried exclusively by Walmart.
I will tell you up front that I really like this pellet smoker for a number of reasons which I will detail below but here are the main features:
Holds a really good temperature (+/- 5 °F)
It's HUGE and has lots of cooking space (more than 2000 in.²)
Heavy duty construction
Easy ash cleanout
Capable of direct heat grilling
Cool smoking capability in the upper chamber
Holds a whopping 40 lbs of pellets
Comes with (2) meat probes but has (4) probe inputs if you need it
Bluetooth connectivity to your phone (I'm not a big fan of bluetooth connectivity as I prefer WiFi however, this seems to be a strong signal and it was connecting fine more than 50 feet away and through several walls)
The finish on the outside is tough, durable and extremely easy to wipe clean.
Light in the main chamber and light in the smoke chamber as well.
Touch screen controller
Built in probe storage
Assembly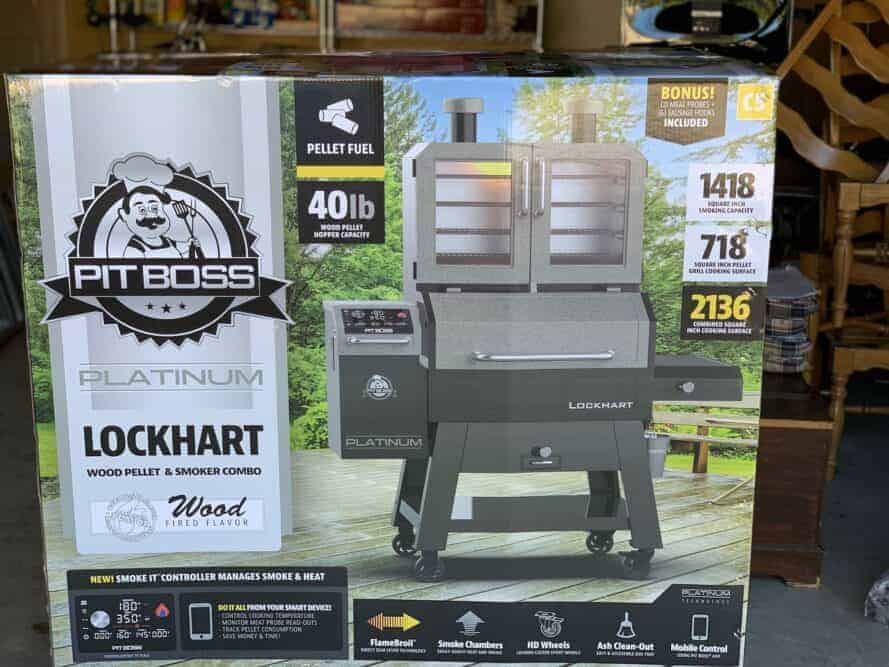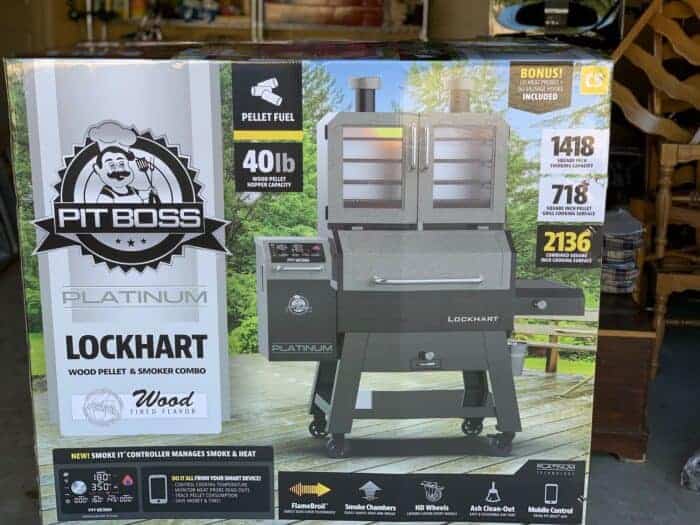 My son in law helped me get everything out of the box and I jumped right into putting it together. I ended up finishing it myself since he had other places to be but I do recommend having some help if you can wrangle it.
It took me about 3 hours to put the entire thing together following the instructions in the manual which, for the most part, where well written and easy to understand.
Cooking Areas/Space
The amount of cooking area on this thing is something that's going to appeal to a lot of people and I want to talk about that right off the bat.
The area right over the burn pot is the main cooking area. This area is covered by two cast iron grates side by side. Each of the grates is 14-¼" x 18″ giving you a total cooking area of 28-½" x 18″.
There is also a smaller upper grate in this main cooking area which is 28″ x 6″.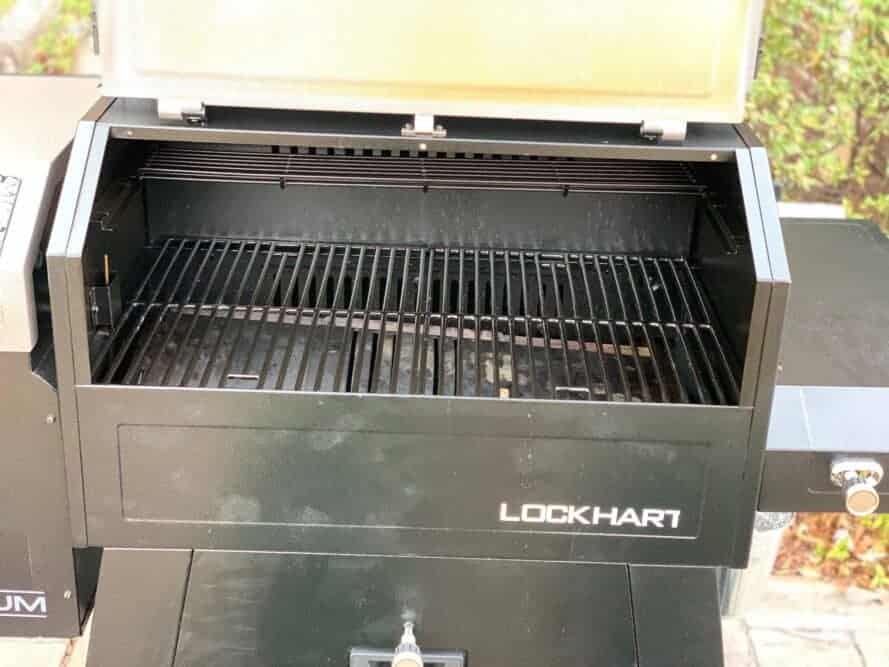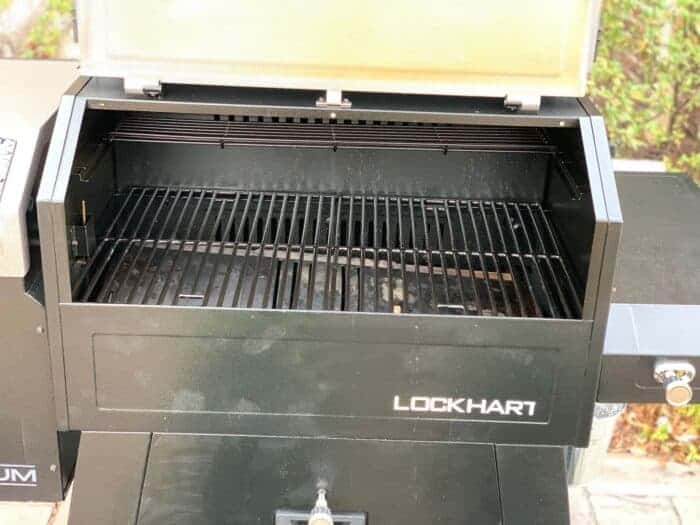 The top smoke box has four grates with about 3-1/4″ of vertical space between each one. These grates are 28″ x 12-½" each.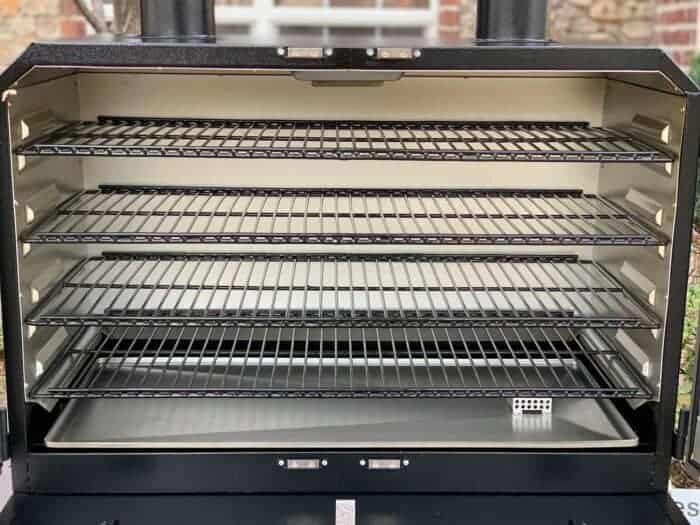 The Lockhart also ships with six sausage hooks in case you want to smoke some sausage in the upper smoke box area.
Total combined cooking space is more than 2000 in.²
The Controller
The controller has PID technology which just means that it has the capability of learning how you operate the pellet smoker and to make adjustments to better control things like lid opens.
The screen is touch sensitive so things like sending more pellets to the burn pot or even turning on the internal lights are controlled by a simple touch.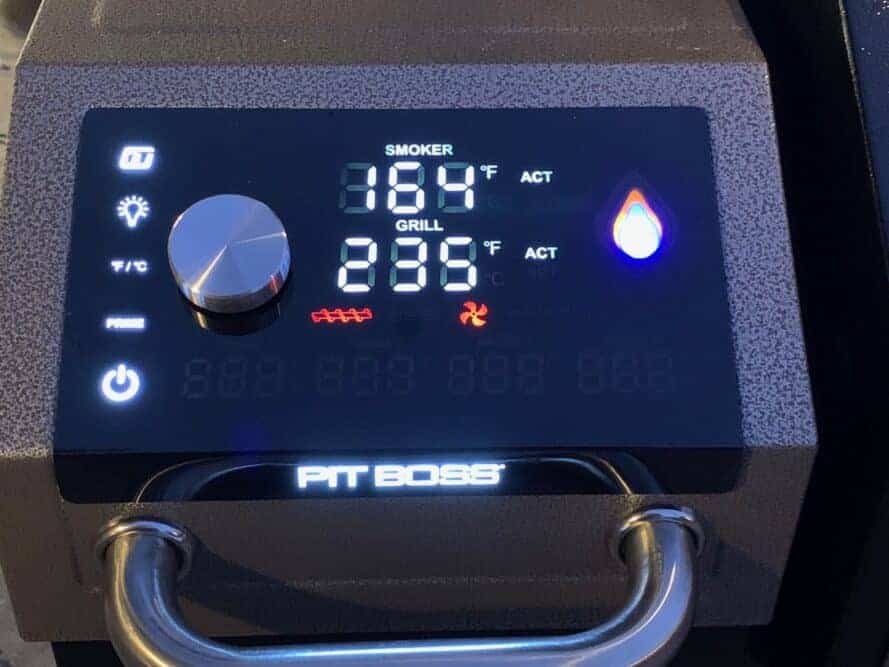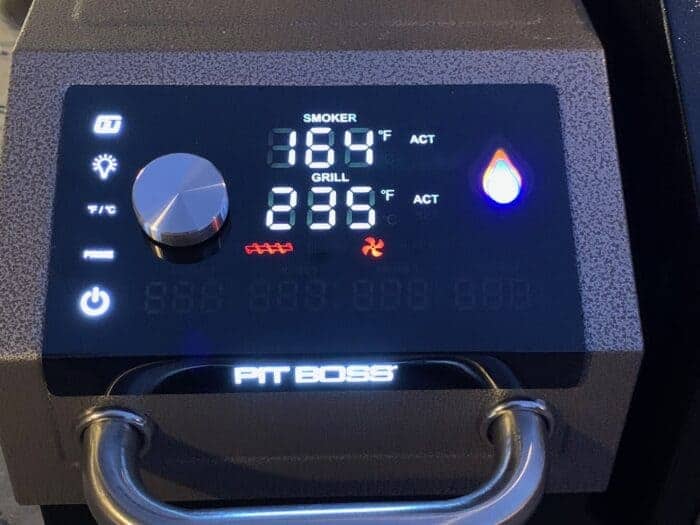 The controller also connects to the Pit Boss app on your phone via bluetooth  and you are able to control all functions on the pellet smoker except for powering on the smoker which must be done on the smoker itself.
There are four probe inputs on the underside of the controller but the smoker ships with two probes. You can add two more probes if you need them.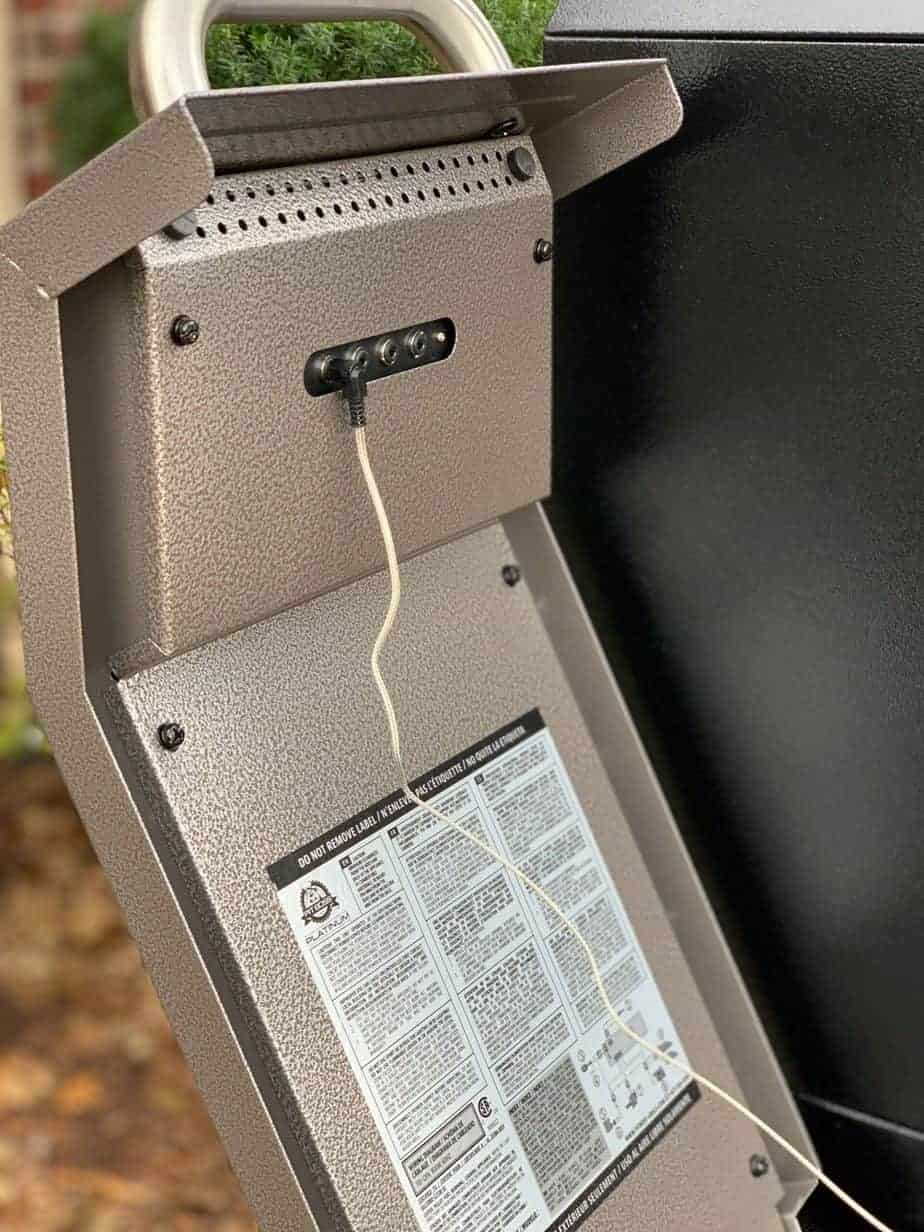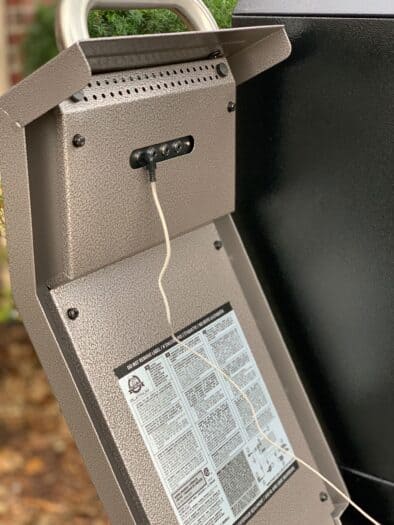 Ash Cleanout
On the front of the Lockhart is an ash drawer with a pull handle. The pull handle releases the ashes to fall down into the ash drawer and then the drawer can be pulled out and emptied. Easy peasy!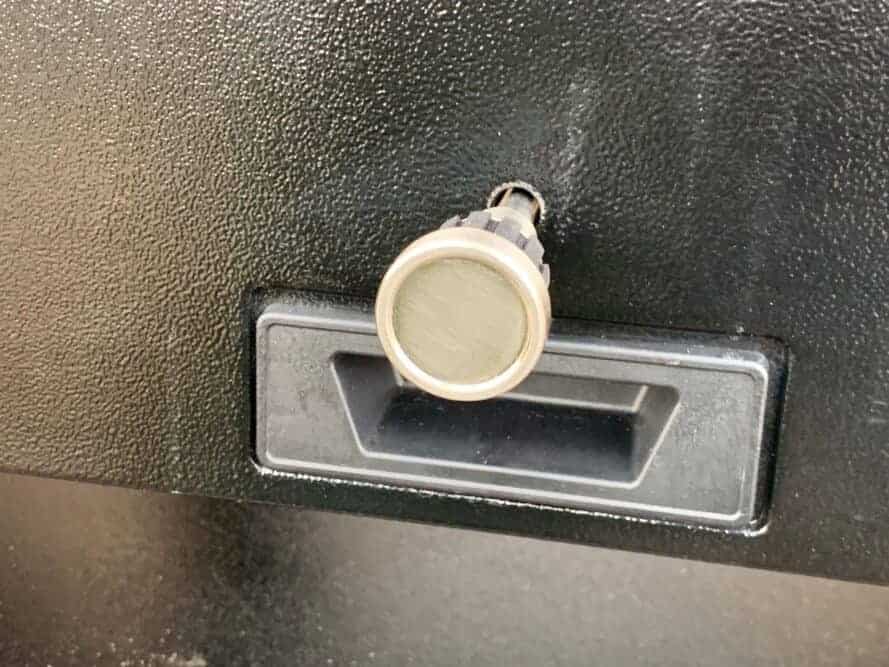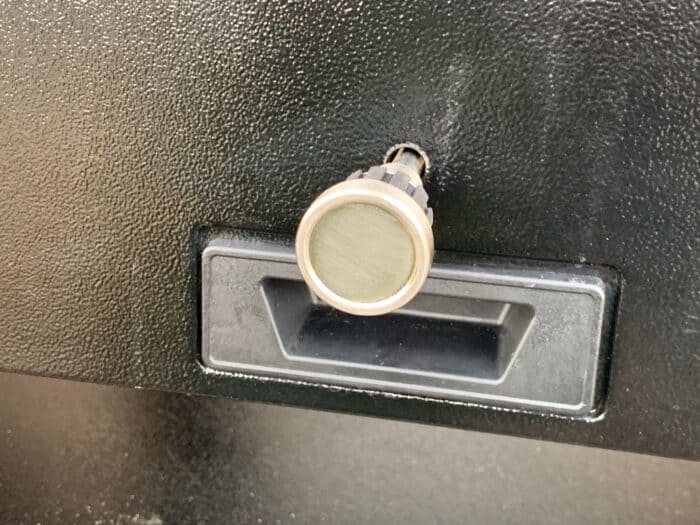 This does not negate the need to clean out the inside of your pellet smoker once in a while but it does mean you can be less frequent about it.
"More Smoke" Knobs
On the right side of the unit you will see two parallel knobs.. these open up chambers inside of the grill area to allow more smoke and heat into the upper smoke area.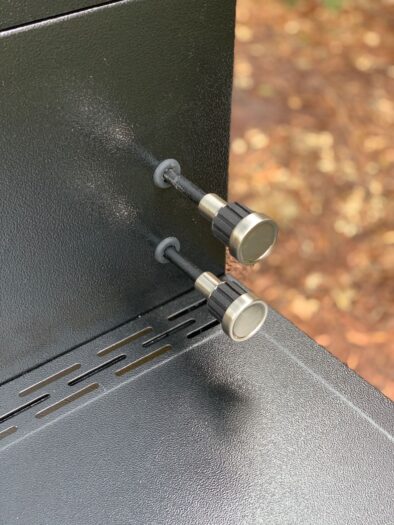 I have not played with these enough to tell you how much it affects the smoke and heat when one or both of these are activated but once I do, I will update this review.
The Hopper
As with most pellet smokers, the hopper is on the side but this one is larger than most with a 40 lb capacity. Enough to keep you going for several days if need be.
The front of the hopper also doubles as a storage area for the probes and storage hooks.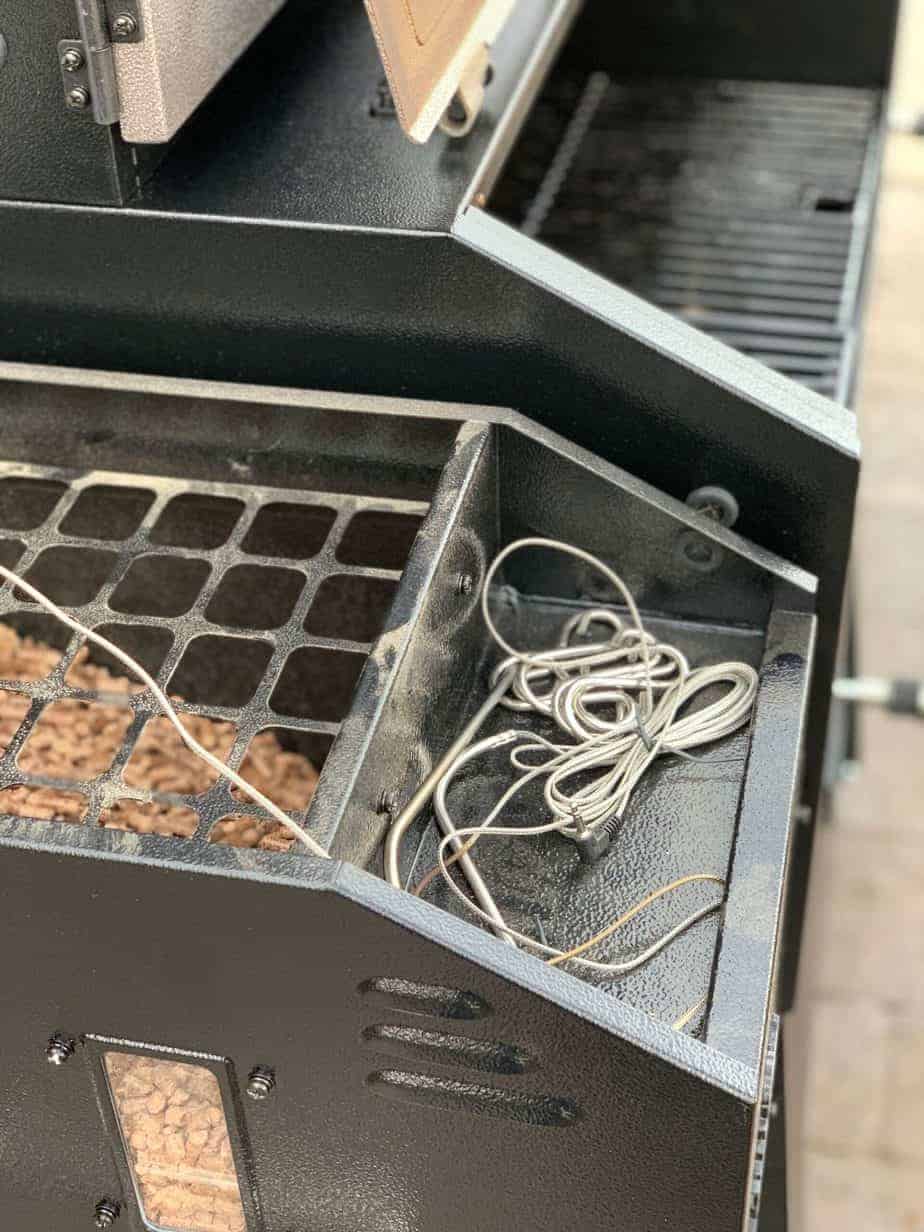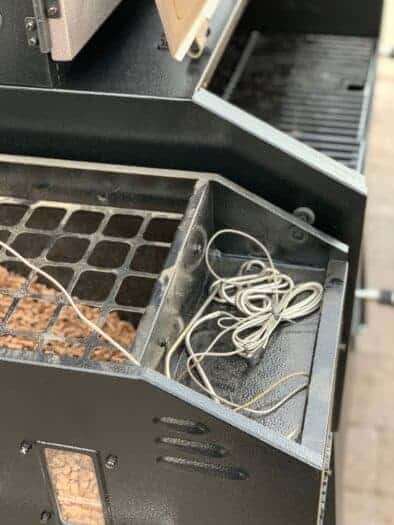 On the back of the hopper, you will find cord storage and an easy access cleanout in case you want to empty the hopper of pellets for cleaning or changing out the pellets for a different flavor. This is a feature that I really enjoy!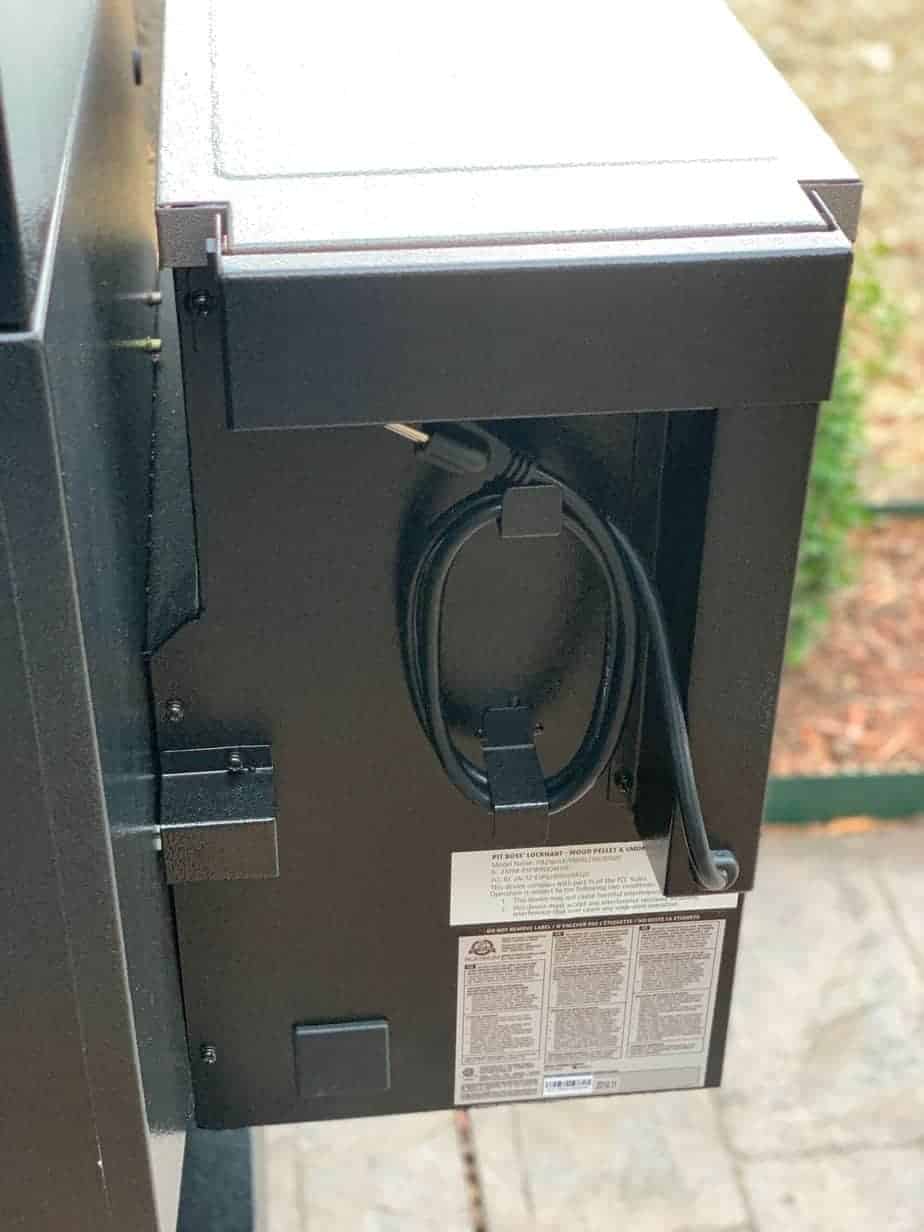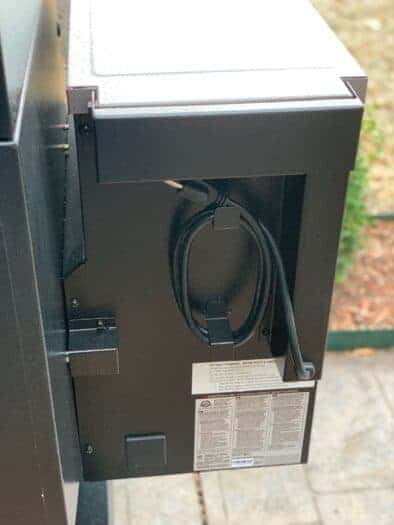 Flame Broiler
With a knob located on the outside of the unit, you can go from indirect heat to direct flame broiling heat and this is really nice if you are cooking something that needs a little sear in it's life.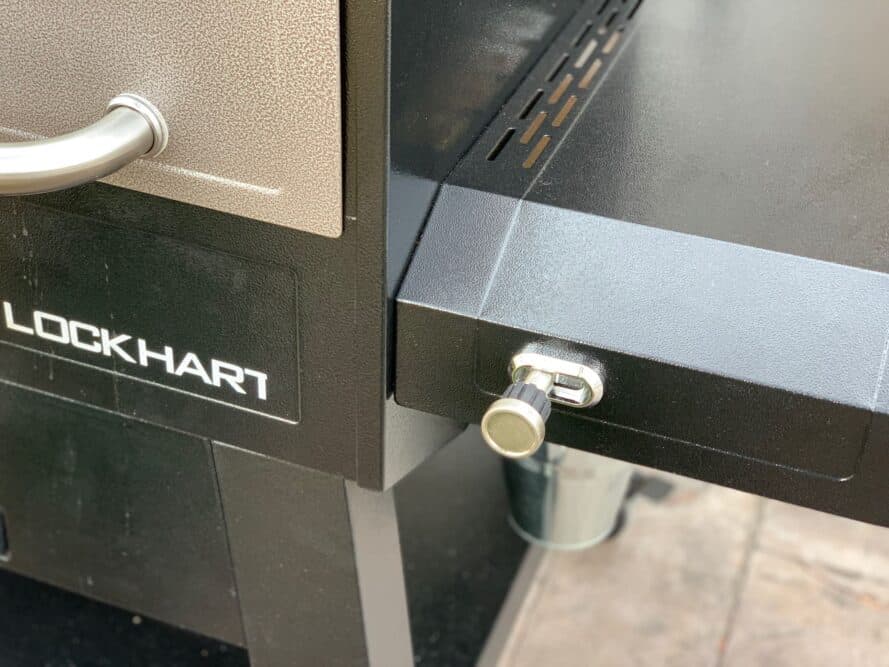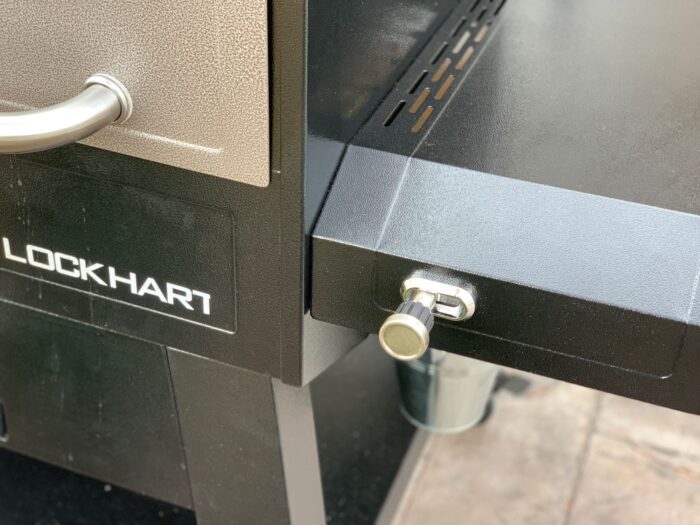 I have used this on several steaks and some chicken and it works like a charm.
The only problem I have had is it sometimes gets grease dripped onto it and then it sticks and is hard to move. I have learned to make sure it is moving back and forth freely before beginning my cook. If necessary you can use a screwdriver to pry between the two pieces of metal to break it free and then you are ready to go.
Closed–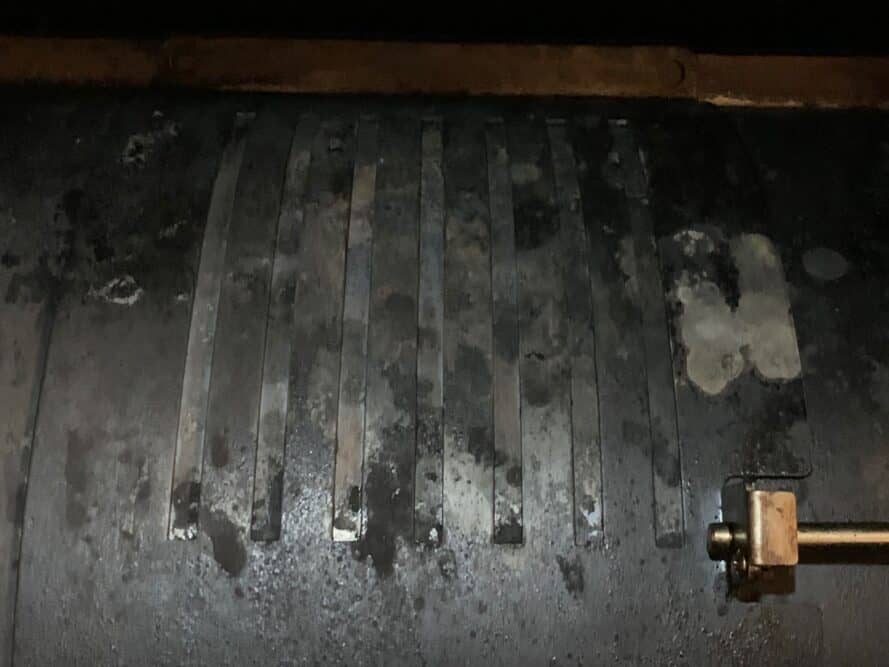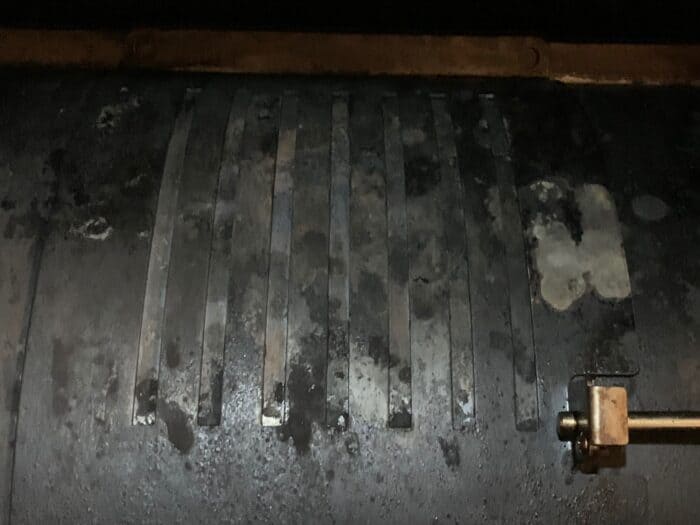 Open–
Allows the fire to shoot up between the slots to the grates so it can flame broil whatever is sitting on the grate above.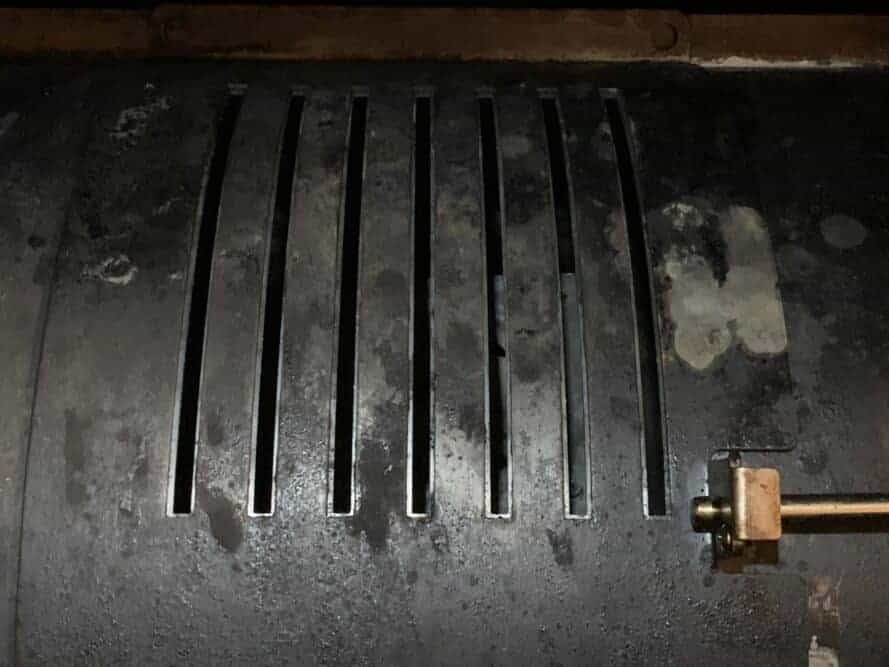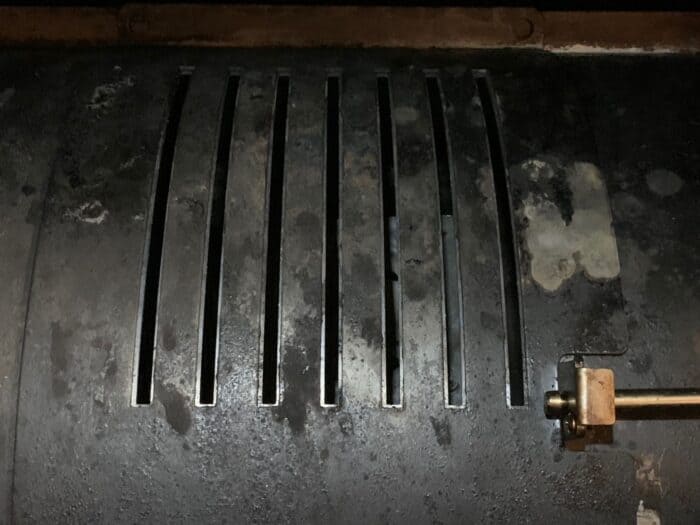 Storage
There is a large side shelf on the unit and of course the top of the hopper lid is also great for sitting things on as well.
The heavy duty shelf underneath is great for storage extra grates not being used or extra bags of pellets.
What I Like
I love this smoker and I've logged at least 40 hours on it so far with no issues. I get plenty of smoke flavor at low temperatures  and around 60 feet of range on the bluetooth controller to the app on my phone through several walls.
The finish on the smoker is easy to wipe clean and I love that the grates in the main area of the grill are cast iron.
What I Don't Like
I do wish they'd went ahead and installed Wifi capability since bluetooth lacks so much in range. Maybe they will do this in future models.
The handle on the main lid runs into the door handles for the smoke box above. Seems like the handles could have been split or installed so the main door could open fully. A mild irritation but I think this would have been an easy thing to correct.
The Price
I received the Lockhart pre-production and due to it's size and all of the great features it contains, I fully expected this thing to be priced a lot higher than it it. In my opinion, at only $747 (as of 1/16,2020), it is priced at a steal and if you are in the market for a new smoker, you can't go wrong with this one.
With the flame broiling capability, it could definitely be a really decent replacement for a grill AND give you a ton of hot smoking capability as well as some cooler smoking capability up top.
This thing is heavy at 275 lbs without any pellets in the hopper so I recommend you order it online for direct delivery instead of trying to haul it home from Walmart but that choice is entirely up to you.
Sold exclusively by Walmart, here's a link to check it out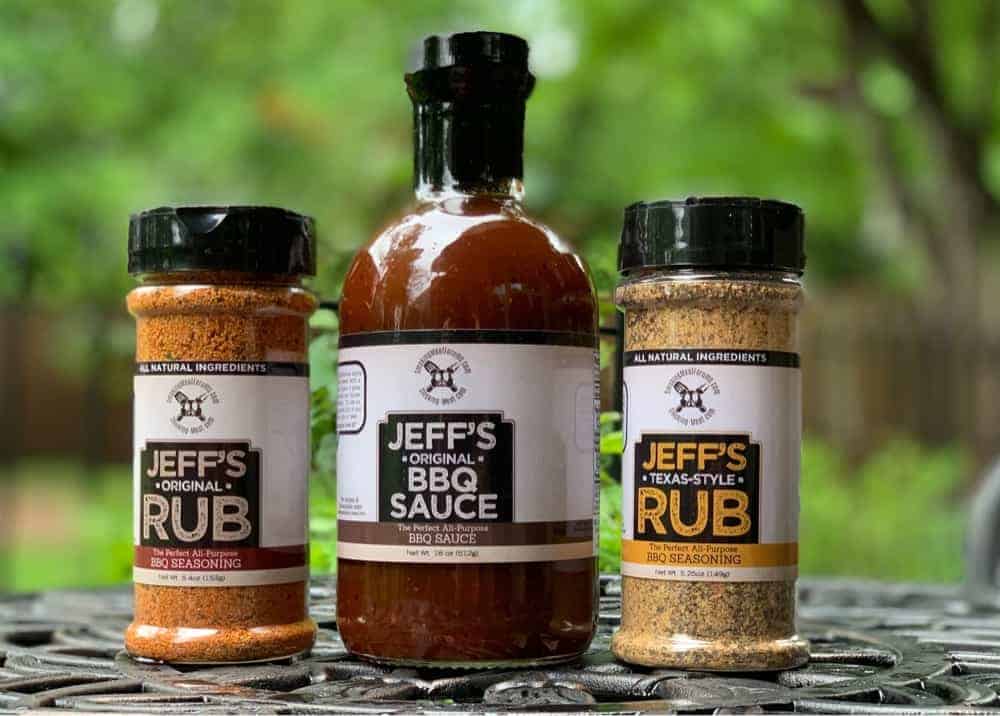 Order Jeff's Rubs and Barbecue Sauce TODAY!
✅ My rubs and sauce will be the best thing you've ever tasted and it's a great way to support what we do!
Note: You can also order the formulas for my rubs and sauce and make these yourself at home. Grab those HERE and download immediately.