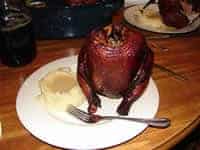 Hello and welcome to the September issue of the Smoking Meat Newsletter, quite possibly the best source of information online in the form of a newsletter!
I am so happy that it is cooling down some here in Oklahoma and my smoker has been staying fired up to prove it.
This month, the focus is on chicken.. we have looked at chicken often but I wanted to take a very common version of chicken and change it up a little bit for you guys. Give you something that you can fix that will not only be delicious but extremely interesting.
Beer can chicken gone MINI!
This last issue we touched on some fundamentals of smoking and while I will try to do that at least once a year, I am excited about getting back to making something edible!
Here is the lineup for this month.. enjoy!

In Memory of Scott in KC

I would like to dedicate this months edition of the Smoking Meat Newsletter to our dear friend Scott in KC who passed from this world but not from our hearts. He was a member of the Smoking Meat Forum at smokingmeatforums.com for a quite some time and many folks knew him from other forums of whom he was a founding member.
He always had great things to say, worked hard at answering questions and being a help to those trying to learn the art of smoking meat.
As a lot of you know, his favorite wood was cherry and he did not mind letting that fact be known. He was unique in every way and great asset to the forums.
He will be missed greatly and from all of us at smoking-meat.com and SmokingMeatForums.com I would like to offer condolences to the family and let you know that he will always have a place in our hearts and will live forever in the many excellent posts that he left behind.
I have asked all of the members at SmokingMeatForums.com to honor Scott by performing their next smoke in his honor and if you have the opportunity, plant a Michigan bing cherry tree in his honor as well.
Baby Beer Can Chickens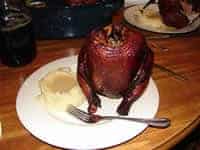 I am extremely fond of beer can chicken.. you just cannot beat the flavor of the liquid being infused into the meat in such a unique way.
While thinking about this, I was trying to think of a way to take this concept and apply it in a new and exciting way and right in there was when the idea struck me to use baby chickens (cornish hens). The problem comes in the fact that those small chickens will not fit over a beer can so I had to find a can that the chickens would fit over.. something their size.
I found the perfect can in the juice aisle.. pineapple juice and V8 both come in these cute little cans that are just the perfect size and while I though about drinking the juice or pouring it into a separate container and then refilling the cans with beer, I decided to go nuts and leave the juice intact.
Whoever heard of V8 smoked chicken?!
I brined the chickens first in a gallon of water and a cup of kosher salt (I also poured in a can of the pineapple juice for good measure) and left them in the mix for 4 hours in the refrigerator.
After 4 hours I removed the bowls of brining chickens and rinsed each chicken very well.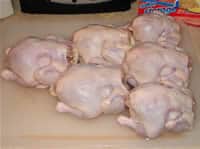 I had a bowl of my special rib rub already mixed up for the occasion and after applying a light coat of yellow mustard I rubbed a generous portion of the rib rub all over the chicken making sure to coat the legs, wings and to get some up under the skin wherever possible.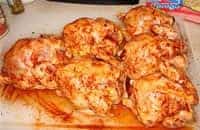 a quick break..
By the Way..
If you have not taken advantage of my rib rub and barbecue sauce recipes then I think you should take care of that right now.. no procrastinating. this baby beer can chicken recipe is to die for with the rub and the sauce is great for dipping the leftovers in later.. people are buying the recipes and discovering that it is just as I have promised and more! My recipes are hands down the best rib rub and barbecue sauce on the market and you can own the recipes today for a measly little $18.95.
Back to the main article..
I let the chickens sit on the cabinet for a few minutes while I went out and prepared the smoker for a 225 degree fire with some mesquite and apple wood.
After the fire was going good and cruising right along at 225 degrees or so I came back in and proceeded to set each chicken on a can of juice. For this experiment I used 4 cans of Spicy Hot V8 and 2 cans of Dole® Pineapple juice.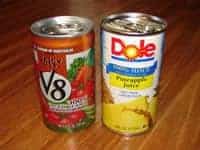 I carefully place the chickens in the smoker and increased the heat a little.. my ultimate goal was to smoke them at 250-260 and see if I could crisp the skin a little more than usual.
As most of you know, the skin of chicken is quite rubbery and pretty much inedible when cooked at 225 degrees. Since chicken does not necessarily benefit from low and slow smoking, it is ok to crank up the heat a little on them.
I don't like to crank it up too high or they will get done too fast and will not be able to stay in the smoke for as long as I like.
At 260 degrees, the chickens reached an internal temperature of 165 degrees in just a little over 2 hours..
We threw together some mashed potatoes and gravy and some home brewed iced tea and the meal was served.
You can make this for your family very easily.. I used the 1.5 pound cornish hens but you can find them a little smaller if you like in the 1 pound range.
Also you can empty out the juice cans into another container and refill with your favorite beer if you so choose for the authentic "beer can chicken" taste in a smaller package.
Baby Pumpkin Pies for All

The kids thought it was really cool to have baby chickens, especially since they each got their very own chicken. I spiced things up a little with some pumpkin pies poured into the mini pie pans. These mini pie pans can be found along with the regular 9 inch pie pans in the baking aisle of your local grocer or at Walmart or other large grocery stores and usually come 6 to a package.
A normal pie recipe made to fill a 9 inch pan will fill about 12-14 mini pie pans.
I will tell you a secret if you promise to not let it out.. I like to use the Libby's® Pumpkin Pie mix (the large can) which is simply pumpkin with all of the spices already mixed in. Mix it with a 5 ounce can of evaporated milk and 2 eggs and it makes a very delicious pumpkin pie.. I have folks who swear it is made from scratch!
New Grilling Section at SmokingMeatForums.com

By overwhelming demand I have added a "Grilling with Smoke" area to the forums at SmokingMeatForums.com and it is ready to use. I have added some basic sections such as beef, pork, chicken, fish, veggies, etc. but if you have suggestions on other areas that need to be added then please feel free to drop me an email and let me know.
Enjoy!!
Share This Newsletter
Be sure to share this newsletter with all of your friends and family.. send it to them and tell them how to subscribe for themselves at https://www.smoking-meat.com//subscribe and they will thank you time and time again.
Jeff's Naked Rib Rub and BBQ Sauce Recipes

If you are truly serious about barbecue and cooking outdoors for family and friends then you need my rub and sauce recipes. It is the two tools that you absolutely need in your barbecue toolbox and the are the second most important investment next to your smoker in my opinion and lots of folks agree.
Jake from Ontario wrote..
It is not possible to put into words the extraordinary taste of the ribs
prepared with your rib rub. Wow. I had them in the smoker with mesquite
for about 5 1/2 hours at about 220F. The ribs were visually gorgeous and
the taste – mmmm – unbelievable! No leftovers. The BBQ sauce was a huge
hit too – easy, easy, easy to make and just the right amount of 'heat'!
Everyone loved it, the first batch did not last through the first meal!
Thanks!!
Thank you Jake for those words of wisdom! Those recipes are a result of my passion for barbecue and smoked meat and I am only too happy to hear that they were a huge success at your house.
If you would like to experience these recipes for yourself (and you should) simply click the link below to read more testimonies or click here to go ahead and order.
Note: This is an immediate download which means just as soon as you order you should receive a download link within minutes.
Note: Please email me right away if you do not receive an email within just a few minutes of ordering so I can jump into action and find out what is going on.
I have an outside company that handles this for me and I have to keep them on their toes.. my goal is 100% satisfaction and I won't be satisfied until you are. I promise.
Joke of the Month

Every month I feature a joke from the joke section of the forum at smokingmeatforums.com and this one really got me to chuckling.. thanks Joe!
"How to install an affordable home security system"
1. Go to a second-hand store and buy a pair of men's used size 14 Work boots.
2. Place them on your front porch, along with a copy of Guns and Ammo Magazine.
3. Put a giant dog dish next to the boots and magazine.
4. Leave a note on your door:
"Hey Bubba – Big Mike and I went for more ammunition. Back in an hour.
Don't mess with the Pit bulls. Better wait outside.
They attacked the mailman this morning and messed him up pretty bad.
I locked all four of them in the house."
Submitted by JoeD617 at SmokingMeatForums.com
Thanks Larry and all of you who regularly submit jokes into the jokes section of SmokingMeatForums.com .. we all get a great laugh out of them and it makes our days a little better.
Thank You for Supporting Smoking-Meat.com!

Until next time… thank you for being a part of the best smoking meat/barbecue site on the world wide web! At this time we are supported solely by sponsored ads and the few items that we offer for sale.
Every time you purchase one of our excellent products it helps pay for the hosting, domain and other expenses required to provide this excellent service to you.
We are forever grateful to all of you who constantly let us know how much the site means to you.
Have a Wonderful Day and Keep Smoking (meat that is)!!!
Jeff Phillips
Pitmaster/Webmaster
www.Smoking-Meat.com
www.SmokingMeatForums.com
Feel free to drop us a line about anything at all by using our contact us page or the speedy form below.
---
Note: This newsletter can be freely reprinted or used without permission as long as it stays intact, as is and is not changed in any way from the format in which it was set by the author and/or editors of this publication.