Hello folks and welcome to the September smoked beef ribs edition of the Smoking Meat Newsletter!
I had tremendous response from last months writeup on chicken drumsticks turned into buffalo wings.. inside and out. These are hot wings with a lot more meat and who can complain about that?!
If you have not tried it then you definitely should.
Here is the link to the archived version in case you missed it:
Smoked Buffalo Chicken Drumsticks (Too Good for Words)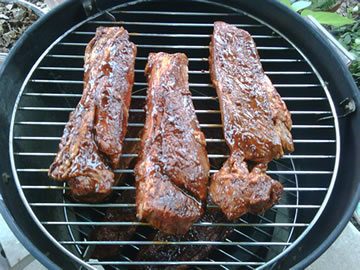 This month we are focusing on smoked beef ribs.. country style and boneless. Most folk do the pork country style ribs and while they are extremely tasty we must not forget that the beef version is a really tasty delight as well.
For this newsletter I opted to do these in my modified Brinkmann and for those who are having a hard time getting the temperature up to 225 and above in your Brinkmann.. please see my tutorial for modifying your own Brinkmann smoker to help it do a little better job.
If you are using a different type of smoker then some of this tutorial may not apply. Just use what you need and discard the rest.
Smoked Boneless Beef Country Style Ribs

These smoked boneless beef ribs are simply delicious eaten like a steak with a fork and knife or sliced thin for a sandwich, etc. Let me know if you try this or any other recipe that I have written about and tell me how you liked it or if you made changes and how they worked out for you.
I am interested in your success!!
Meat Preparation
Start with country style boneless beef ribs and after rinsing them in cool water place them in a bowl and pour a bottle of A1 sauce on top of them. Any steak sauce will work or you can use yellow mustard but since they are beef the sauce will give them some good flavor.
After making sure the steak sauce completely coats each piece, pour on about 1 cup of my Naked Rib Rub and massage it into the ribs.
It is a good idea to do this before you even get the smoker going to give the beef ribs time to do a little marinating before being cooked.
Preparing the Smoker
Place newspaper in the bottom of a charcoal chimney and fill the chimney full of lump charcoal. Light the paper and after making sure it is lit walk away and let the fire do it's thing. This may take from 10-15 minutes.
Once the lump is ready, pour it into the charcoal pan and add about a quart of hot water to the water pan.
Place the grates into position on the smoker.
Smoking the Ribs
Bring out the container of ribs and place them in the smoker. Place the lid on the smoker.
Add about 6 chunks of your favorite wood on top of the coals via the access door in the side of the smoker.
I chose apple wood for mine but that is entirely your choice.
These should not take more than about 2-2.5 hours at 225 but mine took more than 3 hours due to the blustery winds that were blowing in my neck of the woods.
The ribs are done when they reach about 170-175 degrees. If they are not tender enough then you can let them go a little longer. I like for them to be about the same tenderness as a good steak.
Note: For maximum tenderness, smoke them for about an hour then wrap each rib loosely in a piece of heavy duty aluminum foil for the remaining hour. If you like the outside to be a little more firm you can grill the ribs unwrapped for about 5-10 minutes on medium heat just before serving.
Serving the Ribs
These large country style smoked boneless beef ribs will go well with almost any vegetable including mashed potatoes, corn, vegetable medley, okra, baked beans, etc.
Be sure to serve some of my barbecue sauce warm and on the side.
If you really want to get crazy you can finish off the meal with some hot apple pie and ice cream;-)
My Famous Recipes

If you want to buy the store variety then by all means do so but if you want to wow your family with the best rub and sauce you have ever tasted then you can do that with my very own rub and sauce recipes.
I offer the recipes that allow you to make this right in your own kitchen and you will find the kids as well as other family members trying to sneak bites of it right out of the pan!
It is that good!
Here are a few emails I have received from some very happy customers:
———————————-
Jeff, I have tried allot of "bottled" sauces and a few home made ones to……This stuff is GOLD! It was a big hit Labor day
———————————-
Jeff, I did a couple of pork butts in my fireplace/smoker this Labor Day weekend. I had just ordered your rub recipe. I've smoked Boston Pork Butts numerous times, this was by far the best
———————————-
I purchased your rub and sauce recipe a month ago. I have tried almost every brand on the market, nothing comes close to this! It is good on anything. I can't keep from eating it while it is simmering on the stove!
———————————-
just wanted to tell you I finally bought your rub and bbq sauce recipe. They were as you said a big hit. Good job.
———————————-
I can not thank you enough and feel very lucky to have stumbled across your site. Last weekend I made your rub and put it on a Boston Butt roast and on a slab of ribs, both were fanfreakintastic.
———————————-
I finally purchased your rub and sauce recipes. I didn't have time for the sauce but the rub was amazing.. Probably some of the best ribs we have ever had
———————————-
You deserve the very best and is is completely within your grasp! Only $18.95 and worth every penny. Not only do you get the best rub and sauce recipe available, you are supporting this website and helping to make sure the bills get paid so we can keep on doing what we do to teach thousands and thousands of people across the world the art of smoking meat.
NOTE: My system is automated which means you should get a download email within MINUTES of ordering..check your spam/junk folder first then contact me to get the recipes sent to you as an attachment.
Some Helpful Links

Smoking Ribs – /smoking-ribs
3-2-1 Ribs – /smoked-rib-recipe
Smoking Chicken – /smoking-chicken
Smoking Meatloaf – /meat-loaf-recipe
Smoked Pork Shoulder – /pork-shoulder-recipe
I Want YOU to Join Me On Facebook and Twitter

As many of you know, I am on Facebook and Twitter.. you get to see a little of my personal life as well as my posts about smoking meat throughout the week. Many of you have joined and I am so happy that you have. For the rest of you… I am still patiently waiting;-)
I would love for you to join me!
Facebook: http://www.facebook.com/tulsajeff
Twitter: http://twitter.com/tulsajeff