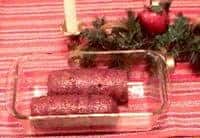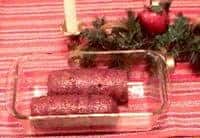 This page is about smoking sausage but perhaps not in the way you are thinking of. If you are looking for instructions for smoking sausage in a smokehouse at low temps then this is not the correct page.. you should go to the forum and look at the sausage category for that type of information.
[wptouch target="non-mobile"][raw_html_snippet id="adsense_after_p1"][/wptouch]
This page is about smoking sausage in a smoker at 225 degrees for 3 to 3.5 hours.. specifically the round chubs of sausage like you would eat for breakfast.
This type of sausage is known in the smoking venue as "fatties" and if you have ever tried them you can attest to the fact that they are wonderfully delicious and add a whole new dimension to breakfast.
The instructions on this page are mainly for smoking sausage for eating on a biscuit or for smoked sausage gravy or the like.
To take it a few steps further, also try them stuffed with cheese and veggies and wrapped in a weave of bacon for a taste you'll never forget!
I have a newsletter devoted to this amazing novelty here.
I like to buy the Jimmy Dean sausage in the spicy variety, carefully remove the plastic wrapping and lay it in the smoker while everything else is smoking.. it takes up very little room and is great as sausage biscuits, sausage gravy, sausage and eggs, etc.
If you have not tried smoking sausage or "fatties" in this manner then do me a favor and try it.. you will thank me with every mouth watering bite!