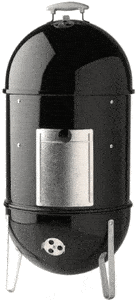 As I have said before.. the Weber Smoky Mountain Smoker commonly referred to as the WSM is probably one of the best charcoal smokers on the market. It may even beat some of the more expensive units on the market.
Here are the specs of the 18.5 Weber Smoky Mountain Smoker
Measures 41 x 19 x 19″; comes with Weber cookbook, heavy-duty vinyl cover.
Outdoor charcoal smoker; offers ample room; smoke a turkey and a ham at same time
Bowl and lid made of premium-grade steel; coated with porcelain enamel; wont rust or fade
2 triple-nickel-plated, 18-1/2-inch-diameter cooking grates; rust-resistant aluminum vents and fuel door
Glass-reinforced nylon handle; porcelain-enameled water pan creates steam to keep meats moist
Enjoy authentic smokehouse flavor at home with the Weber 2820 Smoky Mountain Cooker/Smoker. Though amazingly compact in looks, this smoker is equipped with two 18.5-in. grates that let you smoke both a turkey and a ham at once. At the bottom is a porcelain-enameled water pan that adds steam to the cooking process so your meat stays moist and tender. In front is a rust-resistant door that lets you add fuel easily and conveniently. The grates are triple nickel-plated, the bowl and lid are porcelain-enameled and the handle is glass-reinforced nylon. Comes with a Weber cookbook and a premium-grade cover. Limited 10-year warranty.
Can't find one in stores or just want the convenience of having it delivered right to your door?
Order a 18.5 Weber Smoky Mountain Smoker here