Print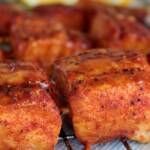 Hot Smoked Salmon on a Stick
This hot smoked salmon on a stick recipe is easy, quick and gives everyone their own skewer full of wonderful smoked salmon. You gotta love that!
Prepare Salmon
Cut salmon in half lengthwise separating the thick part from the thinner part.

Further separate lengthwise into strips that are 1.5 to 2 inches wide

Make cuts every 2 inches or so vertically through the fish stopping when you reach the skin

Slide the knife blade between the fish and the skin to separate the skin from the fish

Place the pieces of salmon onto skewers making sure to put pieces of similar thickness on the same skewer

Brush olive oil onto the salmon to help the rub to stick

Sprinkle Jeff's rub onto the salmon to add a nice layer of flavor and seasoning to the fish.
Smoking the Salmon
Place the salmon skewers onto oiled smoker grates

Smoke fish at 225 °F for about 1 to 1.5 hours or until it reaches 145 °F in the center.

Use a thermometer to check the temperature of the fish after about 45 minutes or sooner if the fish is a little on the thin side.
Serving the Smoked Salmon
When the fish has reached 145 °F, remove it from the smoker and serve immediately.