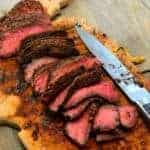 Print
Seared and Smoked Top Sirloin Steaks
I cooked up some smoked top sirloin steak the other day-- dry brined and seasoned with my Texas style rub and it was without a doubt, hands down the best steak I've had broiled, grilled, or smoked. This write-up is going to give you all the juicy, delicious details about how I did it so you can replicate this in your own backyard. Prepare to be blown away when you taste it!
Prep Time
3
hours
20
minutes
6

thick cut top sirloin steaks or equivalent

Course ground kosher salt

Heavy pan or skillet

(iron skillet works great)

Vegetable oil

Jeff's Texas style rub recipe

Basting sauce

(recipe below)
Sprinkle coarse kosher salt onto top sirloin steaks and place into the fridge for 2 hours.

Remove from fridge, flip them over and repeat salting on the other side. Leave steaks out to warm to room temperature for 1 hour. No need to rinse.

Dry steaks well with paper towel then sear on all sides in heavy skillet over medium high heat with just a couple of TBS of vegetable oil.

Let the steaks cool for a few minutes then coat with Jeff's Texas style rub on all sides.

Setup smoker for cooking at 230°F with indirect heat.

When the smoker is ready, place the steaks on the grate and let them smoke cook with oak or whatever smoking wood you have available.

At about 30 minutes in, baste the steaks with a concoction of ½ cup low sodium soy sauce, ½ cup Worcestershire, and ¼ cup of olive oil. Stir the ingredients constantly as you use it to keep them from separating.

When the steaks reach 137°F as measured with a meat thermometer, remove them from the smoker and let them rest for 4-7 minutes.

They can be sliced into ¼ inch slices or served as whole steaks.