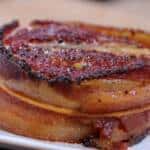 Print
Smoked Filet Mignon of Salmon
This smoked filet mignon of salmon is delicate, delicious and easy to prepare when you want something really special for dinner.
Precook Some Bacon
Lay bacon into a flat cookie sheet then place another cookie sheet on top of that to hold the bacon flat while it cooks.

Cook bacon until is about 75% done and is still flexible enough to wrap around the salmon filets.
Make the Round Filets
Lay the salmon filet on your cutting board.

Pull out any pin bones that you find using a clean pair of needle nosed pliers or tweezers.

To find the pin bones, simply run your fingers along the fish and you'll feel the little bones sticking up just above the flesh. They are usually located right along the side of the thickest part of the fish.

Cut the fish into strips width wise. Use a piece of bacon to measure how wide it needs to be.

Once the strips are cut, use a sharp knife to remove the skin from each piece.

Roll (2) pieces in a plate of Jeff's rub to coat

Lay the pieces on top of each other. Thick part on top of the thin part of the fish.

Roll it together to form a circle.

While holding it securely, wrap a piece of bacon around it and secure with a toothpick or a piece of butchers twine.
Smoke the Filet Mignon of Salmon
Set up your electric, charcoal, gas or wood smoker for about an hours worth of cooking at 225-240°F and a nice fruit wood or something that is not too strong such as alder, cherry, apple, pecan, etc.

Place the salmon filets on the smoker grate and let them smoke cook for about 1 hour or until they reach 145 °F in the center.
Serve the Smoked Filet Mignon of Salmon