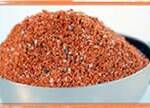 Print
Apricot and Honey Chicken Wings - Hickory Smoked
In this smoked chicken wing recipe, I used apricot spreadable fruit with honey along with my original rub to create a flavor profile that you are going to love!
Cook Time
1
hour
45
minutes
12-14

whole chicken wings Mayonnaise Jeff's Original rub recipe ½ cup or 4-5 ounces apricot spreadable fruit

(I use Smucker's SimplyFruit® which has no added sugar) ½ cup Honey
Place the chicken wings on a cooling rack over a sheet pan and pat dry with a paper towel. Set the chicken in the fridge to allow the skin to dry for about 4 hours or optimally overnight. Apply a coat of mayonnaise all over the chicken. Season the chicken wings liberally with Jeff's original rub recipe. Setup your smoker for cooking at about 225-240°F using indirect heat and hickory wood for smoke. Place the chicken wings directly on the smoker grate and let them cook for about 1.5 hours or until they reach 165°F in the thickest part of the meat. Make a glaze of ½ cup Smucker's apricot simplyfruit® or any apricot spreadable fruit and ½ cup honey. Heat the ingredients in a small saucepan to help the mixture to combine more easily. Once the glaze is finished, brush it liberally onto the chicken wings. Let the wings continue cooking until they reach about 175-180°F in the thickest part. Serve the wings immediately.