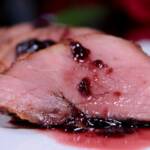 Print
Cherry Bourbon Smoked Pork Tenderloin
Smoked pork tenderloins are the easiest thing you can cook in your smoker when you want something that tastes great, has a "fancy" feel to it and you don't have a lot of time to spare.
2

+ Pork Tenderloins

Yellow mustard

Jeff's original rub

Cherry bourbon compote

(recipe below)
Clean Up the Pork Tenderloins
Remove the pork tenderloins from the package, give them a rinse under cold water and pat them dry with a paper towel.

Lay them on the cutting board and do your best to remove any silver skin, extra fat, etc.
Season the Pork Tenderloins
As usual, I like to use the old trusty yellow mustard base on this pork to help that rub to stick really well.

Sprinkle on a few tablespoons of rub and massage it into the meat all over.

If you are doing these the night before (recommended) simply put them in a big ziploc bag and place in the fridge overnight.

If you are ready to smoke, you can lay them on a Bradley rack with a little space between them and you are good to go.
Setup the Smoker
You can use whatever smoker or grill you have access to.

Set it up for cooking at about 225°F using indirect heat.
Smoke the Meat
Place the pork tenderloins directly on the grate or place the Bradley rack with the meat on the grate.

You can probably expect these to take around 1.5 to 2 hours to reach the perfect safely done temperature for pork at 145°F.

Keep the smoke going for the entire time if you can or for at least an hour to get some good smoke flavor on the meat.

I used cherry to go along with the cherry compote but any fruit wood or even pecan would be really good on these.

When the pork tenderloins reach about 110°F or about an hour into the cook, brush some of the cherry bourbon compote onto the top of each one.

Wait about 20 minutes and repeat.

Be sure to use a tested digital thermometer to monitor the temperature while they cook. You are looking for about 145°F but I often remove them a couple of degrees early if I plan to wrap them in foil and hold them for 30-60 minutes until dinner time.
Make the Cherry Bourbon Compote
Into a medium sauce pan, place ¼ cup Bourbon, ¼ cup brown sugar, ½ cup water, and a 12-13 oz jar of cherry preserves.

Using medium heat, bring the mixture to a rolling boil then reduce heat slightly to simmer for 10 minutes.

The compote will reduce by about 1/3 by the time it is finished.

When 10 minutes have elapsed, remove the compote from the heat and allow it to cool.
Finish and Serve the Smoked Pork Tenderloin
Remove the pork tenderloins from the smoker and bring them into the house.

When ready to serve, remove from the foil, slice and serve about 1/3 to ½ tenderloin per person