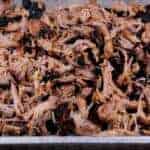 Print
Tasty and Tender Smoked Pulled Pork
Smoked pulled pork made from pork butt is a lot easier than most folks realize and although it does take more than 14 hours to produce at normal smoking temperatures, it can be done in almost any smoker and made to taste great regardless of skill level.
Pork butt

(also called Boston butt)

Italian dressing

, zesty

Jeff's original rub recipe

Jeff's barbecue sauce
Step 1: Unwrap and Rinse
Remove the pork butt from the packaging and rinse it under cold water.

Pat dry with a paper towel.

I recommend placing it in a pan during the seasoning process to make cleanup really easy.
Step 2: Brush Dressing onto Meat
Normally I use yellow mustard to help the rub to stick since it works so well however, you can use almost anything and to prove that, I am using zesty Italian dressing on this pork butt and it works like a charm.

Pour the dressing over the top of the meat.

Use a basting brush to make sure the meat is coated well with the dressing.
Step 3: Apply Rub
Sprinkle my Jeff's naked rib rub onto all sides of the meat making sure you have good coverage.

Be generous to create a nice crispy bark on the outside during the cooking process.

It is now ready for the smoker.
Step 4: Smoke
Set up your smoker for indirect heat maintaining about 225-240°F for about 14-16 hours.

When you are ready, place the pork butt directly on the grate.

I like to place a pan on a lower rack if I can to catch the juices that drip down. If your smoker is configured to allow for this, it's a great idea.

I used apple wood to impart a really wonderful flavor into the pork but you can use almost any smoking wood that you have available.

I recommend keeping the smoke flowing for at least 6 to 8 hours if you are using charcoal, electric or gas smokers.

If your smoker has a water pan, use it.

Let the pork butt smoke out in the open grate for the entire time or you can place it in a pan once it reaches about 160°F covered with foil to help it get done a little faster.

I opted to not cover this one but left it directly on the grate with a pan under it for the entire time.

When it reaches 205°F, it should be fall apart tender and can be removed from the smoker.

Those not familiar with pork butts always wonder why it's so dark. The rub gets darker and darker as it cooks and this is what you usually want when you are making pulled pork.

If you wrap the meat at 160°F it will not end up quite as dark however it will also be soft on the outside rather than crispy.

Let it sit with foil tented over it for about an hour to cool before attempting to pull/shred the meat.
Step 5: Pull and Remove Fat
When you are ready, slide the bone out of the meat.

Separate the meat into pieces removing any pieces of fat as you go.

I generally use my hands only but some folks like to use large forks or special tools for this process such as bear paws.