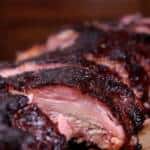 Print
Smoked Ribs with Maple BBQ Glaze
It is no secret that my maple barbecue glaze is amazingly good and has been featured on turkey and even chicken but can it be used on things other than poultry? This week we are brushing it onto smoked baby back ribs while they cook in the Traeger pellet smoker we just received and it has, once again, "hit it out of the ballpark!"
Step 1: Remove the membrane
Step 2: Maple Syrup and Seasoning
Step 3: Into Fridge Overnight (optional)
Step 4: Smoke the Ribs (part one)
Setup smoker for cooking at about 225-240°F.

Have enough smoking wood on hand to maintain light smoke for about 4 hours.

Once smoker is ready, place ribs directly on smoker grate and close door/lid of smoker.

When the ribs have been cooking for about 3 hours, baste them with the maple barbecue glaze.
Maple Barbecue Glaze
-¼ cup of maple syrup

-2 TBS of Jeff's original rub

Mix ingredients together and stir well to combine. Continue to stir during use to maintain proper mixture.
Step 4: Smoke the Ribs (part two)
Let the ribs continue to cook/smoke for about 1.5 hours then glaze them again with the maple barbecue glaze.

Total time is about 5 hours. If the ribs are extra meaty, they may require additional cooking time.

The ribs are finished when they are tender.

Check for tenderness by lifting up one end. The ribs will bend in half when they are fully done, tender and ready to eat.

You can also pull apart on 2 adjacent rib bones to test the tenderness and looseness of the meat.
Slice and Serve
Place the ribs boney side up on the cutting board.

Slice between the bones using a sharp knife.

Serve