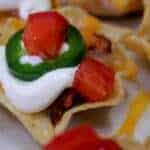 Print
Smoked Chicken Nachos
The smoked flavor that comes through in these smoked chicken nachos is simply mesmerizing. Uses smoked chicken tenderloins shredded or cut into pieces.
6-12

chicken tenderloins

1

quart

of buttermilk

¼

cup

of salt

Jeff's original rub

purchase recipes here

Jeff's original barbecue sauce

purchase recipes here

1

large bag Tostitos® Scoops!®

Shredded cheddar

or whatever cheese you like best

3-4

jalapeños

stem removed and sliced (pickled jalapeños is also an option)

1 to

mato

diced

Salsa

Sour cream

the kind in a squeeze tube works great for this

Guacamole

Whatever else you like on nachos
Make the buttermilk brine by mixing 1 quart of buttermilk with ¼ cup of coarse kosher salt. Stir in salt until dissolved.

Sprinkle Jeff's original rub generously on one side of the chicken tenderloins and stir them around to coat.

Pour brine over chicken to cover.

Place the chicken in the fridge for 1 hour.

Remove the chicken from the fridge and rinse the chicken well under cold water. Discard the brine.

Lay the chicken pieces on a flat surface and sprinkle Jeff's rub on both sides.

Place the chicken in the smoker and smoke for about 1 hour or until they reach 165 °F as measured by a digital meat thermometer such as the Thermapen.

Cut or shred the chicken into small pieces.

Add 1-2 TBS of Jeff's original barbecue sauce to 1 cup of shredded chicken.

Place the Tostitos® Scoops!® on a cookie sheet and fill with a small amount of chicken.

Cover the top of the chicken with shredded cheese and place under the broiler for a minute or two to melt the cheese. Make sure it does not burn.

Add sour cream, guacamole, jalapeños, chopped tomatoes, salsa, etc. on top of each chip and serve right away.