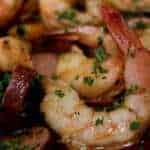 Print
Pan Smoked Shrimp with Butter
These smoked shrimp are reminiscent of shrimp scampi with a highly seasoned, smoked flavor. Easy to make and it's great as an entree or an appetizer.
Prep Time
2
hours
15
minutes
Total Time
2
hours
55
minutes
Peel and devein shrimp.

Place shrimp into a foil pan.

Add ¼ cup of chopped parsley to the top of the shrimp.

Add ½ chopped poblano or 1 chopped jalapeno to the top of the shrimp.

Cut the lemon and orange in half and squeeze the juice from the halves over the shrimp.

Sprinkle about 2 TBS of Jeff's original rub onto the shrimp.

Turn the shrimp over or just toss them with a spoon.

Sprinkle another 2 TBS of Jeff's original rub onto the top of the shrimp.

Give the shrimp another toss and place the pan into the fridge for 2 hours to marinate.

Melt 2 sticks of butter and pour it over the shrimp. If you need more to cover better, melt another stick.

Set up the smoker for cooking at about 220°F using indirect heat.

Keep a light hickory or pecan smoke going for at least 30 minutes.

Check the shrimp after 40 minutes to make sure they aren't getting done to quick. When shrimp are done, the flesh will be slightly opaque (no longer transparent) and the shell will be pink to bright pink. The bite should be crisp, not rubbery.

Serve immediately when finished.