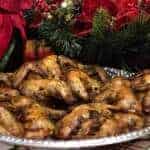 Print
Smoked Christmas Chickens
These smoked cornish hens are spatchcocked (butterflied), dry brined overnight, coated with a special mayo, herb & rub mixture and then smoked until they are juicy, tender and delicious! Might be the best chicken I've had in a while and if you are looking for something to cook for your Christmas guests that will surprise and delight without breaking the bank.. this is for you!
Total Time
1
hour
25
minutes
4 to 6

cornish hens

or 1 for each person eating

Kosher salt

Mayonnaise

Jeff's original rub recipe

Parsley

Thyme

1

stick

¼ lb butter
Thaw the cornish hens in the fridge for 1-2 days or in a sink of cold water, changing the water every 30 minutes until they are completely thawed.

Cut along both sides of the backbone to to remove the backbone and open up the chickens like a book.

To dry brine the chickens, sprinkle about ½ teaspoon of kosher salt on the inside cavity of the birds and place them in the fridge for one hour.

Remove from the fridge and flip over to skin side up. Sprinkle with about ¾ to 1 teaspoon of coarse kosher salt and place back into the fridge overnight or for 8-16 hours.

There is no need to rinse the chickens after dry brining.

Make a mayo/rub/herb mixture by mixing (1) cup of mayonnaise, (4) heaping TBS of Jeff's original rub, (2) TBS chopped parsley and (1) TBS chopped thyme.

Place equal portions or a heaping TBS of the mixture onto the chicken and spread it all over the top and sides with your hands.

The chicken is now ready to cook.

Set up your smoker for cooking at 250-275°F and once it's ready, place the chicken directly on the grates, skin side up.

About 10 minutes before the chicken is finished cooking, mix 1 TBS of Jeff's original rub into a stick (¼ lb) of melted butter and brush that onto the tops of the chicken.

Once the chicken is finished cooking, remove it from the smoker and serve immediately.