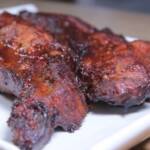 Print
Smoked Pork Steaks and Country Style Ribs
To some folks, pork butt is all about pulled pork but I am here to tell you that smoked pork steaks and smoked country style ribs are cut from pork butt and are to die for.
Prepare Meat for Smoking
Drizzle honey on country style ribs or pork steaks and spread onto meat using hands or a basting brush.

Sprinkle Jeff's rub onto all sides of the meat
Smoke Cook Country Style Ribs and Pork Steaks
Set up smoker for cooking at about 225°F

Place meat directly on smoker grate

Let the meat cook until it reaches 175-180°F

About an hour before the meat is finished, brush some of Jeff's sauce onto the meat.

When the meat is finished cooking, serve immediately.