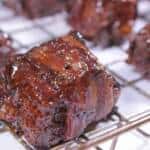 Print
Bacon Wrapped Smoked Burnt Ends
Burnt ends definitely stand on their own when it comes to flavor but why not wrap them in bacon and kick them up a notch or two? The new motto is: "bacon wrapped burnt ends, just because you can!"
Smoking a Brisket
Last week, I showed you how to smoke a brisket from start to finish and those instructions are archived HERE.

When it gets finished, separate the flat part of the brisket from the thicker, more fatty end called the point. The point is used to make the burnt ends.
Smoking a Chuck Roast
Brisket is really expensive right now and you may find a chuck roast to be a little easier on the wallet.

Smoke the chuck roast at 225°F until it reaches 160°F.

Wrap it in foil and continue cooking it until it reaches about 200 °F.
Separate Top from Bottom
Once you remove the flat end, you will notice that there is a thick vein of fat that runs through the middle of the brisket. I run my knife along the bottom of this to separate them.

Slice/remove the fat from the top of the pieces.
Slice and Cube the Meat
Slice the meat into pieces that are about 1 to 1-1/2 inch thick.

Further cut the thick slices into pieces about 1 inch wide to make cubes of meat.

Add some sauce to each one

Sprinkle on some rub generously then roll them around to coat well.

If you want more rub, you can also place some rub in a plate and roll the sauced brisket pieces in the rub.

The rub and sauce together is what makes that nice caramelized coating on the outside that tastes so good.
Smoke It
Setup whatever smoker or grill you have available for cooking at 225°F.

With the bacon wrapped version we are making in this recipe, I recommend using a Bradley rack or something similar to give them open access to the heat and smoke.

You can also crank up the heat to help the bacon to crisp up a little bit. Using thin bacon helps a lot.

Brush on a little sauce if desired about 30 minutes before removing them from the heat.

Serve 'em up and Enjoy!