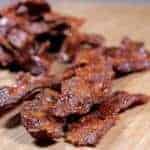 Print
Smoked Bourbon Pig Candy - Bacon Nirvana
Pig candy is nothing new but it does take things up about 5000 notches when you make it in the smoker. The last time I wrote about this I simply used my rub and brown sugar on the outside as a dry mixture. This time I made a glaze from bourbon, brown sugar, maple syrup and of course, my original rub, to give it a kick in the pants. You'll love this stuff and I dare you to try and eat just one piece!
Step 1: Get the Smoker Going
Unlike most of my instructions, we are going to get the smoker going first since the bacon needs to go on right from the package without any additional preparation.

We will cook the bacon for about 45-60 minutes before adding the glaze to it which magically transforms it into smoked pig candy.

I used a small cabinet style electric smoker for this but you can use whatever smoker you want as long as it will maintain about 240-250°F using indirect heat.

While the smoker is coming up to temperature or preheating, go inside and get the bacon out of the package and ready to cook.
Step 2: Bacon into Smoker
I placed my bacon onto Bradley racks to make it easy but you can also just lay the bacon right onto the smoker grate if you want.

I do not recommend using a cookie sheet since it's important that the smoke can get to the bacon from all sides.

I laid the racks of bacon right on the smoker grates and then placed a throw-away foil pan under the racks of a bacon on a lower shelf to catch the bacon drippings and the glaze.

Note: I like to reduce cleanup as much as possible.. not sure if that means I'm working smart or if I'm really lazy but cleanup is not my favorite part of this process and I work hard to reduce and even eliminate it wherever I can.

The bacon will cook this way for about 45 minutes.. if you are running a little less than 250°F you will want to give it a few extra minutes and leave it in there about 1 hour.

While the bacon does it's thing in the smoker, go inside and make the candy glaze.
Step 3: Make the Glaze
Add the following ingredients to a small mixing bowl: ½ cup brown sugar (I used the dark), ¼ cup maple syrup, ¼ cup bourbon, ½ cup Jeff's original rub, 2 TBS honey.

Mix it up real well and if you want it to be a little more thin, you can add an extra tablespoon or two of bourbon (can't go wrong there).

Note: if you do not want to use bourbon for some reason, you can use Dr. Pepper in the same quantity and leave out the honey since there is additional sweetness in the soda.
Step 4: First Glazing of the Bacon
Once the bacon has been cooking for about 45-60 minutes, it is time to start brushing on the glaze.

Using a long handled silicone brush, open the door and quickly brush a layer of glaze onto the top side of the bacon.

Flip the bacon over and glaze the bottom side.

Close the smoker door and set a timer for 30 minutes.
Step 5: Second Glazing of the Bacon
Once again using a long handled silicone brush, open the smoker door or lid and quickly brush a layer of glaze onto the top side of the bacon.

Flip the bacon over and glaze the bottom side.

Close the smoker door and once again set the timer for 30 minutes.
Step 6: Cool It
Very quickly remove the bacon from the grates or the bradley racks and place it onto wax paper to cool.

As it cools the bacon and glaze hardens and it becomes more and more difficult to remove from the racks.

I was not quick enough.. be faster than me and you should be ok.
Step 7: Whole or Pieces?
If you are able to get them off in whole strips then you can decide if you like them better that way. If you have issues with them breaking up, it's still ok to serve them as pieces.

And.. be sure to save some of the smaller pieces for that big bowl of ice cream I know you've been contemplating!