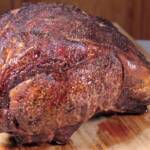 Print
Smoked Prime Rib for Christmas
I love serving smoked prime rib at Christmas time and the Traeger Lil' Texas Elite I received just a few weeks back is making it even more special with it's ability to smoke low and slow for a while then crank it up with the flick of a switch to add a little heat and finish it off right.
Step 1: Prep the Prime Rib
Step 2: Oil and Seasoning
Apply a good coating of oil to the entire outside surface of the prime rib to help the seasoning to stick.

Sprinkle Jeff's Texas style rub onto the meat on all sides. Don't forget the ends.
Step 3: Smoke Time
Setup your smoker for cooking at about 225°F

Apply light smoke for the entire time if possible or for at least 3 hours.

Monitor the temperature and when the temperature reaches about 135 °F, remove it from the smoker.

Tent foil over the top of the meat and let it rest for 10-15 minutes.
Step 4: Slice and Serve
Cut the strings that are holding the roast and bones together.

Remove the rack of bones and set them aside.

Slice the roast into ½ to ¾ inch slices.

Serve to your guests and enjoy!