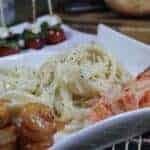 Print
Smoked Seafood Fettuccine Alfredo
With Valentine's Day coming up, I've been thinking about my wife's affinity for pasta and all things Italian and how to incorporate some of my delicious smoked shrimp and lobster into a nice fettuccine. Here's the brainchild of that adventure!
1

Lobster tail per person

(4-5 oz)

1

lb

Shrimp

(medium)

Jeff's original rub

1

lb

Fettuccine pasta

Garlic bread

((optional))
Alfredo Sauce
1

cup

Parmesan cheese

, shredded (fresh)

1

cup

Heavy whipping cream

1

stick Butter

(1/4 lb)

Sea salt

(to taste)

coarse black pepper

(to taste)
Prepare the Lobster
Cut a slit along the top of the tail from the front all the way back to where the tail fin begins.

Lay the lobsters shell side up on a rack or grill pan and they are ready for the smoker.
Prepare the Shrimp
If the shrimp are frozen, place them in a colander and run cold water over them for several minutes.

Remove shells and tails and place them in a bowl for seasoning

Drizzle about ½ cup of olive oil over the shrimp and stir to coat. Then sprinkle on about a tablespoon of my original rub (Purchase formula here | Purchase bottled rub).

Stir to coat well.

These shrimp were fairly small and I wanted to use my Bradley rack so I quickly skewered them with extra long (4-inch) toothpicks to make sure they could not fall through the holes. A Weber grill pan or even a simple cooling rack also works well.

About 3 per toothpick.

The shrimp are now ready for the smoker.
Smoking the Seafood
Place the lobster tails in the smoker first since it will take about 45-60 minutes. After about 30 minutes, place the shrimp in the smoker. This should get the lobster and the shrimp done at about the same time.

While the lobsters are smoking, spread the tail open and drizzle with a mixture containing 1 stick of butter and 2 TBS of Jeff's original rub.

4-5 oz lobster tails will take about 45-60 minutes and will be bright red/orange and about 140°F in the center when they are finished cooking.

Medium shrimp (41-50/lb) will take about 20-25 minutes to finish cooking and will turn from translucent to opaque when they are finished. Do not overcook.
Making the Alfredo Sauce for Fettuccine
Place 3/4 cups of the shredded cheese in a large bowl; set aside the remaining cheese for later.

In a saucepan, heat the butter and cream over low heat until the butter is melted (about 8 minutes). Do not boil or turn up the heat.

Pour the heated cream and butter over the parmesan and stir to melt. Pour over cooked, drained pasta and toss to coat with sauce.

Add the remaining parmesan and toss gently. Season to taste with salt and pepper.
Putting it All Together
Remove lobster meat from shell and slice each into 6-8 medallions.

Place fettuccine onto plate with 7-8 shrimp and lobster medallions. Serve immediately!