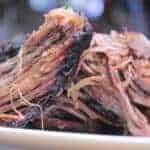 Print
Smoked Chuck Roast - Pulled and Chopped
There's a lot to love about a tender and juicy smoked chuck roast, smoked to perfection until it's literally falling apart with goodness. Serve it on a bun or just eat it like it is.
Prepare the Chuck Roast
Rinse the piece of meat under cold water

Apply a thin coat of yellow mustard to the chuck roast

Sprinkle on a coat of Jeff's rub onto all sides of the meat
Smoking the Chuck Roast
Prepare smoker for cooking at about 235°F

Place meat directly onto smoker grate

Cook for 12-20 hours or until the thickest part of the meat measures 195°F

Apply smoke for at least 6 hours if you are using an electric, gas or charcoal smoker.

The meat can be wrapped in foil once it reaches 160 °F to hold in moisture and to speed up the process
Resting
Once the meat reaches 195 °F, wrap the meat in foil (if you haven't already) then in a thick towel and place it an empty ice cooler to rest for at least 1 hour.

Fill in any remaining space in the cooler with more towels or blankets.
Chopping or Pulling the Meat
Once the meat has rested, open the foil and allow it to cool for a few minutes then using heat resistant gloves, pull the meat into pieces.

Remove any fat and/or gelatinous substance you come across

Further pull or chop the meat into the size that you want.

Apply more rub and stir into the meat

The meat is now ready to serve