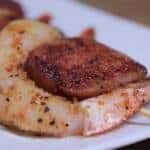 Print
Smoked Pigs on the Beach - Shrimp & Sausage
The subtle flavor of smoked shrimp combined with the rich flavor of the smoked sausage comes together as a huge flavor burst in your mouth with this wonderful duet of an appetizer.
1

lb

of shrimp

((22-26 pieces))

Jeff's rub

2

links of smoked sausage

Toothpicks
Prepare the Shrimp
If the shrimp are frozen, place them in a colander and run cold water over them for a few minutes until they are thawed.

Place the shrimp on a cookie sheet or flat surface and sprinkle my rub all over them.
Piggy Meet Shrimp
Place the shrimp onto a flat surface and lay a sausage round right in the center of the natural "C" the body of the shrimp makes.

Push a toothpick through the shrimp, through the sausage and through the shrimp again to hold it all together nicely.

Repeat this process on all of the shrimp and sausage.
Smoke the Appetizers
Setup the smoker for cooking low and slow at about 225°F.

Place the shrimp and sausage appetizers directly onto the smoker grate for about 30 minutes

They will turn from grey to a pinkish color and the meat changes from translucent to opaque when they are done cooking

Use mesquite so you can get plenty of good robust smoke flavor on the shrimp and sausage in a very short period of time.
Finishing Up
When you think they are done, grab one and pop it into your mouth. Give it your nod of approval and get them into the house for everyone else to try.

If they need a little longer, let them go another 4-5 minutes then try another one.

Serve immediately!