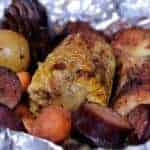 Print
Smoked Campfire Chicken
Chicken, sausage, potatoes, onion, corn and even carrots thrown onto a piece of foil and cooked in the smoker.
Remove the Skin from the Chicken Quarters
Parboil the Carrots and Potatoes
Fill a pot with your potatoes and carrots and cover them with water. Bring the water to a boil and let it boil for about 5 minutes for small carrots and potatoes.

Pour the potatoes and carrots into a colander and run cold water over them to stop the cooking process.
Prepare the Foil Packages
Place the skinned chicken onto the center of a piece of foil that is about 18x18 inches square.

Pile some sausage pieces, potatoes, carrots, a quarter of an onion and a half ear of corn around the chicken.

Sprinkle some of my Texas style rub (recipe included when you purchase the recipes for my original rub and sauce) onto the chicken, sausage and vegetables.

Now sprinkle about 2-3 tablespoons of Jeff's original rub onto the top of everything for amazing flavor.

Add a tablespoon of butter on top..

Roll up the edges of the foil around the meat and vegetables to form a bowl shape.

Be sure to leave it open for now to allow the smoke in
Smoke the Campfire Chicken
Set up your smoker for cooking at about 240°F although it would not be unheard of to take it on up to 275°F or so if you need to get them done faster. Chicken handles high heat quite well.

Be sure to have enough Pecan or other smoking wood for about 1 hour of smoke.

Place the foil "bowls" of chicken, sausage and vegetables into the smoker and let them smoke away for about 1 hour.

After one hour, pull the foil together at the top and pinch it closed.

Place a probe from a digital probe meat thermometer into one of the pieces of chicken before closing it up so you will know when it is done.

I shoot for 170°F on these.
Serve it Up
Have plates already setting on the table with a single paper towel on the plate (to protect the plate from grease from the smoker grates)

When the chicken is done, lay a foil packet on each plate and call Dinner!