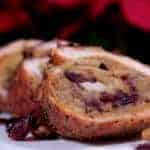 Print
Cranberry Pecan Stuffed Turkey Breast
I like to do turkey a little different at Christmas since Thanksgiving usually "does me in" on turkey in general. This cranberry pecan stuffed turkey breast cooked in the smoker is a wonderful dish that allows you to use turkey while mixing things up a little bit.
Butterfly and Pound the Turkey Breast(s)
Lay the turkey breast on the cutting board and butterfly it.

Lay plastic wrap on top of the turkey breast and pound the meat to flatten it evenly to about ¼ inch thick.
Season and Stuff the Turkey Breasts
Sprinkle a little of my rub on the inside surface area of the turkey breast.

Spoon some of the uncooked stuffing onto the top of the seasoned meat. Leave about ½ inch around the edges and about 2 inches on the end away from you.

Add some dried sweetened cranberries and chopped pecans to the top of the stuffing.
Roll It Up and Tie It
Roll up the turkey breast as tightly as you can.

Use 4 pieces of cooking twine to tie the stuffed and rolled turkey breast into place.
Season the Outside
Sprinkle the Texas style rub on the outside of the turkey breast.

Place the turkey breast(s) on a Bradley rack or cookie sheet to make it easy to transport to and from the smoker.
Smoke the Meat
Set up whatever smoker you have available for cooking at about 225°F using indirect heat. If your smoker came with a water pan, use it.

Once the smoker is heated and ready, place the stuffed, rolled turkey breasts directly on the smoker grate.

Use pecan wood if you have it or any fruit wood will work really well with this.

I recommend keeping the smoke going for at least 2 hours if possible. You can also keep the smoke going the entire time as long you keep the smoke thin and light.. what we call thin blue smoke.

About once every hour, baste the turkey with a little melted butter to keep the outside of the meat moist so it does not dry out.
Finish and Serve
Use a digital probe meat thermometer to monitor the temperature of the meat while it cooks.

When it hits 165°F in the center, it is perfectly done and should be removed from the smoker right away.

Let it rest on the cabinet for 10 minutes then remove the strings.

Slice it into ½ to ¾ inch slices.

Serve immediately with all of your other favorite fixings and sides.