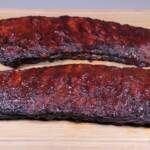 Print
Smoked 3-2-1 St. Louis Style Spare Ribs
Smoked spare ribs are king where flavor it concerned however, if you take the time to trim them up and remove some of the extra fat before cooking them, a great experience becomes an even better experience.
2

(or more) racks of spare ribs

Yellow mustard

Jeff's original rub recipe

Heavy duty foil

Jeff's barbecue sauce
Step 1: Rinse
Remove the ribs from the package

Rinse under cold water

Allow to drain on paper towel
Step 2: Trim St. Louis Style
Remove skirt, brisket bone, and end piece to square them up and create the St. Louis style spare ribs.
Step 3: Mustard and Rub
Apply mustard to bone side of ribs

Pour on about ¼ cup of rib rub and spread to cover over meat.

Repeat mustard and rub on meaty side of ribs.
Step 4: Smoke the Ribs
Setup smoker for cooking at 230 °F using indirect heat with hickory or other favorite smoking wood.

Place ribs directly on smoker grate bone side down.

Smoke for 3 hours.

After 3 hours, wrap in foil and place back into smoker for 2 hours.

After 2 hours, unwrap and place back into smoker for a final hour.

Brush on sauce if desired during last hour of cooking.