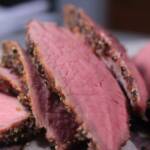 Print
Smoked Tri-tip Roast
Smoked tri-tip is on of my favorite beef cuts to smoke when I am looking for a steak-like texture and flavor. The really awesome thing is that cooking steaks or even lean, tender roasts in the smoker yields a medium rare that is edge to edge instead of the typical medium rare in the center and more done toward the outside. Perfectly cooked all the way through!
Step 1: Remove the Fat Cap (optional)
Step 2: Season the Meat
Rub olive or vegetable oil all over the top, bottom and sides of the tri-tip roast.

Apply Jeff's Texas style rub generously all over the roast.
Step 3: Smoke the Tri-tip
Place the ti-tip directly on the grate of the smoker

Using indirect heat, smoke cook the roast for about 2 hours or until it reaches medium rare (140°F)

Remove from smoker and allow trip tip to rest under foil for about 20 minutes once it has finished cooking.