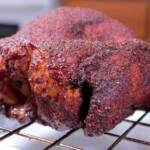 Print
Smoked Cornish Hens
Smoked cornish hens are not only perfectly sized so that each person gets their own "little chicken" but they are easy to smoke in just a few hours and they are amazingly delicious, tender and juicy when you follow my simple instructions.
Cornish

((game) hens (1 per person + a few extra for the bigger appetites))

Brine

((recipe below))

Mayonnaise

Jeff's original rub recipe
Step 1: Make the Brine
Add 1 cup of salt to 1 gallon of cold water

Stir until the salt is dissolved

Add 1 cup of brown sugar and stir until sugar is dissolved.
Step 2:Brine the Birds
Rinse cornish hens under cold water

Place birds in food safe container such as a bowl or zip top bag

Pour brine over birds to cover

Place brining container with cornish hens into fridge for 1.5 hours

When brining time is elapsed, rinse birds under cold water

Pat dry with paper towel
Step 3: Season the Hens
Apply mayonnaise liberally to cornish hens

Sprinkle rub on top, bottom and sides of chickens
Step 4: Smoke 'Em
Set up smoker for cooking at 230 to 260°F. If you can maintain the higher temperature, the hens will only take about 1.5 hours. At the lower end, they will take about 2 hours.

Once smoker is ready, place birds on smoker grate breast side down

Continue cooking until they reach 165°F as read by a digital meat thermometer.