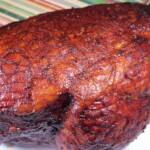 Print
Double Smoked Ham for Christmas
Possibly one of the easiest holiday recipes there is and yet, This double smoked ham gets raving reviews every time I do it. Don't just heat up the ham in the oven this year, add some of my rub and re-smoke it in the smoker for a flavor that can't be beat.
Step 1: Mustard
Place the ham on a cutting board or down in a pan.

Squeeze on some regular yellow mustard and rub it over the entire surface area of the ham.
Step 2: Jeff's Rub
Sprinkle about a half cup of Jeff's rub onto the top of the ham and rub it over the mustard creating a paste.

Be sure to cover the entire surface of the ham with rub.

If you need more rub, don't be afraid to use it.

When the ham is ready to cook, place it on a Bradley rack or a cookie sheet to make it easy to transport to and from the smoker.
Step 3: Smoker
Set up your smoker for cooking at about 225°F. We aren't trying to cook the ham, just bring it to a nice eating temperature of about 140°F.

When the smoker is ready, place the ham directly on the grate or if you are using a Bradley rack, you can lay the rack directly on the smoker grate.

Let the ham cook for about 3 hours or until it reaches an internal temperature of 140°F.

Keep the smoke going the entire time if you are using an electric, gas or charcoal smoker.