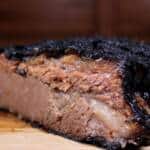 Print
Smoked Brisket - No Fuss Method
My easy no fuss, no muss method of making smoked brisket where there is no trimming, injecting, flipping or mopping. Rub it down, smoke it, slice and serve!
Packer Brisket

(untrimmed)

Spicy mustard

Jeff's Original rub

(option 1)

Jeff's Texas style rub

(option 2)
Step 1: Score the Fat
Lay the brisket fat side up on the cutting board.

Using a sharp knife, cut a crosshatch pattern through the fat down to the meat.

Make the cuts about 1 inch apart.
Step 2: Mark the Grain
Flip the brisket over so that it is fat side down.

Take notice of the direction the meat fibers are running.

On the corner edge, make a cut halfway through the meat across those meat fibers.

This is to mark the grain direction so you will know how to slice it once it's finished cooking.
Step 3: Mustard and Rub
Apply a thin coat of spicy mustard to the top and sides of the brisket.

Sprinkle Jeff's original rub or the Texas style rub onto the area coated with mustard.

Flip the brisket over and repeat the mustard and rub on the other side.
Step 4: Smoke
Setup and preheat smoker at about 225°F.

Place the brisket on the smoker grate fat side up.

Allow the brisket to cook for 18-22 hours or until it reaches 195-205°F in the center of the meat.
Step 5: Rest
Once the brisket is finished cooking, place it in the foil lined bottom of an empty cooler.

Cover top with foil.

Place towels and/or newspaper over the brisket to help insulate it.

Leave in cooler for 2-4 hours to tenderize.
Step 6: Slice
Remove brisket from cooler and place on cutting board.

Slice into pencil thick slices across the grain using the grain marker cut into the corner as a guide.

Serve and enjoy!