Note: For a limited time, when you order the recipes for my rub and sauce, I will give you the PDF version of the Smoking Basics eCourse absolutely FREE!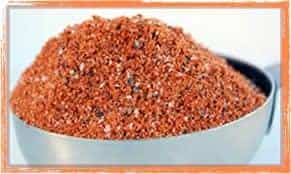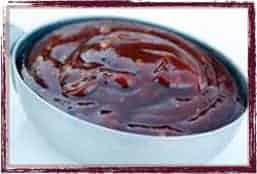 You know it when you taste it.
You even know it when you see it, glazed or caramelized onto delicious top-notch barbecue.
Well, I can show you how to make it yourself!
That's right.
The best rib rub recipe you have EVER used is available right here at www.smoking-meat.com!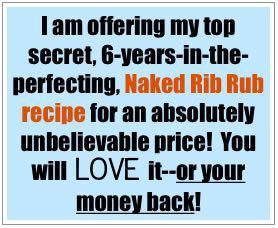 Not only that, but you get my
barbecue sauce recipe which is 100%
satisfaction-guaranteed to be the best
you have ever tasted!
I recommend that you wait no longer.. Go ahead and click the Buy Now button!

Both the RUB AND SAUCE RECIPES are WINNERS! I have very happy customers who have actually used them in competitions and won!
I used the rub on my ribs for the ribs contest this year and won the trophy last night. Thought you might like to know. –Charlie
"jeff I just fixed 36 pound of bbq for a wedding rehearsal dinner using your rub and sauce. many at the wedding told me it was the best bbq they every had. I have heard this story many times before." —Charles
I smoked two 7 pound Boston Butts to make pulled pork for a family gathering. On one I used your rub. On the other I used a brown sugar based rub advertised by one of your Internet competitors. After enjoying the meal we had a vote for which pulled pork was best. Your rub won twelve to one!! –Tom
Even if you don't compete, and you prefer to just cook for family and friends like me, you can present barbecue that is seasoned and sauced to perfection!
What's more, I am so CONFIDENT that you
will fall in love with these recipes that I will
happily refund your purchase within 30 days if
you decide they aren't for you!

IF MY RECIPES ARE NOT THE
BEST YOU'VE EVER EATEN, I
WILL BUY THEM BACK!!!
Many folks tell me that IF they had known how GOOD they were, they would not have waited so long to purchase. Take THEIR advice, don't procrastinate, Get them now!

Why is the Guarantee such a good thing?
-I take all the risk.
-If you don't like it, you don't pay for it.
-It means you can ORDER RIGHT NOW and feel good about it!
WOW WOW WOW THE BEST RUB AND SAUCE I HAVE EVER HAD. –Andy
Your rub recipe is kickin'!
Jeff, Your rub recipe is kickin'! I put it on some ribs and brisket over the weekend for some family and friends and they just kept going on and on about how good it was.. you will note that I have smoked for family and friends before without the rub just using some storebought stuff and it was ok but the response this time was completely overwhelming. Thanks for the recipe! —Carolyn
Every serious smoker needs three basic tools in his toolbox:
Equipment
Methodology
Great Recipes
–Equipment is the easy part. Often you'll hear me refer to the ECB or the "El-Cheapo-Brinkmann", because with simple modifications and know-how, even the cheapest equipment can turn out amazing food.
–Methodology requires a little research and development, but fortunately I have made this as easy as possible for the beginner smoker. Using tips found right here on this website and at my forum, www.smokingmeatforums.com, you can be cooking like the pros in no time.
–Great recipes!!! Again, I have made this so simple for the beginning smoker. You are reaping the benefits of my years of research and experimentation. When you purchase my rub and sauce recipes, you will have all you need finish off your smoked meats! No need to look further! These recipes are simple, but they are far from basic. When you use these recipes, people will think YOU are the local Barbecue Guru.
This will make you, your family and all of your friends very happy– Order now!

My Wife now says that I am her Hero…
I just purchased your rub and sauce recipe from your website and thanks to you my wife now says that I am her hero. P.S. She wants me to smoke something almost every weekend and I always have to make the special sauce and rub to go with it. – Bill
I have never had so many pats on the back…
I ordered both of your recipes several weeks back and finally got around to using them on some ribs and chicken for our family get together and boy was I feeling good after that! I have never had so many pats on the back and folks asking me when I was going to open my own restaurant. Jeff I know it was your recipes that made all the difference. Thanks for sharing. –Edwin
A Little History on the Famous Top Secret Recipes
I developed these recipes several years ago, intending to package them for local and online marketing.
However, because of the red tape involved with interstate sales of packaged food items (I am a very non-red-tape kind of guy), I decided to offer the recipes as a set through the website and leave it at that.
That is like Colonel Sanders offering to sell you his secret recipe of 11 herbs and spices!
I worked on these rub and sauce recipes for several years in an effort to create recipes that surpassed AMAZING, adding a smidgen of this and a dash of that until they became PERFECT!
I have tested these recipes on people from just about everywhere–Texas, North Carolina, Missouri, Kansas City, and even across the globe, and I always get the same response:
"These are the best ribs I have ever eaten!"
You've read the testimonials – you want the recipes – You feel good about supporting the website.
Here's your chance to do the right thing.. order now!

I tried your rub n sauce.It was lip smakin gooooodddd…Thanks —Tim
Jeff, I have now tried your rub & sauce. Yep, it's just as good as you & everyone says they are. —Bill
Hey Jeff, I would like to thank you for selling your rub/bbq sauce recipe. I had so many thumbs up new years eve when i used it. —Lon
Other Options
Order the Rub Recipe Only

---
Order the Sauce Recipe Only

---
Send a Check or Money Order
Make a check payable to Jeff Phillips for $18.95 and send to the following address:
Thin Blue LLC
401 South Boston
Suite 500-10
Tulsa OK 74103
Note: Send me an email if you are using this option so I can be expecting your payment in the mail AND so I will have your email address. Once I receive payment, I will email the recipes to you. Please do not send cash!