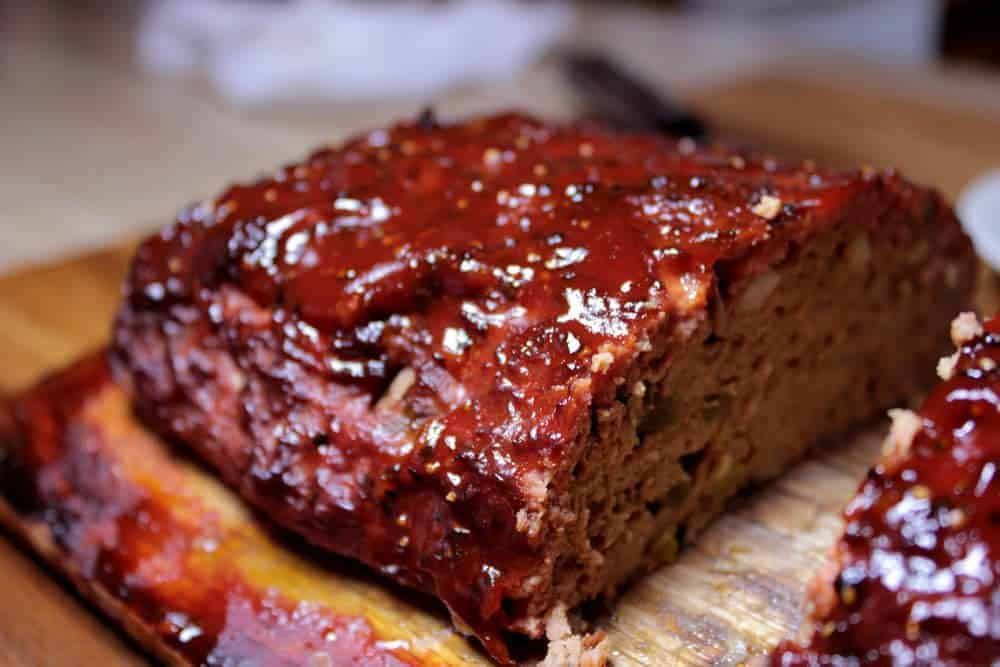 What is it about meatloaf that brings back such fond memories of home?
Meatloaf was a staple growing up in the Blue Ridge Mountains of North Carolina and my favorite way to eat it was between two slices of bread made up like a burger with all the fixins.
Add in some sweet corn, mashed potatoes and a blackberry cobbler and you'll think you died and went to Heaven.
Just when I thought something great could not get any better, I decided one day to try it in the smoker and the amazing smoked meatloaf was born. All of the wonderfulness of meatloaf with that added smoke flavor and you'll swear to never make it in the oven again.
I guess everyone has their own favorite meatloaf recipe but it's not completely about the recipe. Use the same recipe you always use and just make it in the smoker instead of the oven and I guarantee that you will be mesmerized by the flavor and wonder of it all.
If the  rest of your family thinks you're a little crazy at first for making smoked meatloaf, just have a little patience with them. Once they taste it, their thinking will change completely!
In this newsletter I have changed things up a little and decided to do the meatloaf on a plank and I have to say that planked smoked meatloaf just might be my favorite way to smoke it.
Be sure to try it soon!
The Recipes for My Rub and Sauce – Order Now
"The rub and sauce are great!  I am still new at smoking, but your site and the recipes are making it easy.  I've got the MES and have done baby back ribs twice, chicken twice and did my first brisket last weekend.  Everything has turned out so much better than I could have imagined.  Thanks again for the recipes, well worth the small price, and I couldn't put a price on what I've learned at the site."
If you have benefited at all from the newsletter and/or the website, purchase the recipes and you'll be glad you did, I promise!
Amazing, Tasty, Easy to make using ingredients you probably already have and it supports the website and the newsletter.
A wonderful combination!
Special: Order the recipes for my rub and my sauce and, for a limited time, you get:
My complete 25 page, 5 chapter eCourse in PDF format
Ad-free Newsletter
Order Recipes | Read Testimonies
NOTE: The downloads should be available to download just as soon as you pay via debit/credit card. The system will also send you an email with a download link. Didn't get it? Check your SPAM filter and let me know if you can't find it.
Planked Smoked Meatloaf – Jalapeno Buttermilk
I am going to post one of my own recipes for meatloaf but if you have a family version that you already like, I suggest that you try it first to give you a good comparison between the oven baked and the planked smoked meatloaf.
 Prep Time: 20 minutes | Cook Time: 2.5 hours | Smoker Temp: 225 F | Meat Finish Temp: 160 F | Recommended Wood: Hickory or mesquite
To make my jalapeno buttermilk meatloaf recipe, you'll need:
I use a scale to measure out my beef and sausage. If you don't have a scale, just buy the correct amount or to the nearest pound and get it as close as you can.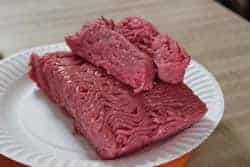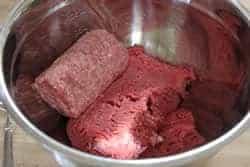 Add the bread crumbs, rub, jalapenos, onions, buttermilk and eggs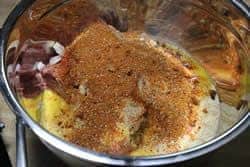 Combine ingredients with a spatula or just get in there with your hands if you are so inclined.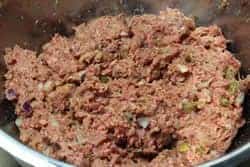 Form a loaf on top of the plank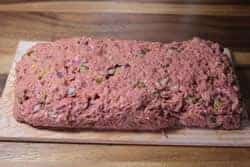 Place the plank with the meatloaf on a Bradley rack if you have one. It helps support it during transport to and from the smoker but is not entirely necessary.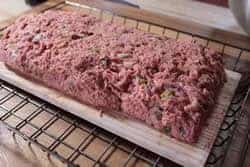 Smoke the meatloaf at 225-240 F for about 2.5 hours (or until it reaches 160 in the center) using hickory or mesquite or you can use a different smoking wood if you prefer.
Tip 1: Keep the smoke flowing for the entire time for best results.
Tip 2: Use a water pan if your smoker has one.
I recommend using a digital probe meat thermometer to monitor the temperature and remove the meat loaf when it reaches 160 degrees in the center. I used my super-fast black thermapen and checked the meatloaf every 15 minutes after the 2 hour mark.
About 30 minutes before the meatloaf gets done, top it with some of my barbecue sauce for great flavor.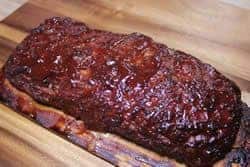 Once the meatloaf is finished, let it rest for 10 minutes and then slice it up and serve immediately.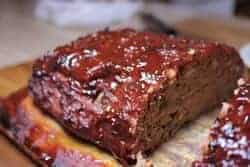 I chose to eat my first slice on a meatloaf sandwich complete with fresh tomato, lettuce, onions and mayo.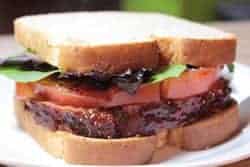 The Recipes for My Rub and Sauce – The Perfect Combination!
Order Recipes | Read Testimonies
You cannot get these recipe anywhere else other than in this newsletter and on my website.
Many people use the recipes for my rub and sauce exclusively, and even some restaurants and competition teams use them to win customers as well as competitions.
Both the sauce recipe and the rub recipe are a perfect blend of sweet and spicy and this is easy to adjust if you like it more mild or even more spicy.
I also love the fact that my rub and sauce recipes are both low on salt and you can use a lot or a little depending on what you are doing with no fear that it will become overly salty.
On a salt restrictive diet? Use half the salt that the rub recipe calls for and it is still very good. Bottom line.. you need these recipes in your repertoire!
Can you use other rubs and seasonings? Sure you can and that is your prerogative but I feel a responsibility to let you know that if you want your food to be all it can be, then try my rub on it and, like so many other happy customers, I think you'll be very glad that you did.
Try the recipes out.. if you don't agree that they are THE BEST, I'll refund your money just like that!
Here are a few testimonies that clearly speak for themselves:
---
Smoked a Pork Butt last night and applied the mustard and your rub…Just finished it off with your bbq sauce! I have to say that this turned out awesome and much better than I used to make!   thanks for the rub/sauce recipes! ~ Troy
---
Hello Jeff I recently purchased your recipe for rub-n-sauce and just wanted to let you know that its off the chart. well worth the cost. I am cooking for about 50 family and friends at lake Texoma this weekend and cant wait to see everybody's reaction. ~ Jack
---
Jeff, You truly are the man. Bought your rib rub and your sakes alive sauce and love them both. Keep up the good work helping people like me learn to cook good BBQ with smoke. ~ Matt
---
Jeff, I was smoking a Boston butt Saturday night for dinner Sunday and decided to try your bbq sauce. I have to say this is hands down the best sauce I've ever had and I've tried a lot of them. Its very easy to make, inexpensive and taste excellent. I will be using this recipe for a long time. ~ Doug
---
I've made tenderloins for years both on the smoker and not, but the use of Jeff's rub and sauce made them amazing.  my family loved them. ~ Kathleen
---
I think the above testimonies say it better than I ever could.
How can you argue with unsolicited testimonies sent in just because folks who purchased the recipes wanted to let me know how good they were?
You deserve the very best and it is completely within your grasp!
Only $18.95 and worth every penny.
Not only do you get the best rub recipe and sauce recipe available, you are supporting this website and helping to make sure the bills get paid so we can keep on doing what we do to teach thousands and thousands of people across the world the art of smoking meat.
Order Recipes | Read Testimonies
Add My Book to Your Library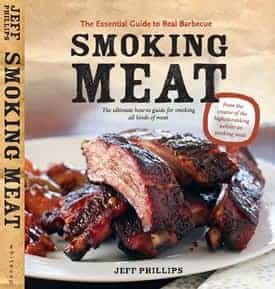 The perfect book if you are wanting to learn how to smoke meat complete with lots of recipes submitted by yours truly and members of the smoking meat forums.
This book has a rating of 4.8 out of 5 possible points on Amazon and it still amazes me how much folks love this book.
When I was asked to write this book, I really wanted folks to like the finished product. Many books fall flat and never make it very far but we are in our 3rd printing in just over a year and there is no signs of slowing down.
I feel very blessed to have found such an awesome reception among my readers.
We have plenty of books at Amazon, Barnes and Noble, Books-a-Million, etc. Almost any store that sells books whether brick and mortar or online can get it for you within a few days even if they do not have it on the shelf. Get your copy today!
I am being told that most Barnes and Noble stores are now stocking the book on the shelf for immediate sell.
Amazon.com | Barnes & Noble | Nook | iTunes
Amazon.com Orders
If you enjoy the newsletter and would like to do something helpful, you can do so without sending me a dime.
The next time you decide to order something at Amazon.com, use THIS LINK to get there and we'll get a small commission off of what you purchase.
Thank you in advance for using our special link: http://www.smoking-meat.com/amazon