9 Tips for Using a Pellet Grill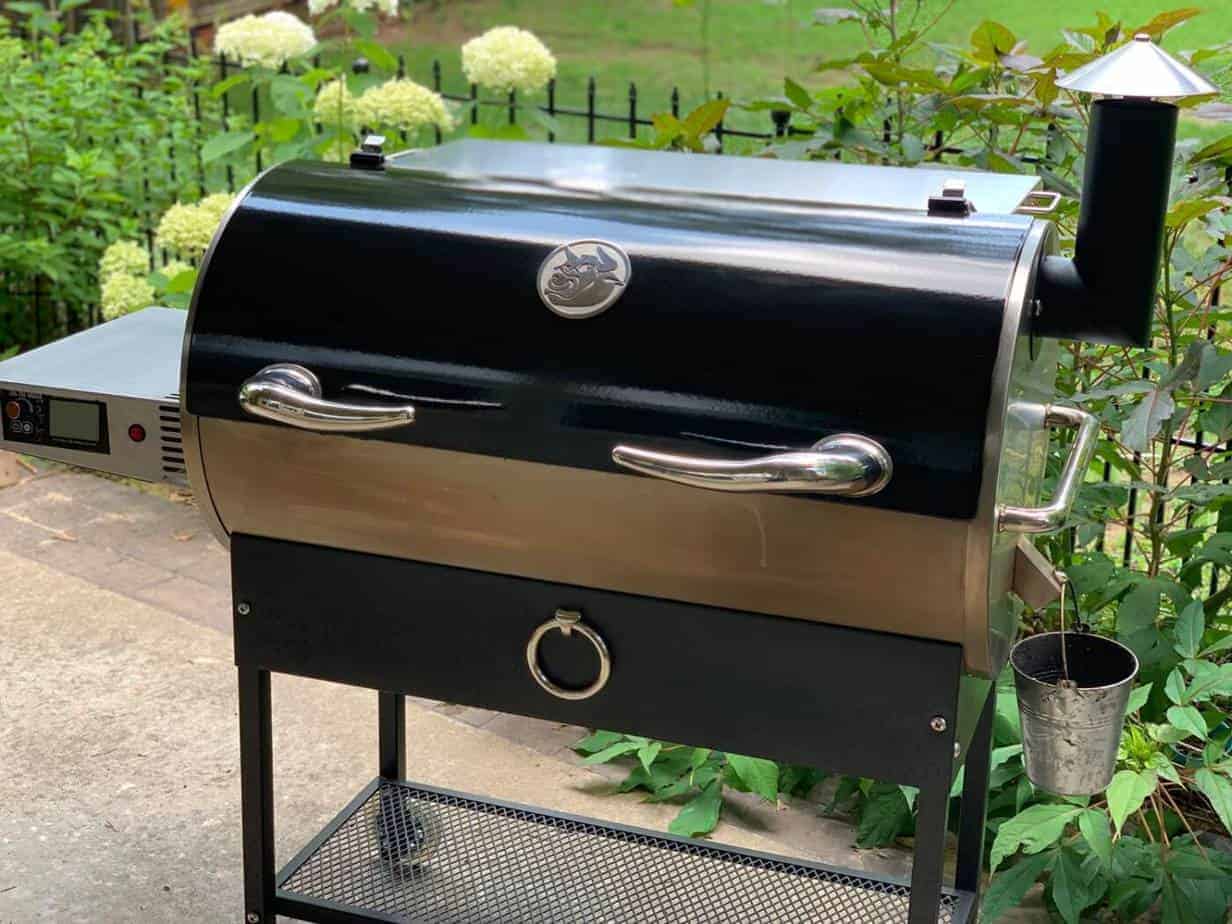 Smoking-Meat.com is supported by its readers. We may earn an affiliate commission at no extra cost to you if you buy through a link on this page.
Read this article without ads
Here's 9 pellet grill tips that will help you get the most out of pellet grill, also called a pellet smoker.
Pellet grills are here to stay because they work well, they're easy to use and it takes a lot of the complexity out of smoking meat.
I think everyone should learn how to tend a fire, adjust the vents, etc. just a few of the skills necessary to tend a charcoal or wood fire but while you're learning, this is a great way to get some tasty food on the table.
Even though they are easy to use, they are not without flaws and here's a few things you can do to master the art of pellet smoking or grilling:
1. Start everything out on low or the special "smoke" setting. Pellet smokers produce more smoke at low settings and less smoke as the temperature increases.
If you want more smoke flavor, start out as low as it will go for about 30 minutes to an hour then turn it up to 225°F or 250°F after that to finish.
For things that cook for a really long time like briskets and pork butts, you can leave it on this special smoke setting for 3-4 hours before turning it up to normal smoking temperatures to finish. This will increase the smoke flavor of whatever you are cooking.
2. Use a pan with a rack (like this one) to keep the smoker cleaner. Less cleanup = happier cook😃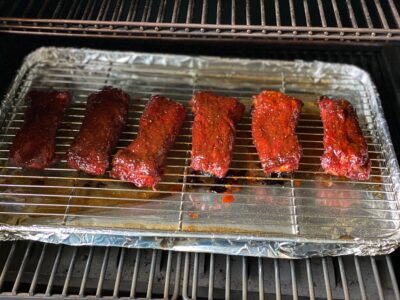 While we're on the "cleaning" subject, go ahead and wrap your drip pan in foil as well to keep it nice and tidy and use a foil liner in your grease bucket available wherever pellet smokers are sold.
3. For the best burn, clean the ashes out of your burn pot. I recommend doing this about every 10-15 hours of use but it would not hurt to do it before every cook.
Ashes down in the bottom of the smoke chamber doesn't hurt a thing as long they aren't wet and it can even do a great job of helping to insulate the smoker in the winter but keep the burn pot clean.
The Camp Chef Woodwind is one of my favorite pellet smokers and one of the reasons is because of the ash cup on the very bottom of the smoker. It literally takes 10 seconds or less to empty the ashes from the burn pot into the cup them empty the cup into an ash bucket or trash can if the ashes are cool.
Some other pellet smokers also have a similar feature such as an ash drawer that allows the ashes from the burn pot to be quickly emptied before each cook.
4. Use pellets made from 100% wood and no flavor oils. You get what you pay for and, while finding a good deal on pellets is a good thing, make sure they are made from all hardwood and aren't using flavor oils or other additives to give them flavor. The flavor should be all natural.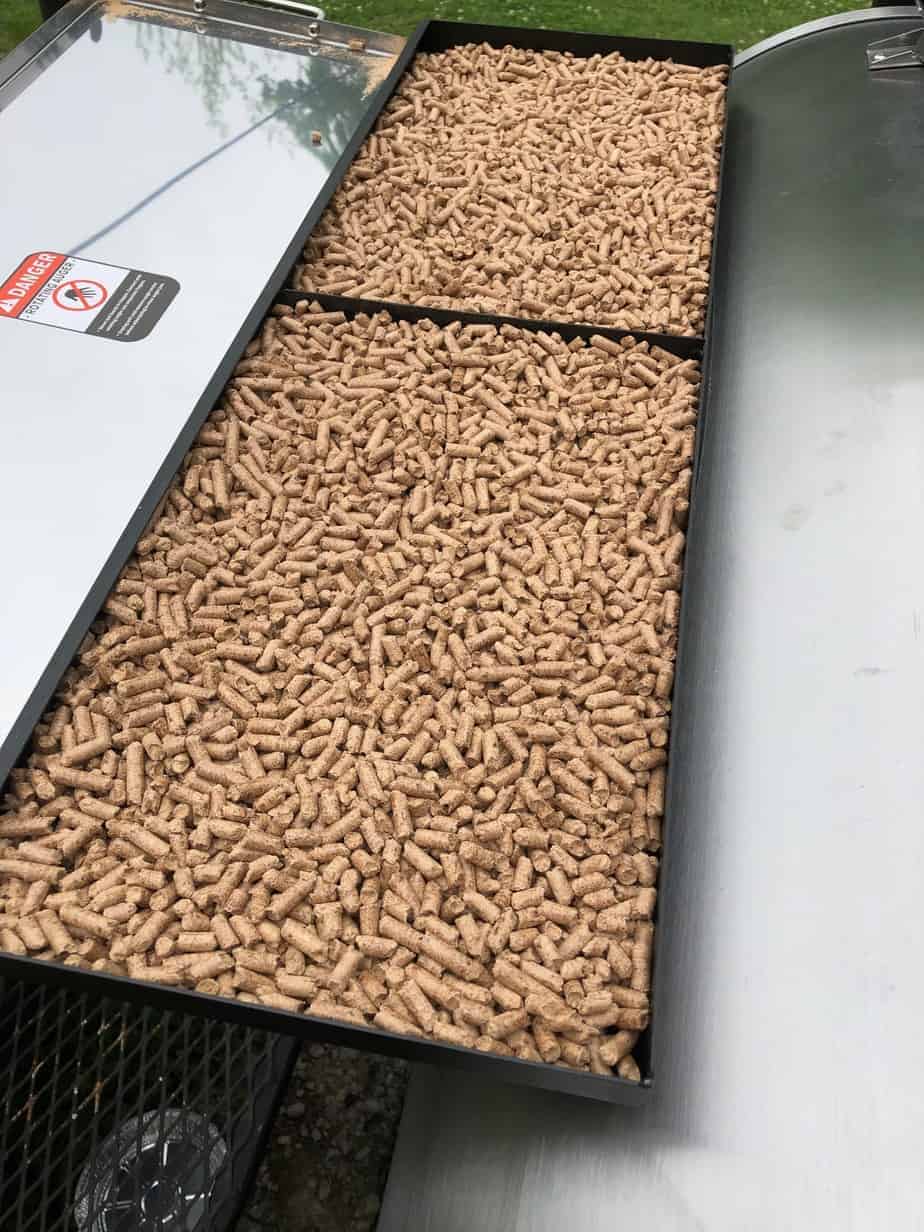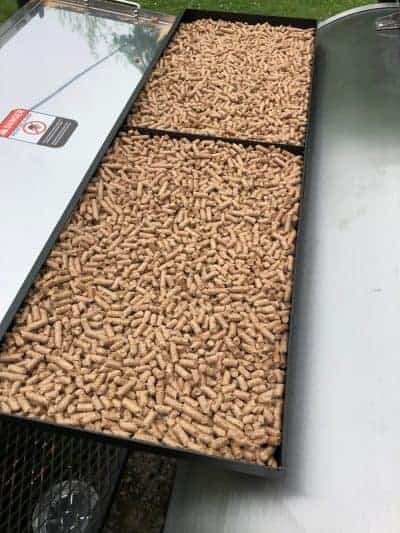 I have had great luck with the Pit Boss brand as well as the Lumberjack brand.
5. Don't chase the temperature gauge! Like your home oven, pellet grills fluctuate up and down by as much as 20 degrees or more and your set temperature is simply an average.
Set the smoker and don't worry too much about the fluctuations for easy going, stress free, tasty cooking.
Ribs cooked at exactly 225°F for 6 hours will be just as good as ribs that are cooked at an average temperature of 225°F (200 to 250°F).
6. Use a good leave-in thermometer to tell you when the food is done. I use a couple of thermometers made by ThermoWorks such as the Smoke or the Signals.
The "Smoke" especially is very affordable and one of my favorites however, if you can't afford the very best right now, you can find cheaper ones that will make do until you can get something better.
Using a cheap thermometer is better than simply guessing at the temperature.
7. Keep the pellet grill covered when you're not using it. This may seem like a given but if it's under a patio or other shelter, you may feel it's ok to leave uncovered. The smoker itself may be fine, but to make sure the pellets remain dry, keep the smoker covered, especially in humid climates.
Ask anyone who's dealt with wet, swelled up pellets in their auger and they'll tell you it's just not worth the risk. Humidity is the Achilles heel of pellet smokers/pellets.
8. Expect to use about 1 lb of pellets per hour at regular smoking temperatures. This amount will increase as you increase the temperature but that's a pretty good way to figure how many pellets you'll need for that 15 hour brisket, 4 lb chicken, or whatever you are cooking.
9. Use a smoke tube to give you even more smoke flavor. Pellet smokers burn wood very efficiently and for that reason, some of you may find that it just doesn't give you as much smoke flavor as you want.
When this happens, there is a solution. It's called a smoke tube. This is a metal tube with lots of holes which you fill with pellets and light. When this is laid on the grates just inside your smoker it will produce smoke for hours on end.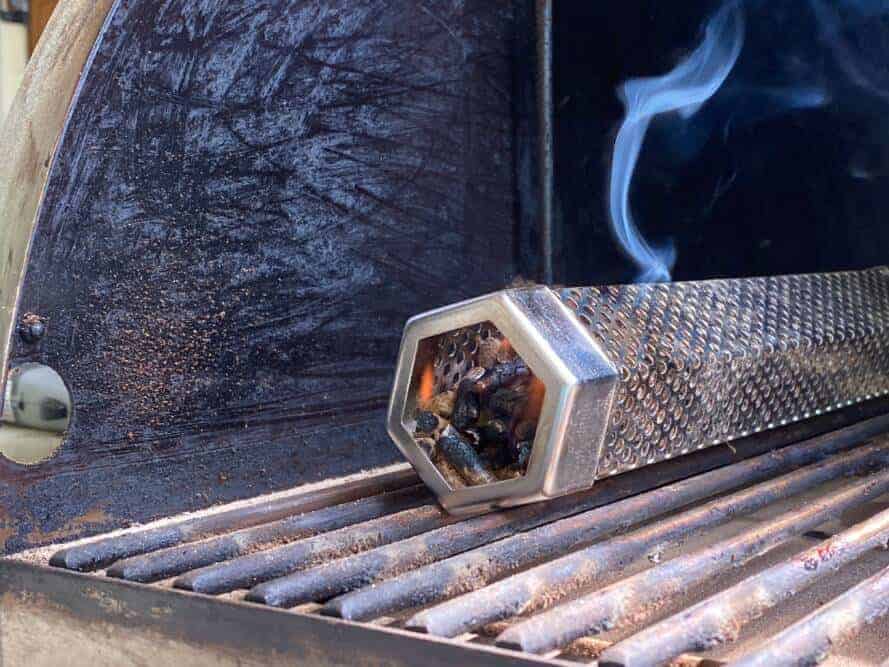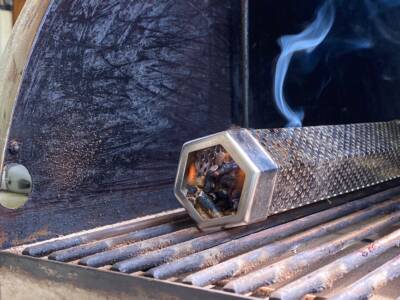 This extra smoke will give the food a lot more of that "smoky" flavor that you are looking for.
These are very inexpensive and available on Amazon or if you're more of a DIY person, you could possibly use rolled up mesh wire to perform the same task.
I need to do a DIY tutorial on this and if this is something you've done and want to share your images, I'd be happy to give you full credit.
Get Jeff's Products!