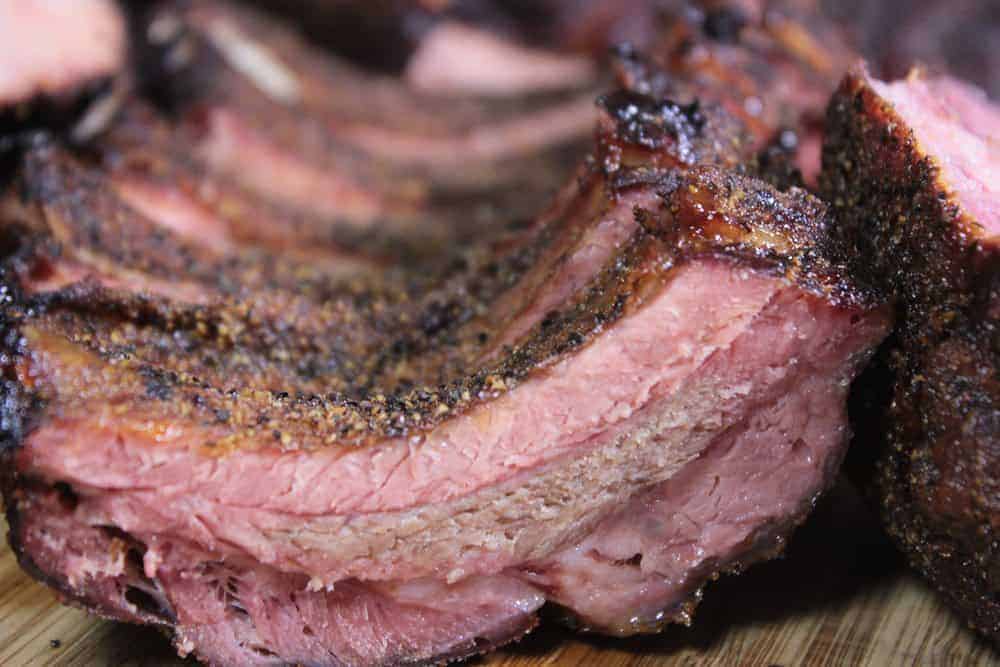 Smoking-Meat.com is supported by its readers. We may earn an affiliate commission at no extra cost to you if you buy through a link on this page.
Read this article without ads
This recipe for smoked baby back ribs will yield ribs that are more competition style. This means they produce a tender bite of meat that pulls from the bone easily but the meat does not fall from the bone.
If you prefer ribs that are more tender, simply cook the ribs longer and they will continue to tenderize.
I have also included an alternate method below for super tender ribs.
Helpful Information
Prep Time: 25 minutes
Cook Time: 5 hours
Smoker Temp: 225°F (107°C)
Meat Finish Temp: 190°F (88°C)
Recommended Wood: Apple and/or Hickory
What You'll Need
1-3 Slabs of baby back ribs
Regular yellow mustard
Prepare Baby Back Ribs
Normally the first thing you do to pork ribs is to remove the membrane from the boney side. This is not something done in restaurants usually but it's one of those things that makes homemade barbecue so much better than what you can find commercially.
The membrane is a thick plastic-like covering over the boney side of the ribs that really needs to come off in my opinion,
To remove the membrane, place the pork ribs meaty side down. Insert a semi-sharp object under the first layer of membrane and pry it up until you can get ahold of it.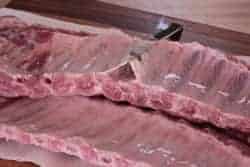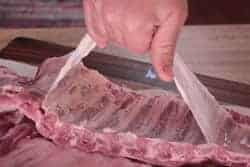 Grab it with a paper towel if you need to in order to get a better grip.
Pull the membrane clean off.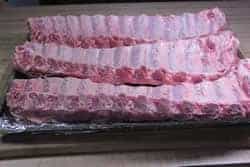 Apply a thin layer of yellow mustard onto the bone side of the ribs to help the rub to adhere to the ribs.
Note: It is perfectly fine to skip the mustard and just apply the rub directly to the meat if you prefer.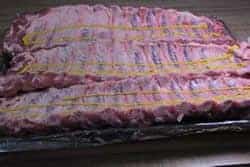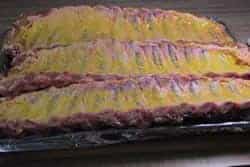 Sprinkle enough of my rub onto the ribs to cover the meat well. You should not be able to see the meat if you do it correctly. My rub is low on salt and high on flavor and compliments ribs extremely well.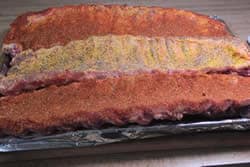 Let the rub sit on the bone side of the ribs for about 10 minutes or until it starts looking "wet" which means the rub, mustard and pork juices have mingled to create a nice paste.
At this point, turn the ribs over and repeat the same mustard and rub application to the meaty side of the ribs.
You will notice that I used the original rib rub on the outside racks and my new Texas style rub on the one in the center. All of them were good but I still think the original rib rub is hard to beat for pork and most other things when it comes to that perfect balance between sweet and spicy.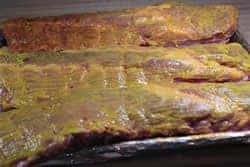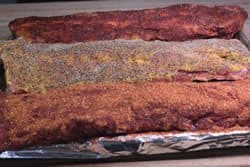 Leave them sitting on the counter while you go out and get the smoker ready to smoke.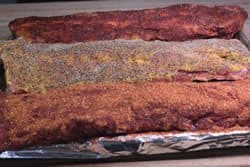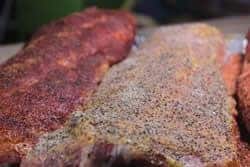 Get the Smoker Ready
Set up your smoker for cooking at 225°F (107°C) using indirect heat. If your smoker uses a water pan, fill it up.
Once the smoker is preheated and ready to go, it's time to cook!
Smoke the Baby Back Ribs
Place the ribs bone side down directly on the smoker grate.
If you are short on space, you can use a rib rack if you need to. These allow for a lot more ribs in a smaller amount of space.
Smoke the ribs until they are as tender as you like them. This will probably take about 5 hours at 225°F (107°C) or perhaps an hour longer if the ribs have a little more meat on them.
To check for tenderness, pick them up on one end with a pair of tongs and if they almost bend in half and start to break, they are ready to eat.
Alternate Method for Super Tender Smoked Baby Back Ribs (2-2-1)
Place seasoned baby back ribs directly on smoker grate for 2 hours at 225°F (107°C).
At the 2 hour mark, wrap the baby ribs in foil or place them in a foil pan, spritzing the ribs with apple juice just before closing them up or covering them with foil over the top.
Cook the ribs at 225°F (107°C) for 2 hours in the wrapped configuration.
At the 4 hour mark, remove the ribs from the foil and place them back onto the grate to continue cooking for an additional 1 hour to firm up the bark and finish them off. This is also a great time to sauce them if that is how you like them.
To summarize this more tender alternative:
Smoke the ribs for 2 hours directly on the grate at 225°F (107°C)
Wrap the ribs in foil and smoke another 2 hours at 225°F (107°C)
Unwrap the ribs and place them back on the grate. Cook for an additional hour to firm them up and set the bark.
Finish Up and Serve the Smoked Baby Back Ribs
Once the ribs are tender to your liking, remove them from the smoker.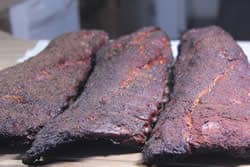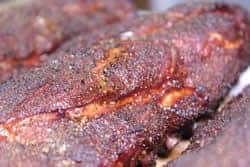 At this point they can be wrapped in foil and kept warm in the oven for a couple of hours or you can get busy slicing and serving.
To slice, I have the best luck turning them bone side up so I can see the direction and location of the bones. This allows me to slice right between them with great accuracy.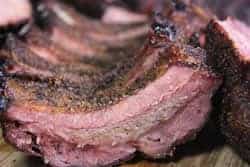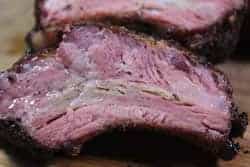 Comments/Notes:
Figure on about 2 eaters per rack of smoked baby back ribs.
Serve with some of my barbecue sauce on the side for best results. This allows folks to try them with just the rub (my favorite way to eat them) and if they just have to have sauce (some folks do) they have it available.
If you want to check the temperature of the ribs, do so between the bones making sure the probe is only in the meat. Competition style ribs are done at around 190°F (88°C) and yield a rib that is tender but does not fall off the bone.
Be sure to smoke ribs with indirect heat. If you have any radiant heat getting to them, they will burn during this long cook time. This goes for almost anything but you really want ribs to look nice and this is best achieved by keeping them in indirect heat the entire time.
Printable Recipe
Smoked Baby Back Ribs
Smoked baby back ribs are what great barbecues and summer time get togethers are made of and with this recipe, you'll be the talk of the neighborhood.
Ingredients
1-3

Slabs of baby back ribs

Regular yellow mustard
Instructions
Remove membrane from the bone side of ribs using a paper towel to get a good grip.

Apply a thin coat of yellow mustard to the bone side.

Once the rub gets that typical "wet" look, flip them over and repeat the mustard and rub on the meaty side.

Set up your smoker for smoking at about 225°F (107°C) using indirect heat.

Once the smoker is ready, place the ribs directly on the smoker grate, or you can use a

rib rack

if you need to fit more.

Let the ribs smoke cook for about 5 hours or until they are as tender as you like them.

Sauce the ribs about 30 minutes before they are finished for best results.

When the ribs are finished cooking, remove them from the smoker, slice 'em up and serve.
Get Jeff's Products!