Legend and even science suggest that oysters can be a natural aphrodisiac and that's not a bad thing.. but, I must point out that smoked oysters wrapped in bacon are extremely tasty either way.
These are also called smoked "Angels on Horseback" in many places.
Helpful Information
Prep Time: 35 minutes
Cook Time: 1 hour 45 minutes
Smoker Temp: 225°F
Meat Finish Temp: N/A
Recommended Wood: Alder or Cherry
What You'll Need
5-6 oysters per person
Bacon, thin cut (1 strip per 3 oysters)
Toothpicks
Kitchen shears or scissors
Get the Recipes for Jeff's Rub and Sauce
---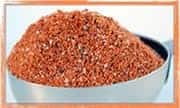 The true versatility of my rub really comes out when you see how well it seasons these oysters yet doesn't even start to overpower their delicate and unique flavor.
I promise you'll love my dry rub/seasoning recipe and my barbecue sauce recipe or you don't pay!
Reasons to buy: Support the newsletter and the website | Own "the recipes" | Get the email newsletter 100% AD FREE from now on | Includes the Texas style rub recipe

Step 1: Acquire the Oysters
Fresh seafood and especially oysters are not always readily available here in the midwest. The ones we do find are expensive and probably not as fresh as the ones that some of you coastal folks get.
When I do find them, I usually ask the purveyor to shuck them for me so I can pick them up ready to go. If you prefer to shuck them yourself and have the skills to do it without ending up in the emergency room, then be my guest;-)
The ones I buy locally are available with a simple phone call and they can usually have them shucked and on ice, ready to carry out in about an hour.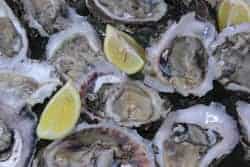 Step 2: Clean Them
Keep the oysters really cold until you are ready to use them.
Be sure to rinse each oyster really well under cold water to remove sand, grit, pieces of shell, etc.
This can be done using a metal colander, strainer or you can simply hold each one under water while you feel for any pieces of shell that might be lodged in the muscle.
This is an important step so don't skip it.
I also use the shells to present the finished smoked oysters so I give them a good scrubbing while I'm at it.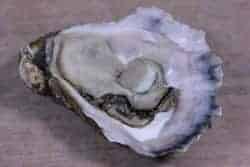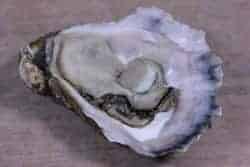 Step 3: Season the Oysters
Lay the cleaned, rinsed and dried oysters out on the cutting board.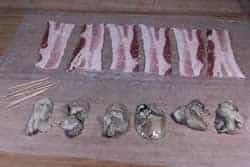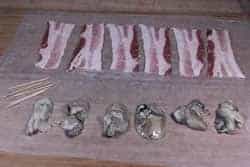 Sprinkle Jeff's original rub on them for great flavor. If you prefer to use a rub that has no sweetness to it, you can also use my Texas style rub on them.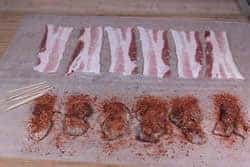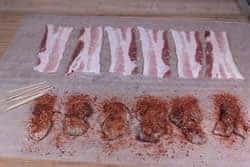 Flip them over and season the other side in the same manner.
Step 3: Wrap in Bacon
Cut thin strips of bacon into thirds, i.e. you'll make 2 cuts on each piece of bacon so that you end up with 3 equal pieces. I prefer to use sharp kitchen scissors or shears for this.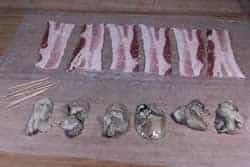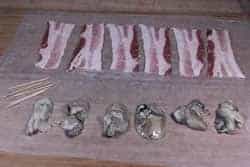 Lay a seasoned oyster onto the end of the strip of bacon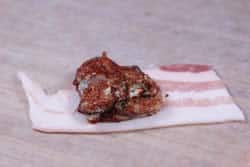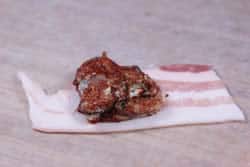 Wrap the bacon around the oyster making sure it overlaps just a little.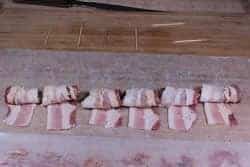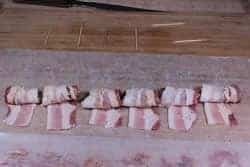 It only needs to overlap about ½ inch. Cut off any excess with scissors.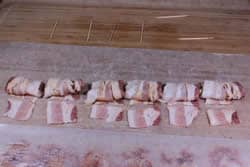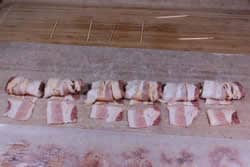 Pierce the bacon wrapped oysters through with a toothpick to hold everything in place.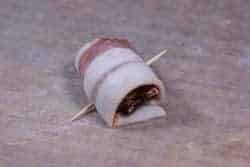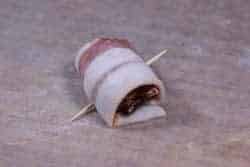 Place the bacon wrapped oysters on a Bradley rack or cookie sheet to make it easy to carry them out to the smoker.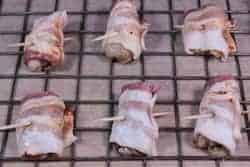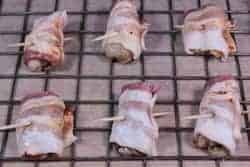 Sprinkle rub onto the tops of the bacon wrapped oysters and you're ready to smoke!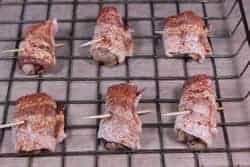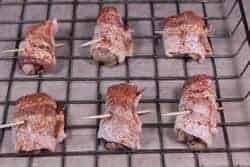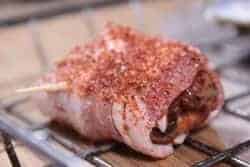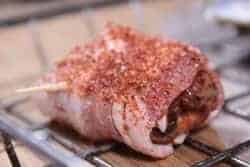 Step 4: Smoke 'em Up
Set up your smoker for cooking at about 225°F with a light flavored wood such as alder or almost any fruit wood. I used cherry wood.
Let the smoker preheat until it is maintaining a very steady temperature.
Place the bacon wrapped oysters directly on the smoker grate making sure the heat is completely indirect.
If your smoker has a water pan, use it.
Let these cook for about 1 hour and 45 minutes or until the bacon starts looking brown and crisp. Keep the smoke going for at least 1 hour but I recommend keeping a light smoke going the entire time if possible.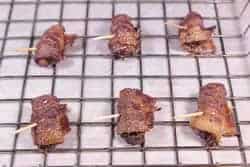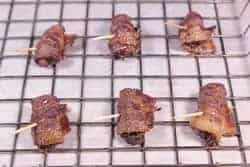 Some will ask if the oyster gets overcooked. Perhaps it does technically however, like bacon wrapped shrimp or scallops, the bacon somehow protects it and it should not taste overcooked at all.
Step 5: Serve
Place the smoked oysters wrapped in bacon onto the cleaned shells (if you were able to use fresh oysters) for great presentation.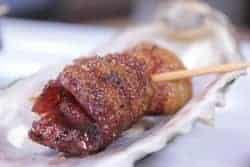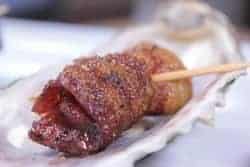 Serve immediately and watch them disappear!
Questions
Can I use oysters that are already shucked in a jar?
You can definitely use whatever oysters you have available but fresh will always be better in my opinion.

***Note: you get the Texas style rub recipe free with your order!
If I could give these recipes away, I would do that. I really want you to have them! But, then, this is how I support the newsletter, the website and all of the other stuff that we do here to promote the art of smoking meat.
Read these recent testimonies:
"Love the sauce and rub recipes. So far I have used them on beef ribs, pork ribs, and different chicken parts. Can't wait to do a beef brisket. Texas rub is great as well!" ~Peter S.
"I tried the rub on a beef brisket and some beef ribs the other day and our entire family enjoyed it tremendously. I also made a batch of the barbeque sauce that we used on the brisket as well as some chicken. We all agreed it was the best sauce we have had in a while." ~Darwyn B.
"Love the original rib rub and sauce! We have an annual rib fest competition at the lake every 4th of July. I will say we have won a great percent of the time over the past 15 years so we are not novices by any means. However, we didn't win last year and had to step up our game! We used Jeff's rub and sauce (sauce on the side) and it was a landslide win for us this year! Thanks Jeff for the great recipes. I'm looking forward to trying the Texas style rub in the near future!" ~Michelle M.
You see the raving testimonies and you wonder, "Can the recipes really be that good?"
No worries! Make up a batch and if it's not as good as you've heard.. simply ask for a refund. Now that's a bargain and you know it. Let's review:
You decide you don't like the recipes.. you don't pay!
The recipes are absolutely amazing!
Once you order, there'll be no more recipe ads in the email version of the newsletter
Well.. what are you waiting for.. click on the big orange button below to order the recipes now.

I really, really appreciate the support from my newsletter friends and be sure to let me know if you have any questions about this.
Jeff's Smoking Meat Book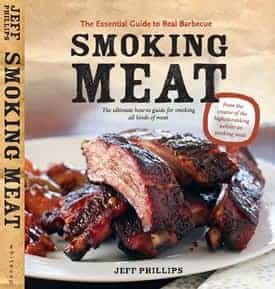 The book is full of recipes and contains tons of helpful information as well. Some have even said that "no smoker should be without this book"!
With more than 800 reviews on Amazon.com and a rating of 4.7 out of 5 stars, it comes highly recommended.
It is a Bestseller in Barbecueing & Grilling books on Amazon.
Amazon | Barnes & Noble | German Edition
Digital versions available via Nook | iTunes | Kindle
Get Almost Anything at Amazon
If you enjoy the newsletter and would like to do something helpful, then..
The next time you decide to order something at Amazon.com, use THIS LINK to get there and we'll get a small commission off of what you purchase.
Thank you in advance for using our special link: http://www.smoking-meat.com/amazon
Printable Recipe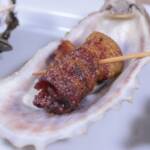 Print Recipe
Smoked Oysters Wrapped in Bacon
Legend and even science suggest that oysters can be a natural aphrodisiac and that's not a bad thing.. but, I must point out that smoked oysters wrapped in bacon are extremely tasty either way.
Ingredients
5-6

oysters per person

Bacon

((, thin cut (1 strip per 3 oysters)))

Jeff's original rub

(((purchase recipes here)))

Toothpicks

Kitchen shears or scissors
Instructions
Clean Them
Place the oysters in a colander and run cold water over them to remove grit and pieces of shell

Clean the shells while you are at it for good presentation

Dry the oysters carefully with a paper towel
Season
Lay the oysters on the cutting board and sprinkle

Jeff's rub

on them lightly

Flip them over and season the other side
Wrap with Bacon
Cut bacon into thirds

Place an oyster on one end of the bacon

Wrap the bacon around the oyster allowing it to overlap by ½ inch

Use scissors to cut off any extra bacon

Secure with a toothpick

Sprinkle more of

Jeff's rub

onto each wrapped oyster
Smoke 'em Up
Set up smoker for cooking at 225°F with indirect heat

Once smoker is ready, place oysters onto smoker grate

Allow the oysters to cook for about 1 hour and 45 minutes or until the bacon is browned and beginning to crisp

Remove the oysters from the smoker just as soon as they are finished cooking
Serve
Serve immediately with hot sauce or a 50/50 mix of Louisiana Hot Sauce and

Jeff's Barbecue sauce

and watch them disappear.