Smoked cornish hens are delicious all on their own and they are the perfect-sized chicken but these amped up citrus rosemary cornish hens are marinated in citrus juices, olive oil and rosemary for flavor that will blow you away!
Unlike most of my other recipes for smoked cornish hens, these are topped with  the Texas style rub (Purchase formula here | Purchase bottled rub) for even more incredible flavor.
The sweet potatoes in the picture above are smoked as well.. make them savory or sweeten them up with butter and brown sugar, delectable either way!
Helpful Information
Prep Time: 35 minutes
Marinade Time: 12 hours
Cook Time: 1 hour 15 minutes
Smoker Temp: 275°F
Meat Finish Temp: 165°F
Recommended Wood: Orange (Any citrus or fruit wood will work great)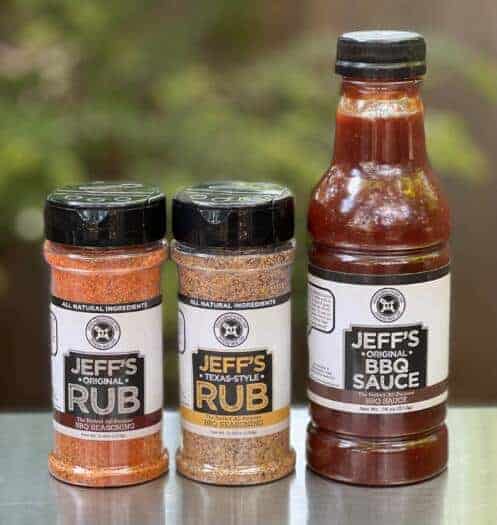 Please note that my rubs and barbecue sauce are now available in 2 formats– you can
purchase the formulas
and make them yourself OR you can
buy them already made
, in a bottle, ready to use.
Make the Marinade
Marinade Ingredients
3 cups olive oil
½ cup minced garlic (2-3 heads of garlic)
3 oranges, medium
3 lemons
3 limes
¼ cup rosemary, chopped
¼ cup coarse kosher salt
¼ cup coarse black pepper
Pour 3 cups of olive oil into a medium sized mixing bowl.
Zest the oranges, lemons and limes to get about 1/3 cup of each. You should end up with about a cup of zest total.
Juice the zested oranges, lemons and limes to acquire about a cup of juice.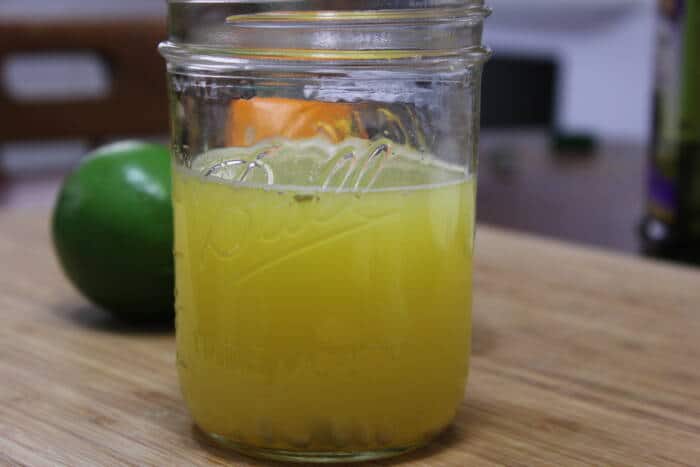 Remove the leaves from rosemary and chop them to get about ¼ cup of chopped rosemary leaves.
Add the citrus zest, all of the juice, the chopped rosemary leaves, the salt and pepper and the minced garlic into the bowl of olive oil and mix well.
Cut the Chickens in Half
You can cook cornish hens whole but I recommend cutting these in half.
To accomplish this, it is best to cut out the back bone.
This is easy to do with kitchen shears since the bones of these little chickens are quite small.
Set the cornish hens on a sturdy surface.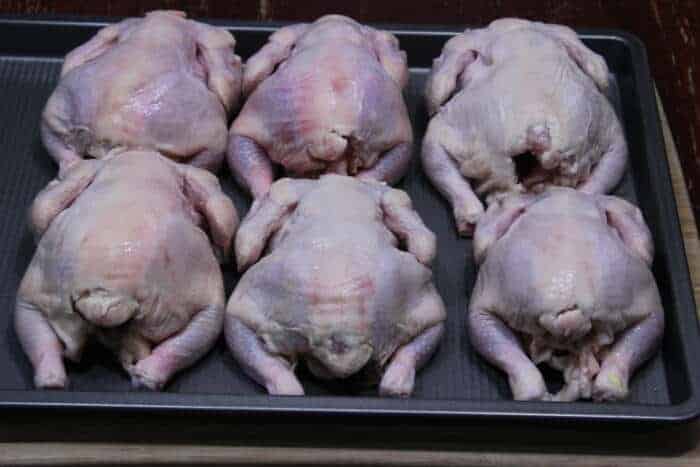 Make a cut along the right side of the back bone (if you are left-handed, it might be easier to do the left side first)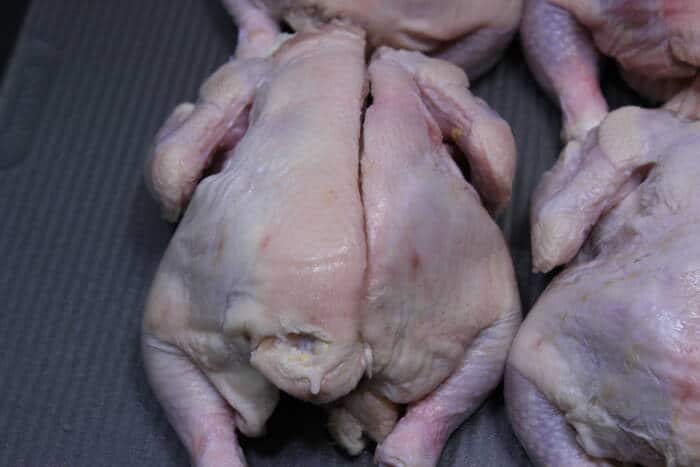 Spin the hen around to once again cut along the other side and remove the backbone.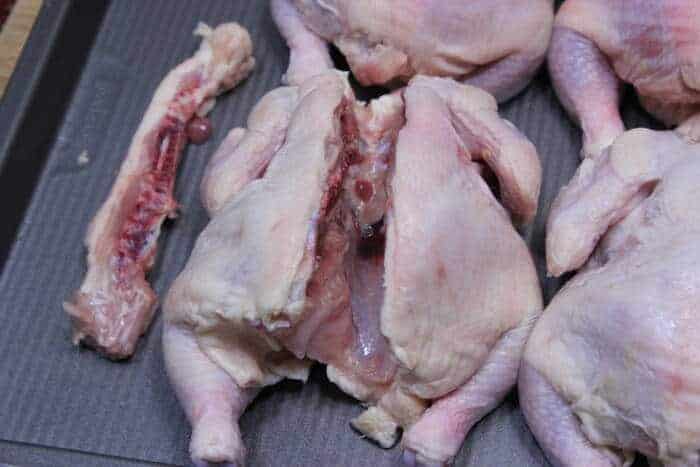 Cut along both sides of the keel bone (along the center of the breast opposite the backbone) to separate the halves.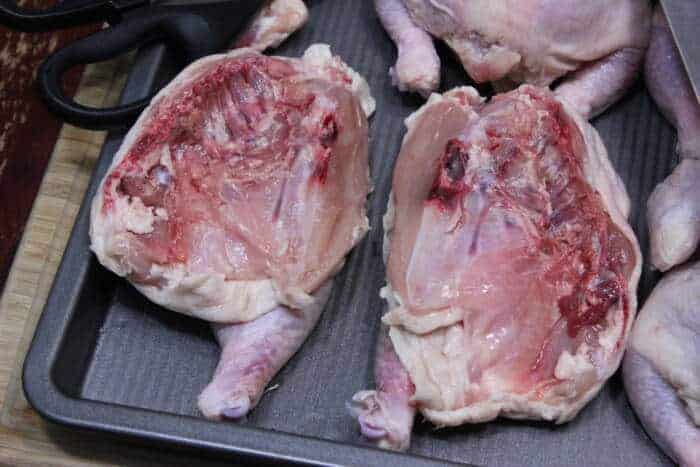 The little chickens are now ready for the marinade.
Marinade Time
Place the chicken halves into a large lidded bowl.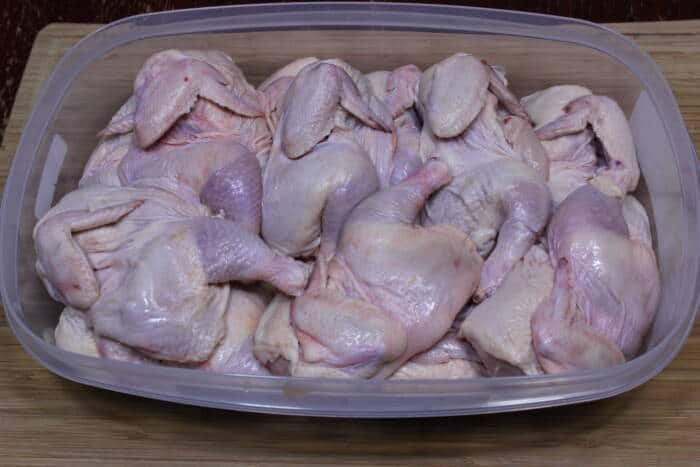 Pour the marinade over the chicken stirring as you pour to keep the ingredients evenly dispersed.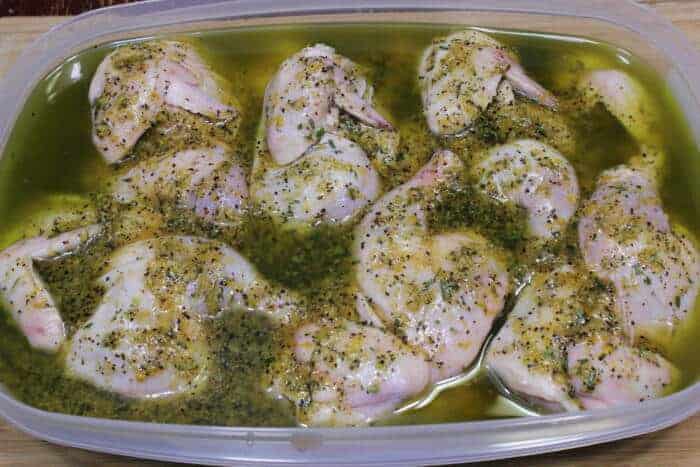 Put the lid on the container and place the chicken into the fridge for 12-14 hours.
Move the chicken around 2-3 times during this process to ensure they all get marinated evenly.
At the end of the marinating process DO NOT RINSE the chicken.
Place the chicken onto Bradley racks, cooling racks or you can use Weber grill pans.
Tip: they'll be messy so you will probably want to place something under the racks to catch the drips.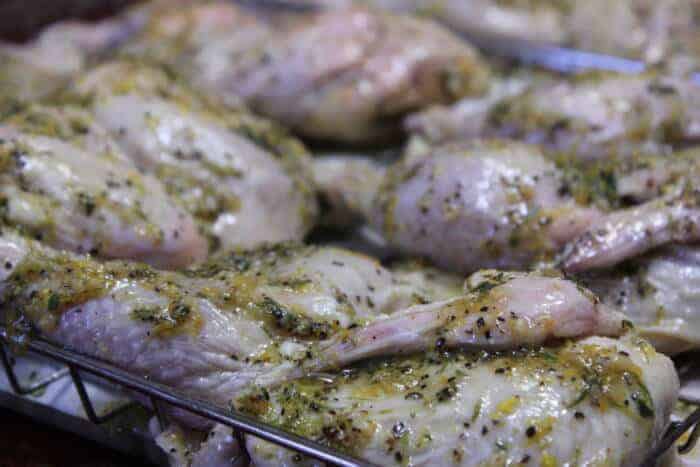 Add the Rub
I used my Jeff's Texas style rub (Purchase formula here | Purchase bottled rub) on these and it was an excellent decision! Just the right touch!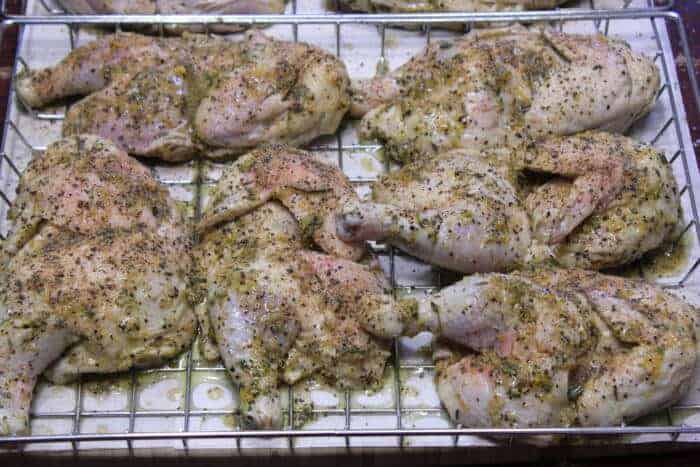 Set Up the Smoker
I used the Landmann propane smoker for these but any smoker will work great for these as long as you can maintain normal smoking temperatures or a little higher.
Setup your smoker for cooking these at 275°F if you can. Unlike many of the things that we cook in the smoker, chicken doesn't benefit so much from low and slow. The only reason for cooking them slow is to give them more time with the smoke.
For smoke, use orange wood or citrus wood if you have it. Any fruit wood will work great or even pecan, oak or hickory if that is all you have.
I did not use the water pan with these to help the skin to dry and hopefully crisp a little more.
Smoke Time
When the smoker is ready, place the chicken directly on the smoker grates skin side up or you can just place the racks right in the smoker.
Give them smoke the entire time if possible and expect them to get done in approximately 1 hour and 15 minutes if you maintain 275°F.
Obviously, if you have to cook at a lower temperature, then it will take longer for the cornish hens to finish.
I did not baste them or turn them during the cooking process.
When they reach 162°F, they can be removed from the smoker. They will continue to cook for a few minutes (carryover cooking) and the temperature will continue to rise a few degrees bringing them up to the proper safe temperature of 165°F.
Note: There is no way to tell if food is safely done without an accurate thermometer. I used the "Smoke" by Thermoworks to ensure these were properly done and safe for my guests.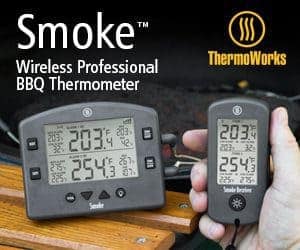 Finish and Serve
These can be served immediately.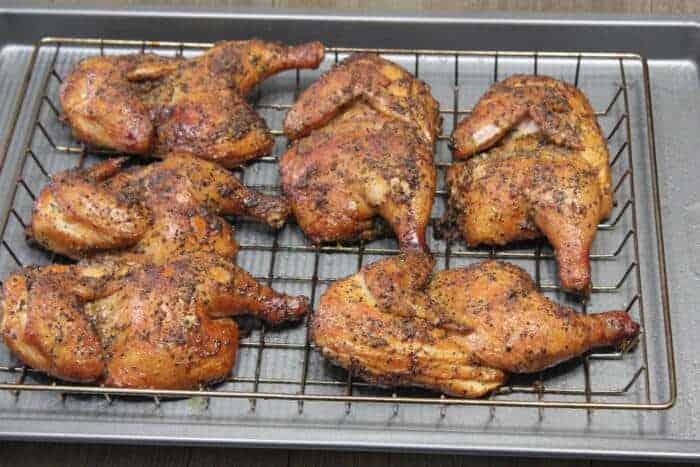 Serve them with some smoked sweet potatoes or another side or two of your choosing.
Enjoy!
Order Jeff's Rubs and Barbecue Sauce TODAY!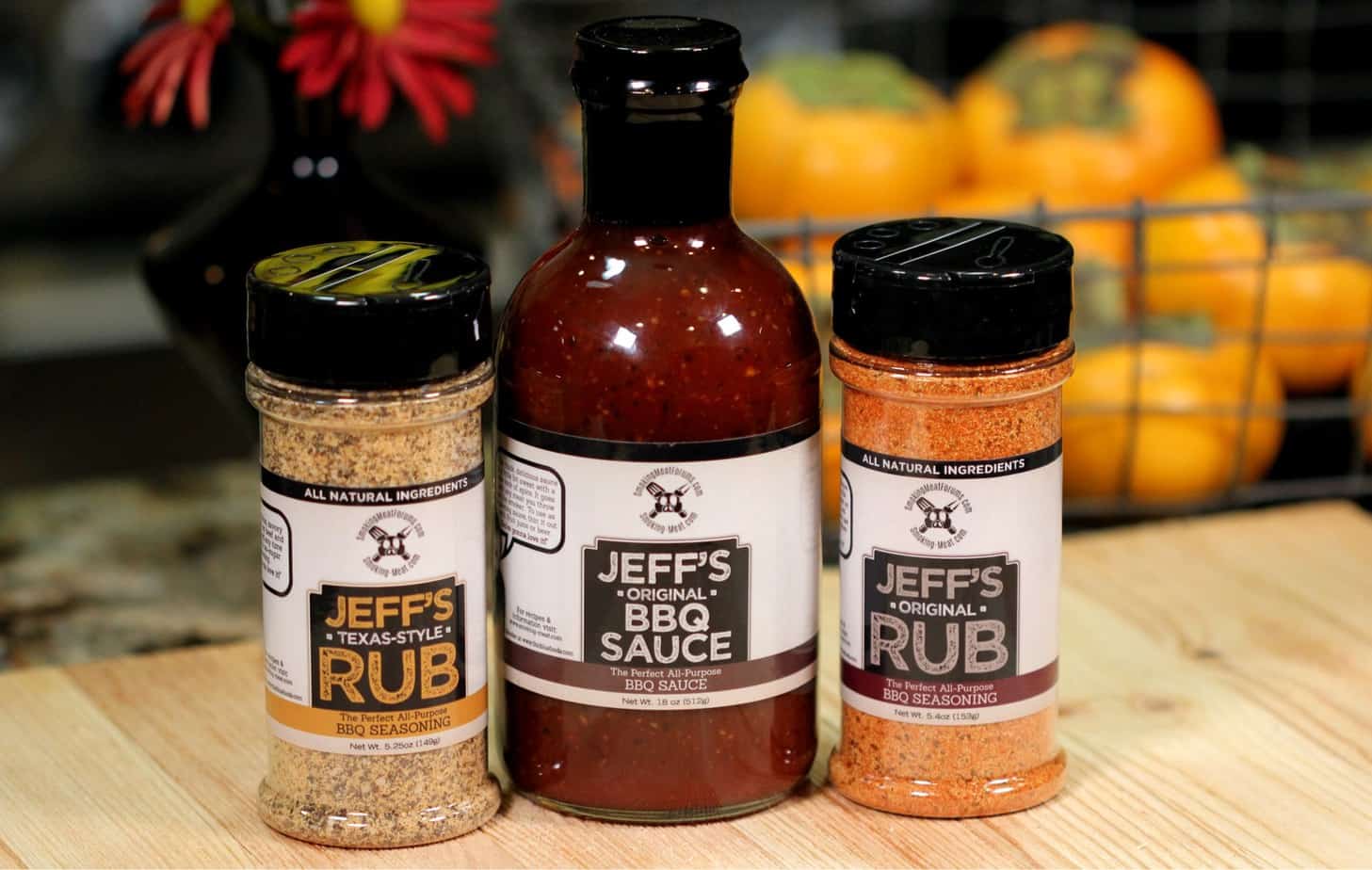 ✅ If you haven't ordered my rubs or sauce yet you can do that HERE. They are the best thing you've ever tasted and it's a great way to support what we do!
We ship blazingly fast and orders over $50 ship free!
You can also order the formulas for my rubs and sauce and make these yourself at home. Grab those HERE and download immediately.
Jeff's Smoking Meat Books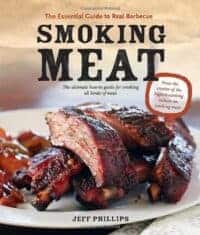 Smoking Meat: The Essential Guide to Real Barbecue – The book is full of recipes and contains tons of helpful information as well. Some have even said that "no smoker should be without this book"!
With more than 1000 reviews on Amazon.com and a rating of 4.7 out of 5 stars, it comes highly recommended and is a Bestseller in Barbecuing & Grilling books on Amazon.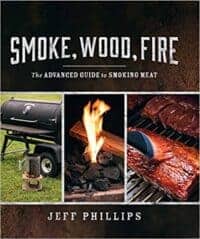 Smoke, Wood, Fire: The Advanced Guide to Smoking Meat – Unlike the first book, this book does not focus on recipes but rather uses every square inch of every page teaching you how to smoke meat. What my first book touched on, this second book takes it into much greater detail with lots of pictures.
It also includes a complete, step-by-step tutorial for making your own smoked "streaky" bacon using a 100 year old brine recipe.
Get Almost Anything at Amazon
If you enjoy the newsletter and would like to do something helpful, then..
The next time you decide to order something at Amazon.com, use THIS LINK to get there and we'll get a small commission off of what you purchase.
Thank you in advance for using our special link: http://www.smoking-meat.com/amazon
---
Printable Recipe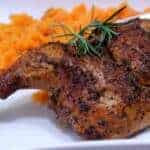 Print Recipe
Citrus Rosemary Cornish Hens
Smoked cornish hens are delicious and the perfect-sized chicken but to make them even better, these are marinated in citrus juices, olive oil and rosemary.
Ingredients
4-6

each Cornish hens

((18-20 oz. each))

3

cups

olive oil

1/2

cup

minced garlic

((about 2-3 heads or you can use the jarred stuff.))

3

each oranges

(, medium)

3

each lemons

3

each limes

1/4

cup

rosemary

(, chopped)

1/4

cup

kosher salt

(, coarse ground)

1/4

cup

black pepper

(, coarse ground)

1/4

cup

Jeff's Texas style rub
Instructions
Make the marinade by adding 3 cups of olive oil to a medium sized mixing bowl.

Zest about ⅓ cup each of the oranges, lemons and limes.

Squeeze the oranges, lemons and limes to get about 1 full cup of juice.

Add the zest, juice, chopped rosemary, minced garlic, salt and pepper to the olive oil and stir well to combine.

Halve the cornish hens by removing the backbone and the keel bone along the breast.

Add the half chickens to a lidded container and pour the marinade over the chicken to cover. Place the chicken in the fridge for 12 hours.

Do not rinse when finished. Sprinkle a thin layer of Jeff's Texas style rub onto the skin side of the chicken halves.

Setup your smoker for cooking at about 275°F if possible using orange wood, or any citrus/fruit wood or even pecan, oak or hickory if that is all you have.

Smoke cook the cornish hens skin side up for about 1 hour and 15 minutes at 275°F or until they reach 165°F in the thickest part as measured by a meat thermometer.

When the chicken is done, it can be served immediately.