Five Hour Smoked Pork Butt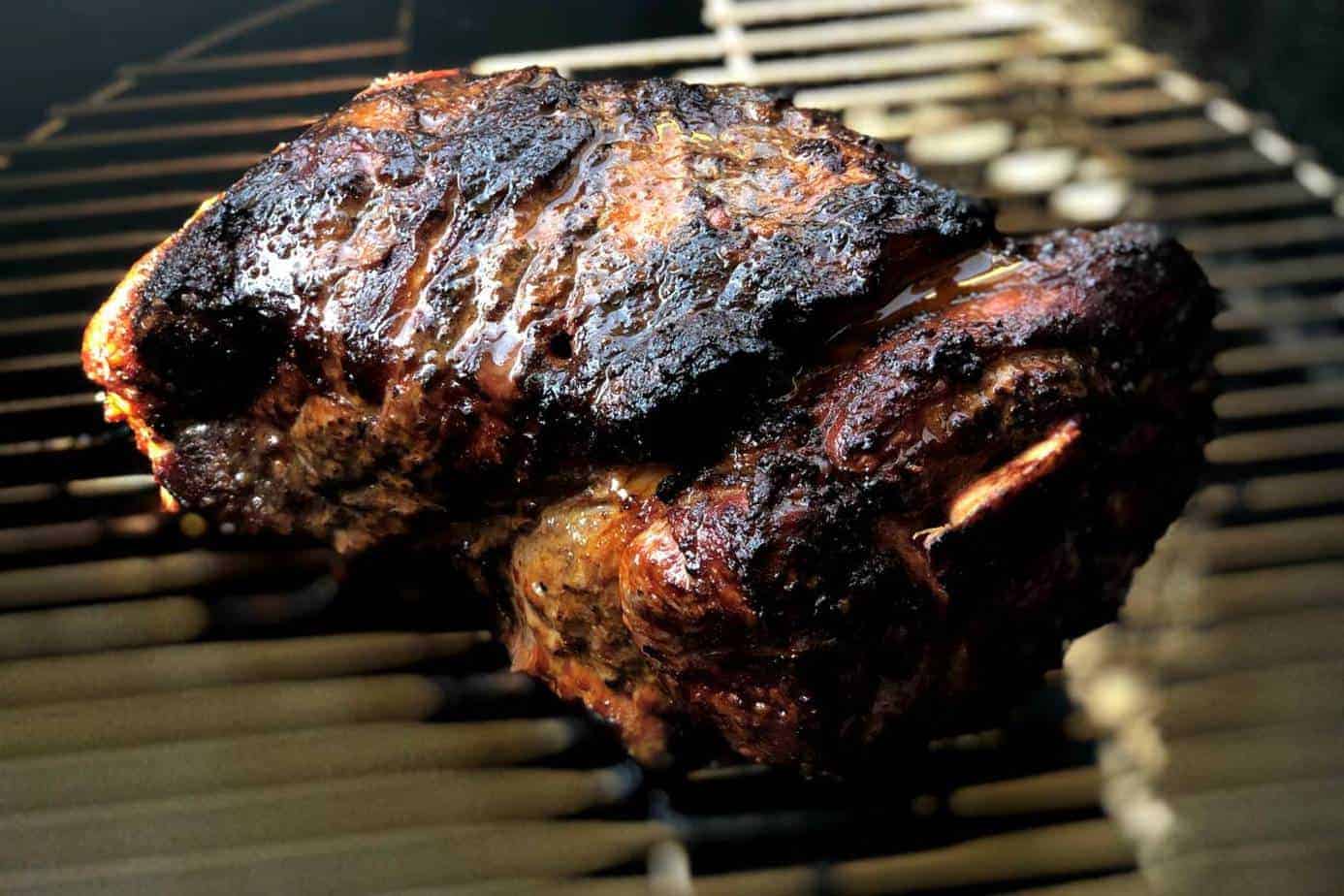 Smoking-Meat.com is supported by its readers. We may earn an affiliate commission at no extra cost to you if you buy through a link on this page.
Read this article without ads
In this tutorial, I will show you how to do the five hour smoked pork butt.. that's right, in only 5 hours. For what it's worth, pork butt (Boston butt, pork shoulder) normally takes 12-14 hours to turn it into tender, juicy pulled pork. Using this method you'll be shaving 7+ hours from the cook time!
As meat smokers we are all about patience– low and slow is our motto and we believe that the flavor and texture of things like smoked pork butt are greatly enhanced by cooking it slowly in a low heat environment with plenty of smoke kissing the meat as it goes through it's metamorphosis.
But is there really anything wrong with speeding things up once in a while when you are pushed for time or for those days when you just need some sleep AND smoked pulled pork?
Let's find out!
Helpful Information
Prep Time: 10 minutes
Cook Time: 5 hours
Smoker Temp: 300°F (149°C)
Meat Finish Temp: 205°F (96°C)
Recommended Wood: Pecan
What You'll Need
Pork butt (normally weigh 5 to 8 lbs)
Yellow mustard (hotdog mustard)
Did you know? You can order the MASTER FORMULAS which allow you to make Jeff's original rubs and original barbecue sauce at home using your own ingredients! Order the Recipes
About Fast Smoking Pork Butts
If you thought this would be something really complex, you would be wrong. This is extremely easy and only requires you to turn up the heat about 75 degrees higher than normal and if you're not used to wrapping, you'll want to wrap the pork butt at about 165°F (74°C) or once it reaches the perfect color.
As a disclaimer, I have not done an actual side by side test with a regular low and slow pork butt and something in me naturally believes that slower must be better but life is all about sacrifices and when you need to get it done fast, I really think this will more than fit the bill.
Truth be told, if you blindfolded me, I may not be able to tell the difference between a pork butt that's cooked slow and one that's cooked fast. I'll let you decide if you can really tell the difference and I'd love to hear your opinion on it once you've tried it.
Step 1: Mustard and Rub
Set the pork butt on the counter.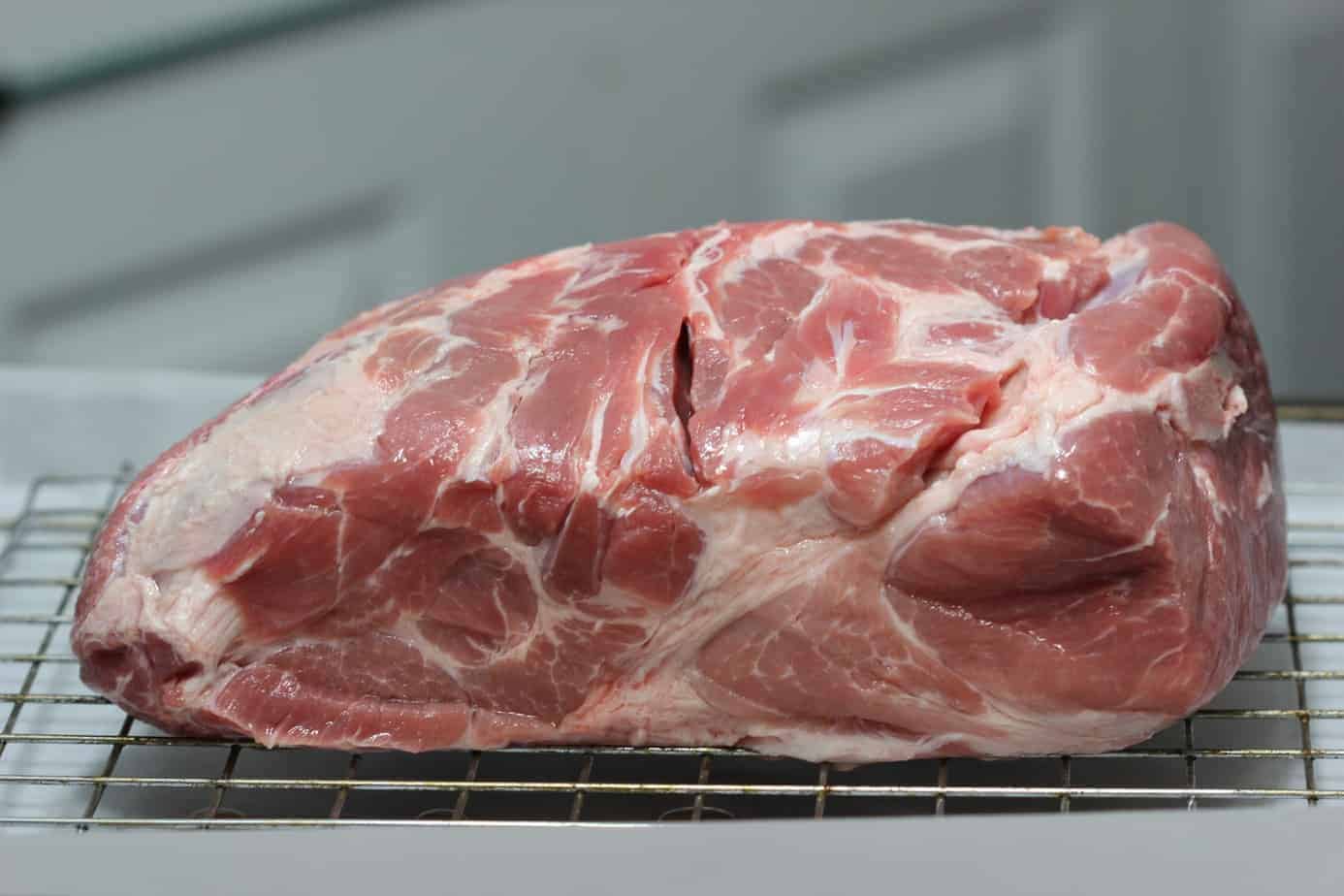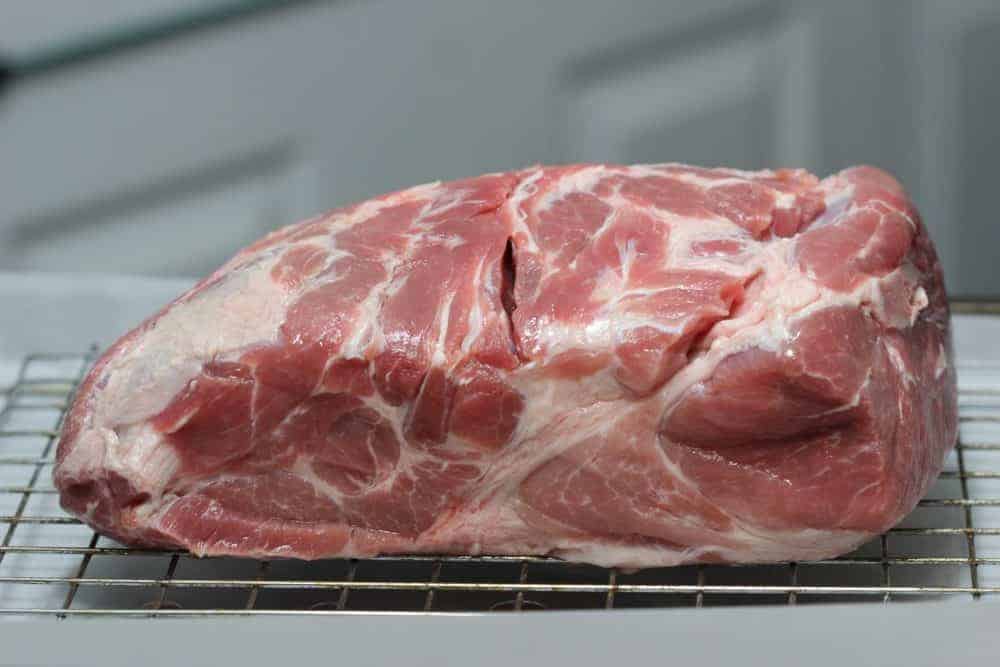 A little mustard to help the rub to stick.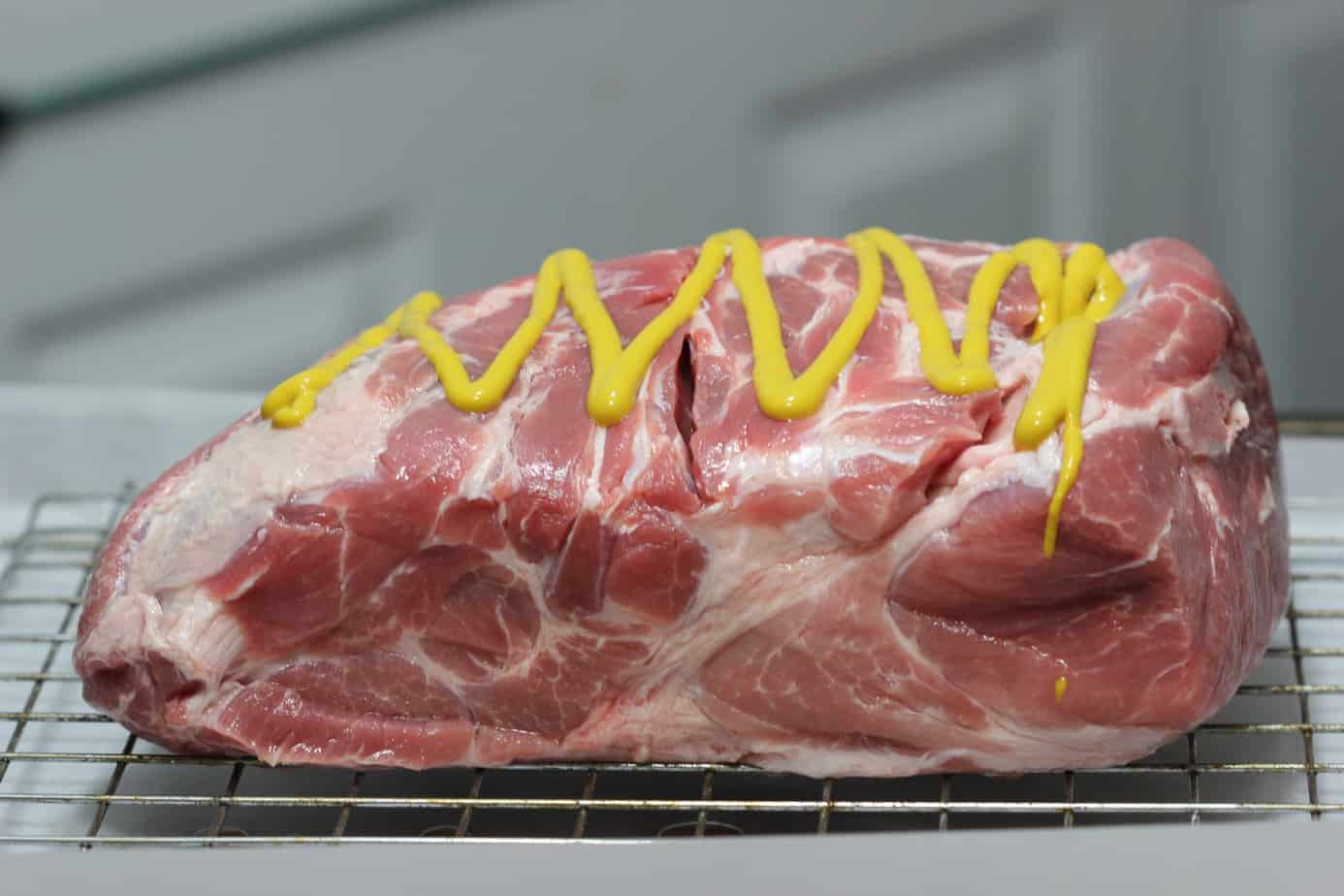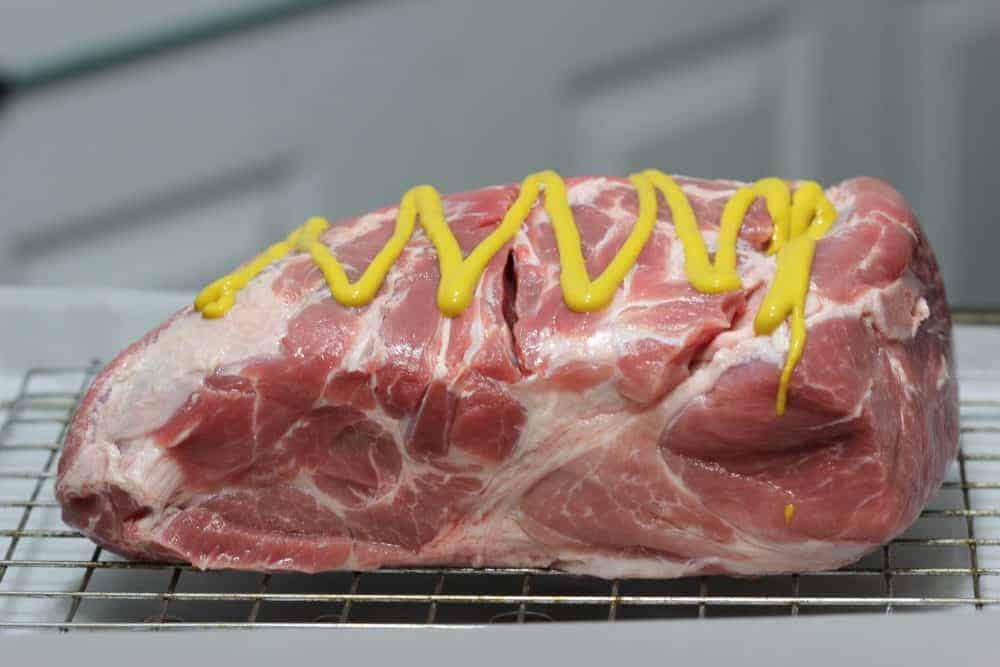 Rub it all over the top and sides. You don't have to worry about the bottom (fat cap).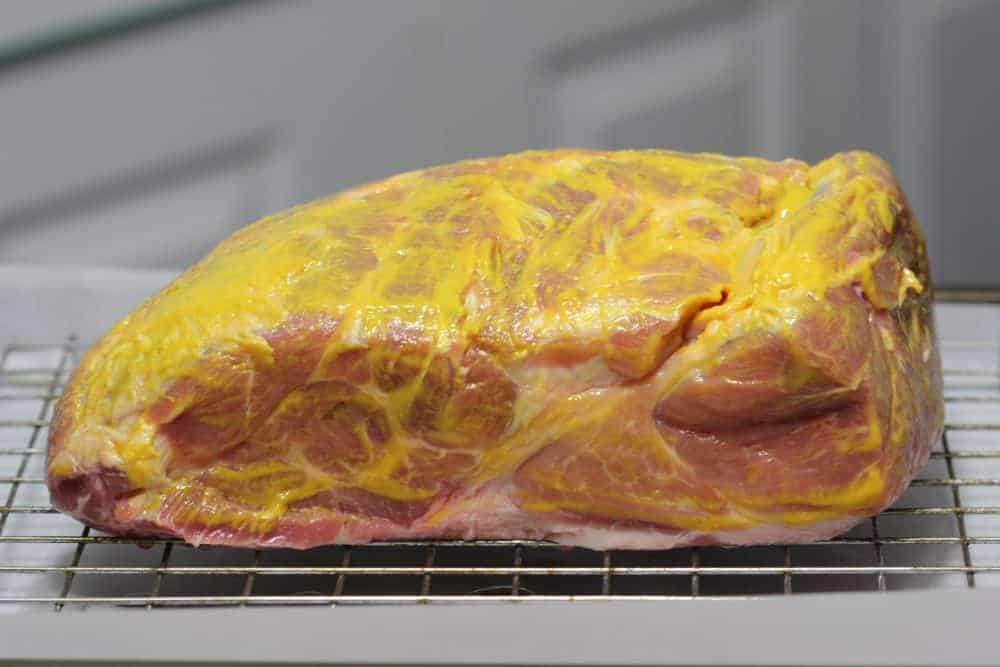 Add about ¼ cup of Jeff's original rub (make it yourself | order bottled product) to the top of the pork butt and massage it into the top and sides of the pork butt. It will mix with the mustard and become a beautiful sticky paste.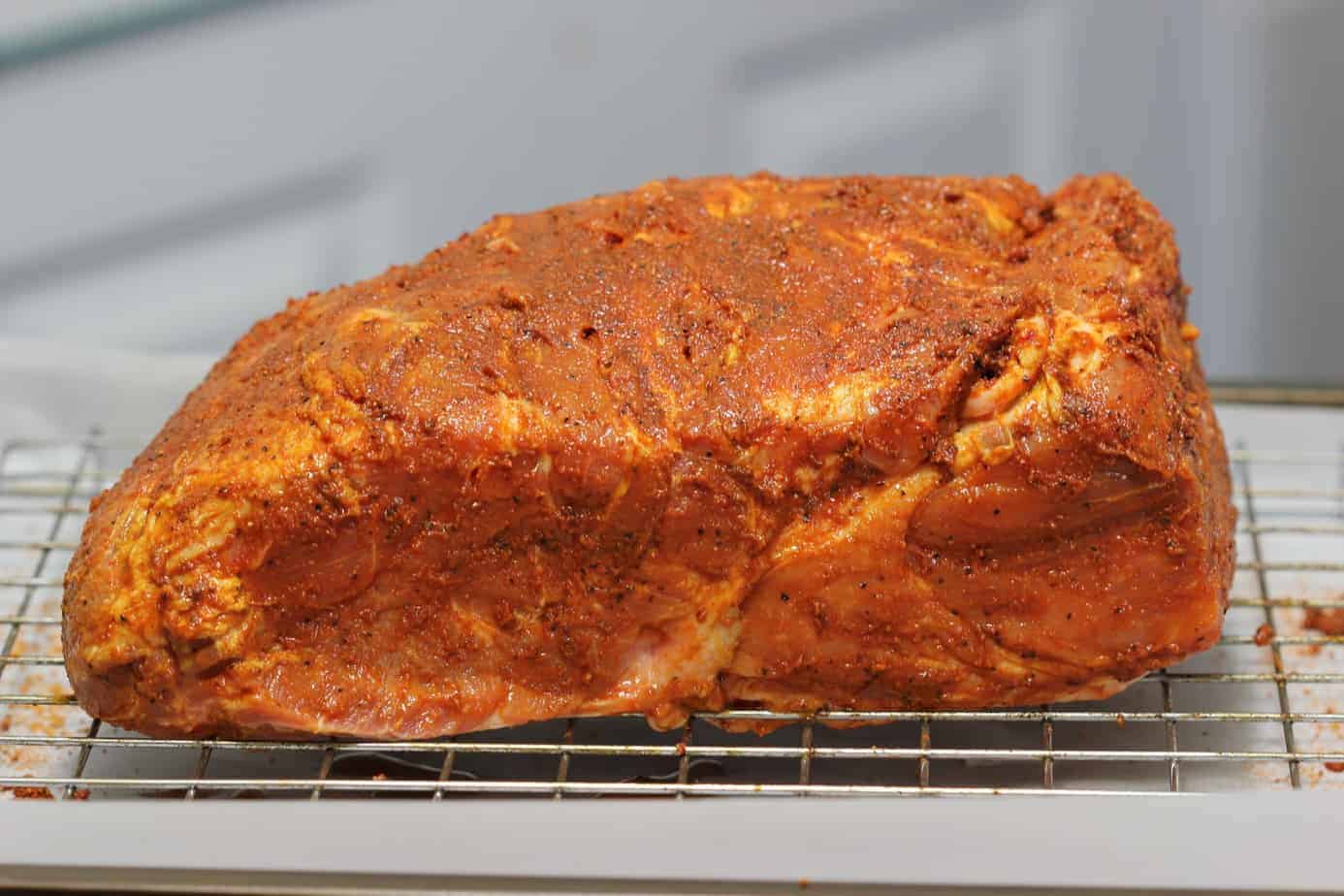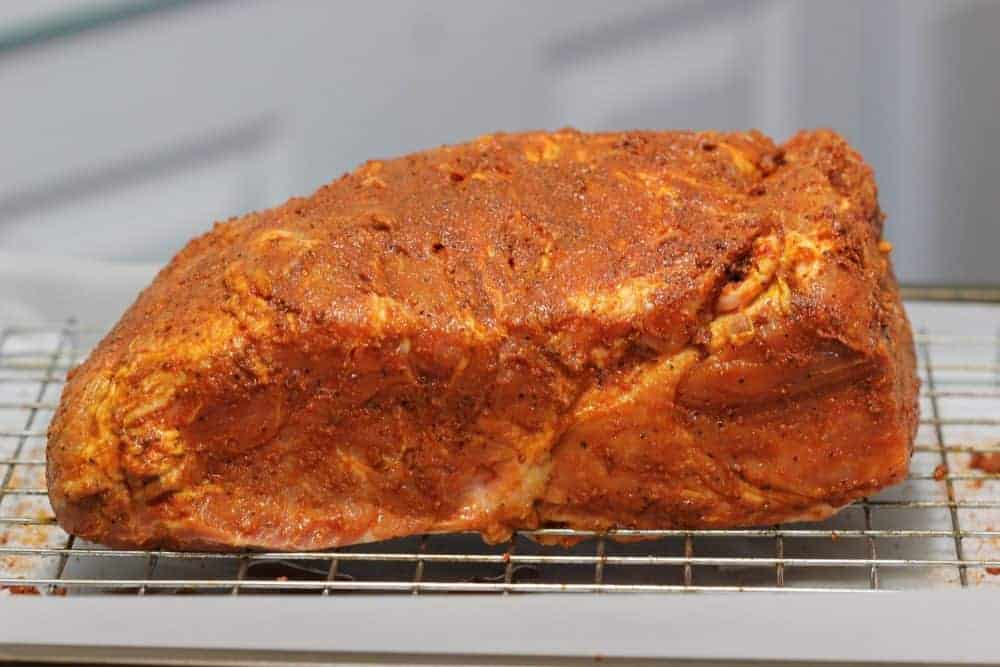 If you are doing this the night before (highly recommend this), then set it down in a covered container or wrap it in plastic wrap and place it in the fridge.
Otherwise, leave it sitting while you go get the smoker ready.
Step 2: Get the Smoker Ready
ANY smoker will work for this as long as you can cook at temperatures of around 300°F (149°C) or as close to that as you can get. I opted to use the Pit Barrel Cooker (PBC) for this since it already tends to cook a little hotter than most smokers. I had to crack the lid just a little to increase the heat from it's normal 275°F (135°C) up to 300°F (149°C).
You can check out my PBC review to learn more about this cooker and see how to set up the charcoal for cooking.
This cooker is designed so you can hang the meat from bars but it also has a cooking grate which sits a couple of feet above the coals and that's what I used for this pork butt.
Set up your smoker for cooking at about 300°F (149°C) using indirect heat. If your smoker uses a water pan, it's a great idea to fill it up. Let the smoker preheat and once it's up to temperature, you're ready to cook.
Step 3: Smoke Cook the Pork Butt
Place the pork butt on the smoker grate fat side down.
Many people cook pork butts fat side up and this is ok but in my opinion, there's a couple of good reasons for cooking butts fat side down:
There is plenty of fat on the inside of the meat, you really don't need the fat cap on top to keep the meat moist. I like to have it on the bottom to protect the meat from any radiant heat that might be present.
When the meat is done cooking, the bottom portion often sticks to the grate– I'd rather the fat cap be the part that sticks rather than the nice meat on the other side.
If you've had good results cooking them fat side up then feel free to continue with what works best for you.
Close the lid or door and let the meat cook for about three hours. Keep a good eye on the temperature and the color of the meat. You want it to get some good smoke but if it starts getting too dark, it's ok to go ahead and proceed to the next step.
Be sure to use a high quality thermometer like the ThermoWorks Smoke to monitor the temperature of the meat as well as the smoker while it cooks.
Note: If you're looking for a digital meat thermometer, my guide called "6 best digital meat thermometers" will help you decide which one is best for you.
To preserve the color and to help it to tenderize at its maximum potential, you can wrap it in foil once it reaches 165°F (74°C) or at about 3 hours in using the fast method.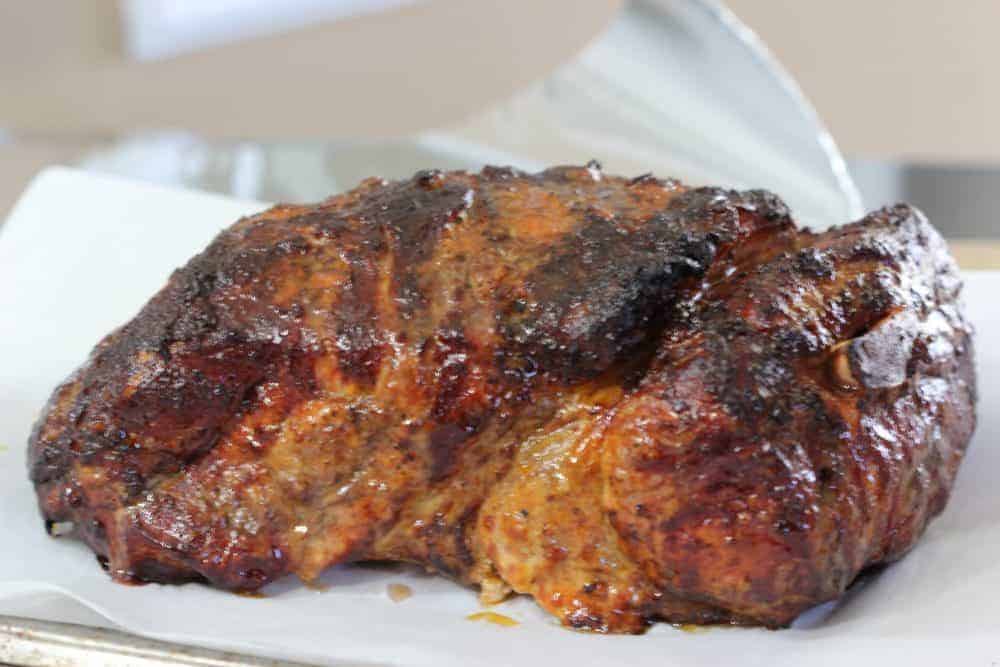 I used a double layer of foil and then set the whole package down in a foil pan to make sure there were no leaks.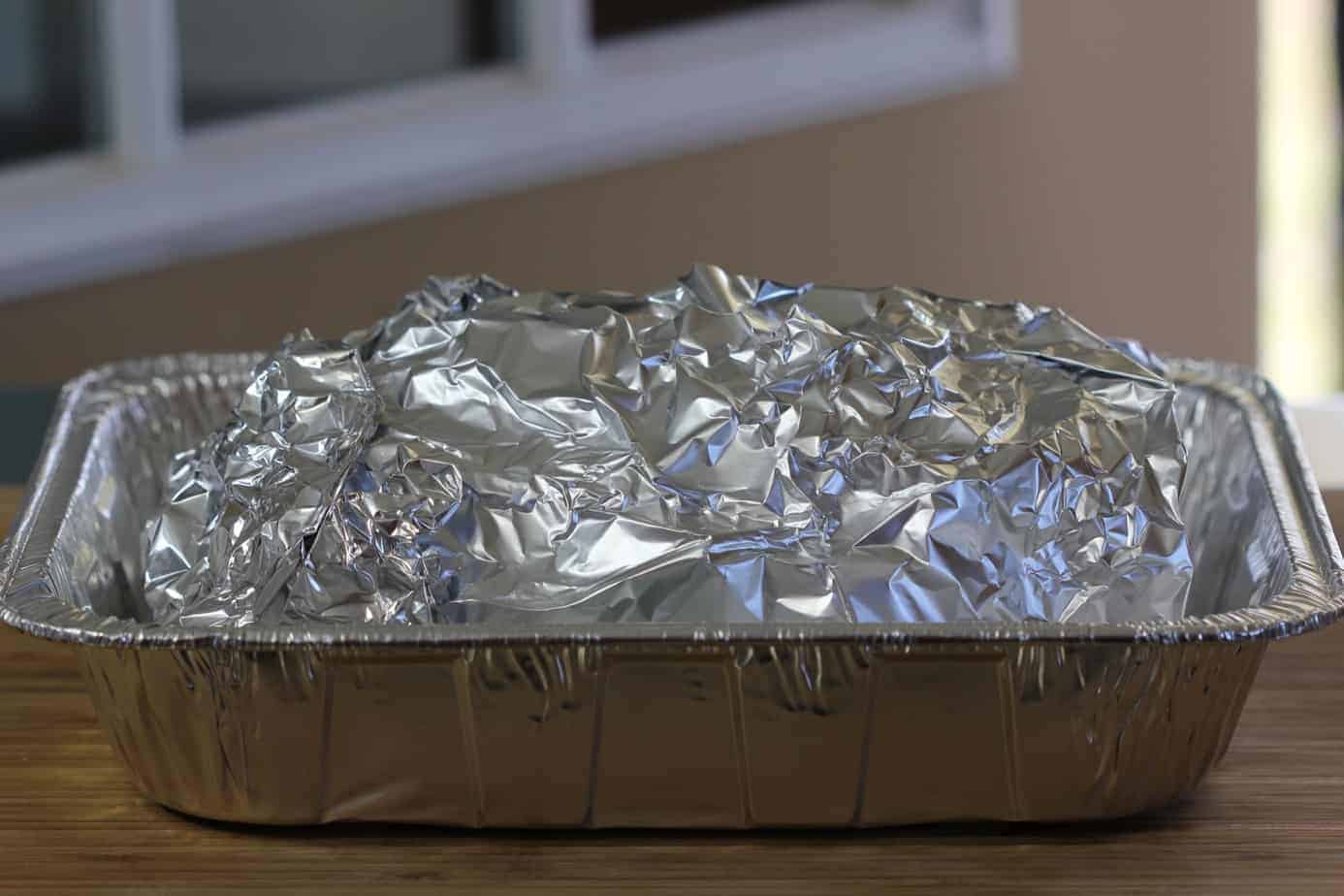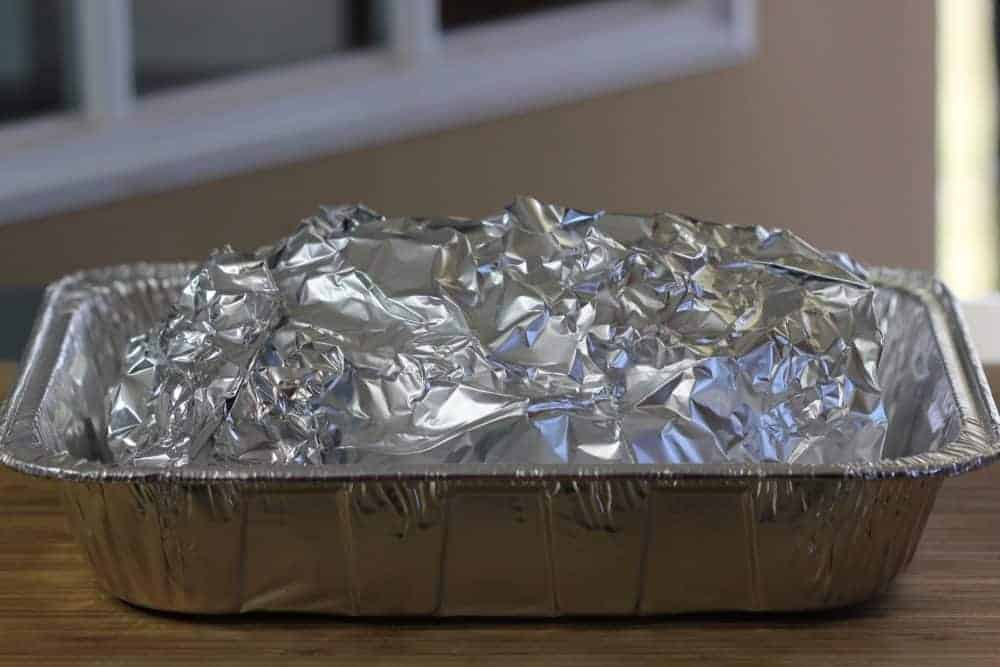 Let the wrapped pork butt continue cooking at 300°F (149°C) until it reaches approximately 205°F (96°C).
After many, many pork butts, I can tell you that somewhere between 205°F (96°C) and 207°F (97°C) is about as perfect as you can get. The meat is tender, much of the fat is rendered and that's exactly what you want.
When it's finished, remove it from the heat.
Step 4: Rest and Pull
You'll want to let the meat rest and cool down a little before attempting to pull it into pieces. I often let it sit for an hour or two before pulling it and this is just fine. If you are in a hurry, get some good gloves to protect your hands from the heat and go ahead and pull it after it rests for about 30 minutes.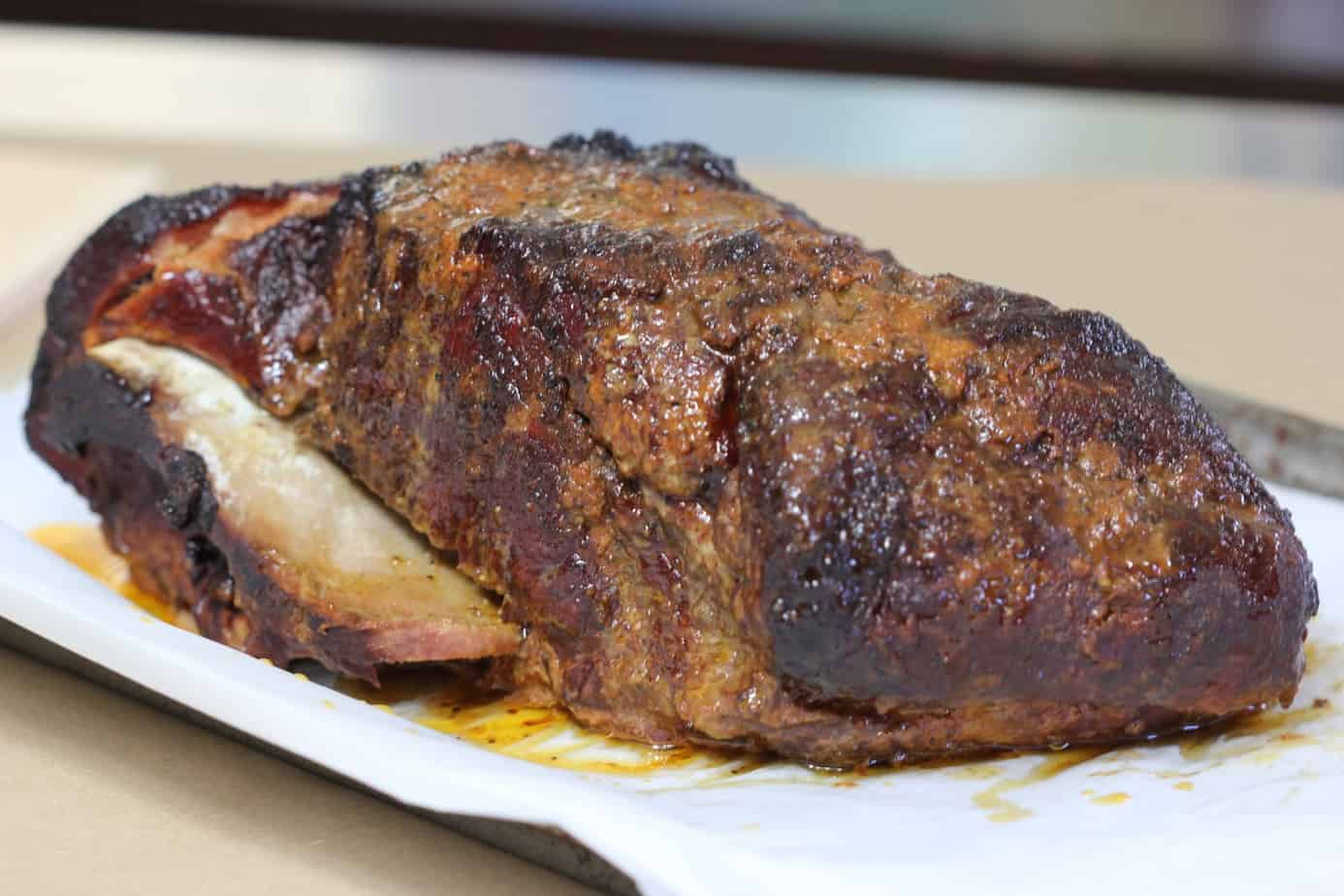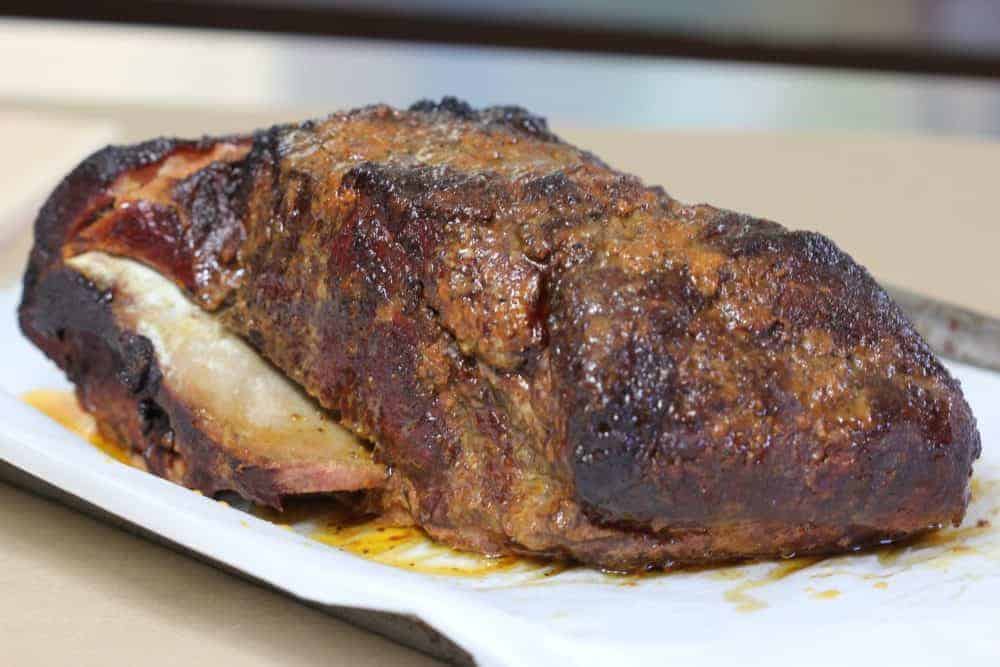 Here's a closeup image to show you the great smoke ring that was achieved in the pit barrel cooker.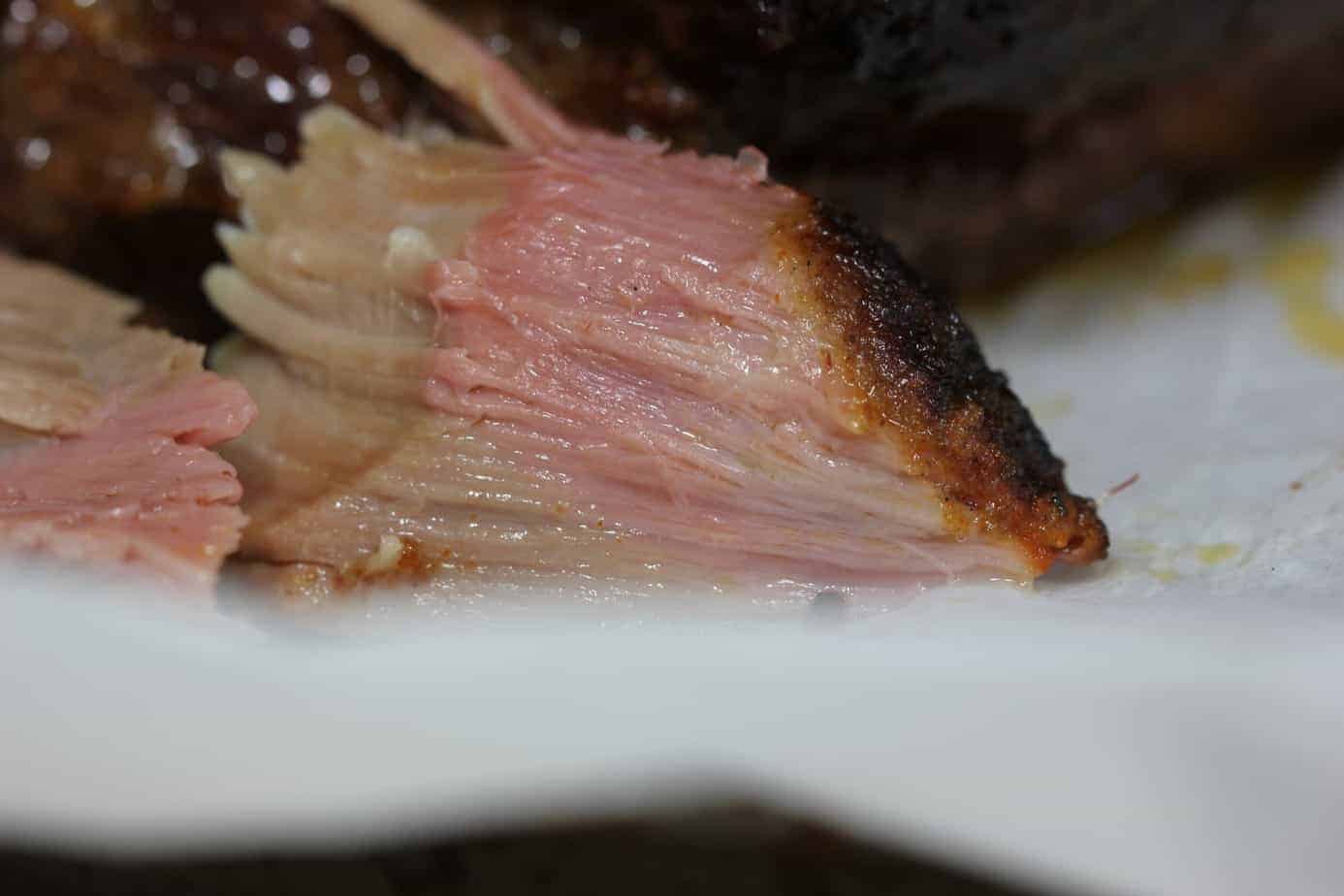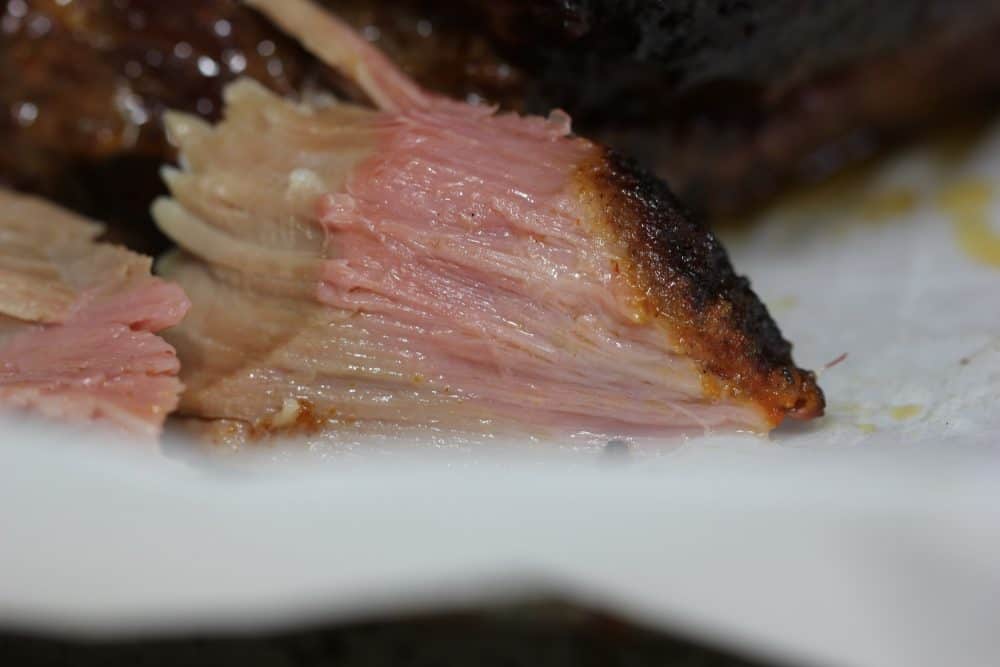 Idea: Make Pulled Pork Sliders
I had some nice rolls from my local grocery store and made a few sliders to try the smoked pulled pork. They were amazing!
Just meat, slaw, a few pepperoncinis and some of my barbecue sauce (make it yourself | order bottled product) and it was an instant success.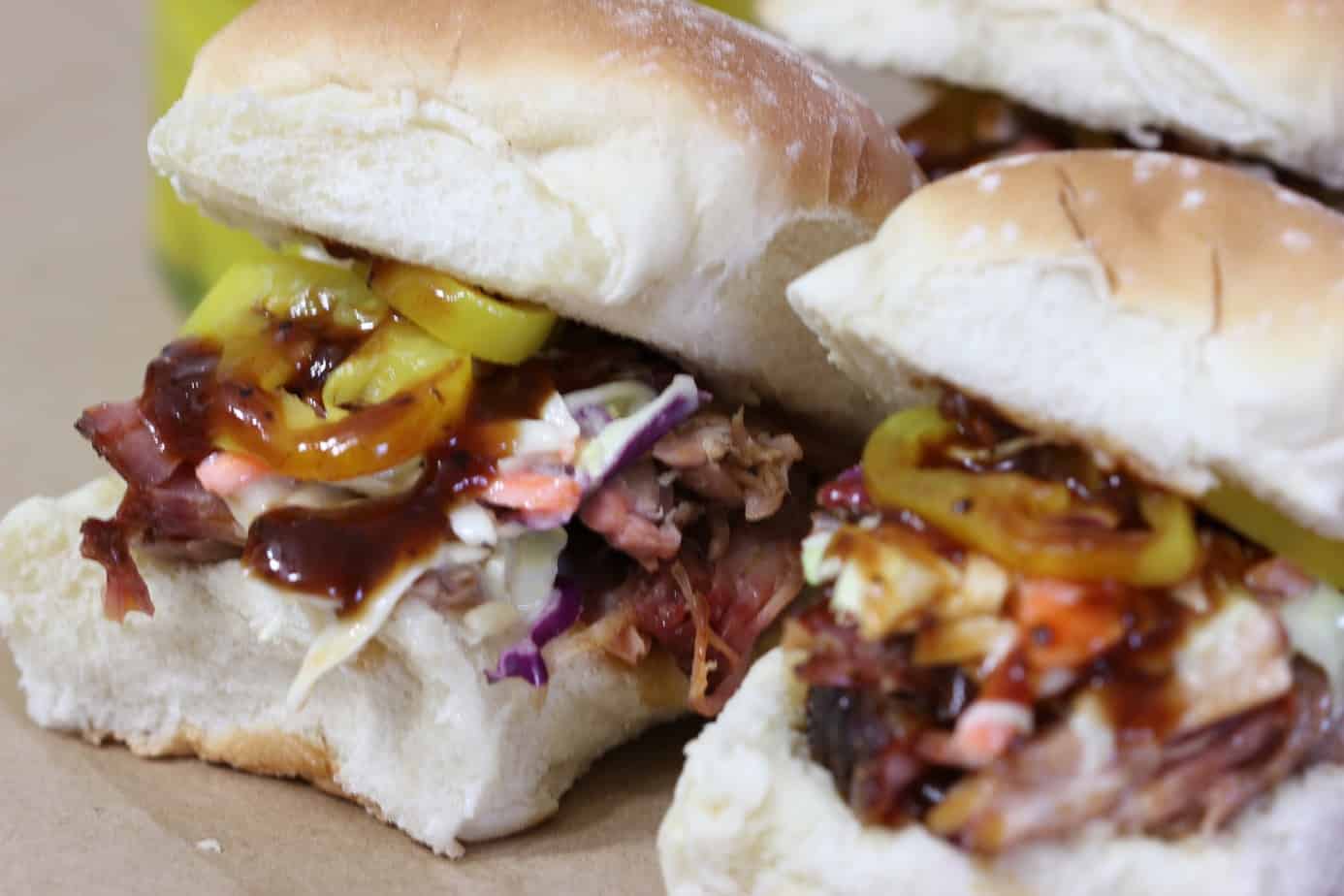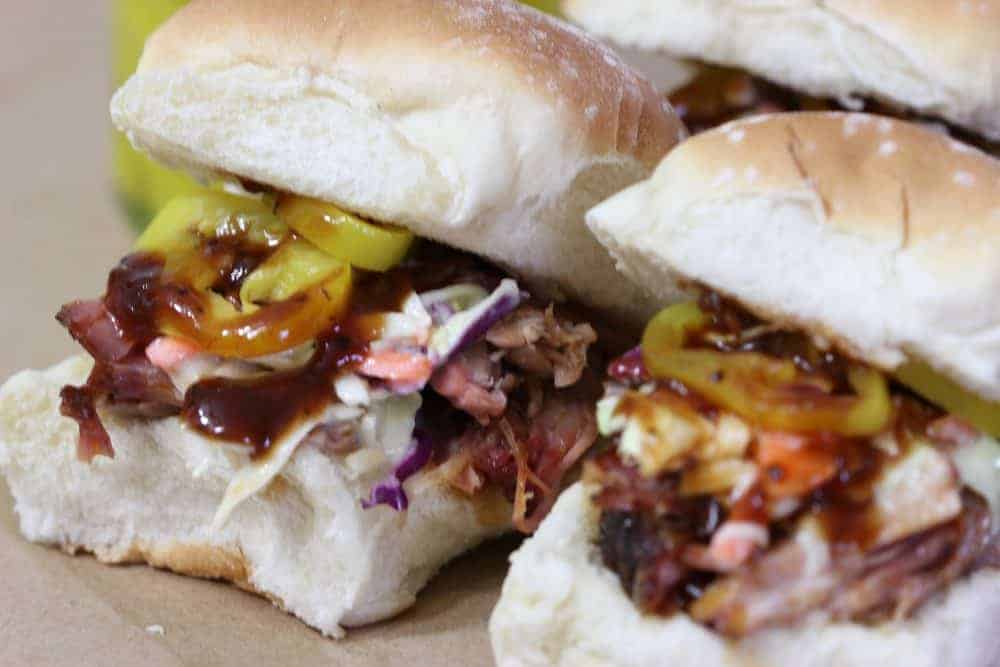 Five Hour Smoked Pork Butt
Instructions
Apply yellow mustard all over the outside of the meat to help the rub to stick better.

Pour ¼ cup of

Jeff's original rub

on top of the pork butt and massage it in to create a paste. Cover the top and sides with the rub/mustard paste.

Cover/wrap the pork butt and place it in the fridge overnight if possible

Set up smoker for cooking at about 300°F (149°C) with indirect heat. Once it's ready, it's time to cook.

Place pork butt on grate fat side down and close lid/door.

When the pork butt reaches 165°F (74°C) or when the color is perfect (about 3 hours), remove meat from smoker and wrap in a double layer of heavy duty foil.

Place pork butt back onto 300°F (149°C) smoker and continue to cook for 2 hours or until the internal temperature of the meat reaches 205°F (96°C).

Remove the meat from the heat and let it rest for at least 30 minutes.

Pull the meat into chunks, pieces discarding any clumps of fat that did not render during the cooking process.

Enjoy!
Get Jeff's Products!