In this recipe, we'll be looking at creating a butterflied pork butt i.e. a butterflied pork shoulder.
I often remove the bone from  pork butts before smoking them and sometimes I get them from the store with the bone already removed. The boneless aspect of this is not necessary but does give you a lot more flexibility with getting them done faster, creating more bark on the outside and more smoke access. It's a great method and in this recipe I'll show you exactly how I do it.
Be sure to use Jeff's original rub (Purchase formula here | Purchase bottled rub) for extra tasty bark.
Helpful Information
Prep Time: 35 minutes
Cook Time: 10-12 hours
Smoker Temp: 225°F
Meat Finish Temp: 190°F
Recommended Wood: Hickory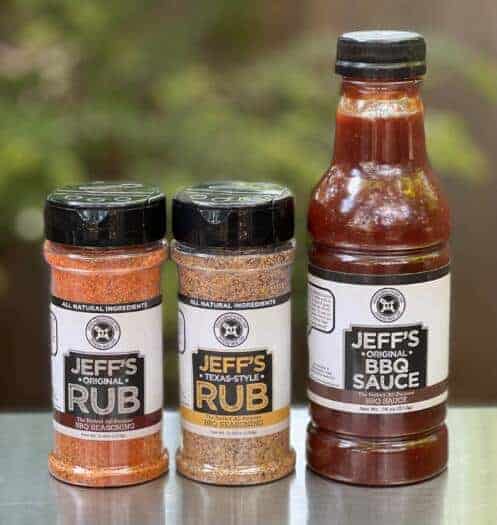 Please note that my rubs and barbecue sauce are now available in 2 formats– you can
purchase the formulas
and make them yourself OR you can
buy them already made
, in a bottle, ready to use.
Step 1: Butterfly the Butts
I purchased a 2-pack of boneless butts with a total weight of about 15 lbs.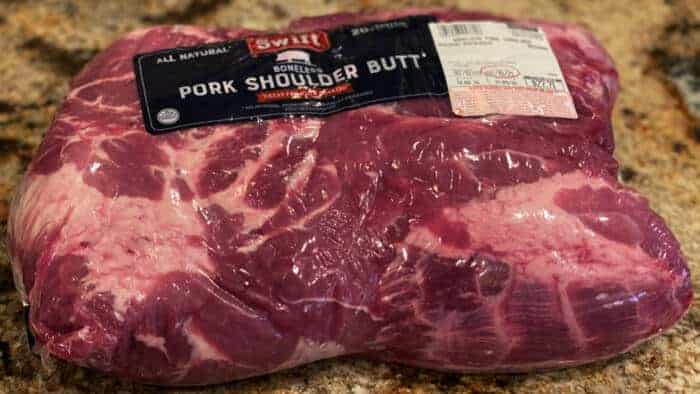 Set the pork butt(s) on the counter and take a few minutes to become acquainted with the pork butt.
There is a fat cap on the top side (which I trimmed off but you don't have to).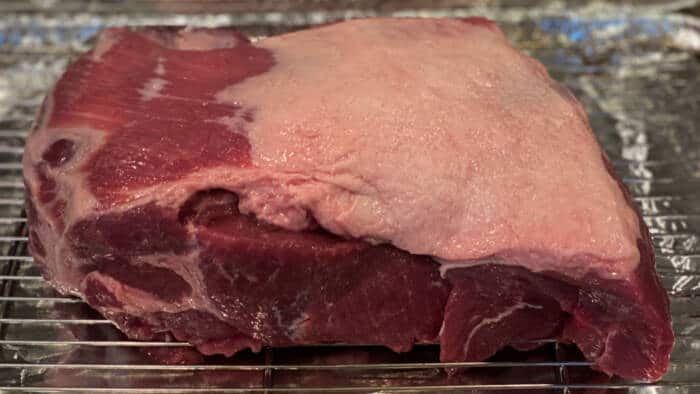 If you lift up the area where the bone was removed, you'll see that it's well on the way to being butterflied already.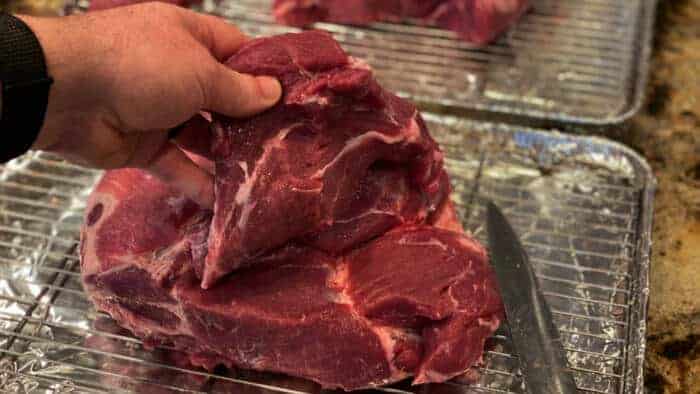 Use a sharp knife to finish the job by cutting through the meat on the far end and then deeper into the area on the left in the image above.
Here's what it looked like after I continued cutting as described above.. almost done.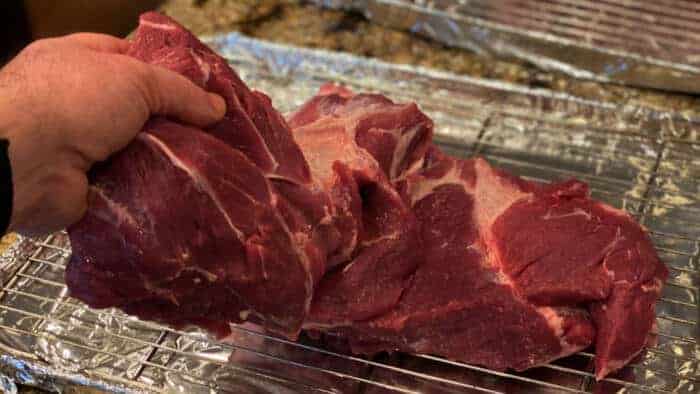 Finish cutting deeper into the pork butt without going all the way through then lay the meat open like a rack of ribs.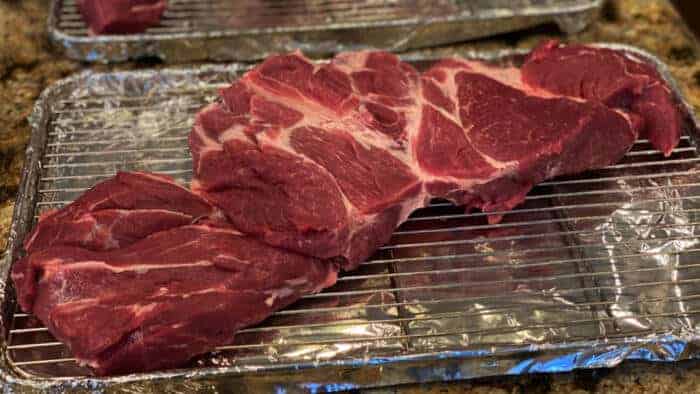 With the meat laid open, I placed it on a pan and rack for seasoning.
Step 2: Seasoning
There is nothing better than Jeff's original rub (Purchase formula here | Purchase bottled rub) where pork is concerned. It creates amazing bark and you just can't beat that.
As per usual, I used some yellow mustard on the meat to create a nice "adhesive" for the rub to stick to.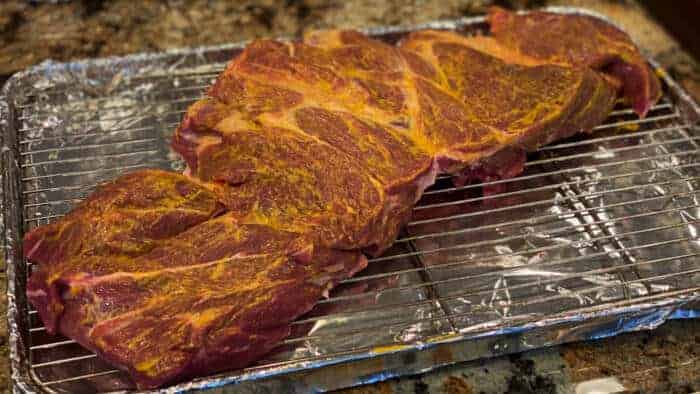 Apply Jeff's original rub (Purchase formula here | Purchase bottled rub) liberally and just leave it sitting there for about 15 minutes.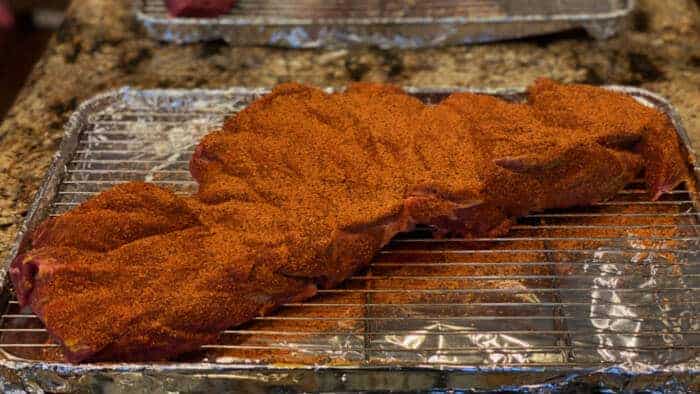 I used this time to go get the smoker going but how you use your time is entirely up to you;-)
After about 15 minutes, the rub will have stuck to the meat pretty good and obtained a sort of wet look. Flip the meat over and do the exact same process to the other side.
Looking good and ready to go into the smoker.
By the way: that smaller piece in the front was a piece that came apart from the rest of the meat when I was trimming the fat. No problem at all.. just make sure it gets some mustard and rub as well.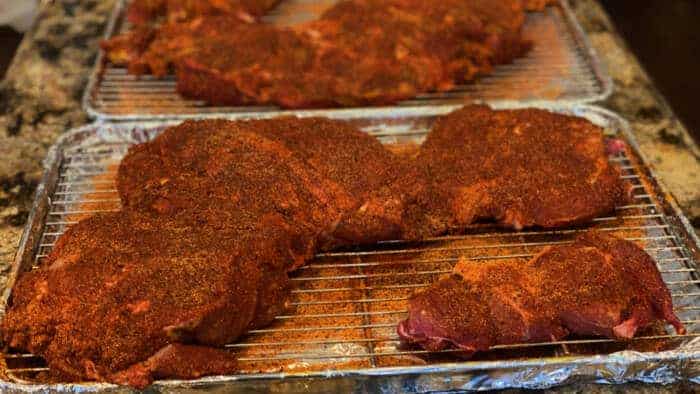 Step 3: Smoke Time
Setup your smoker for indirect cooking at about 225-240°F using hickory, pecan, apple or whatever smoker wood you have available. If your smoker uses a water pan, fill it up for some nice humidity in the smoker.
Every smoker is different but in my pellet smoker, it took 11 hours for the meat to reach 190°F in the thickest part. I wanted it to be tender but sliceable. If you're interested in pulled pork, just let it go a little longer to an internal temperature of about 207°F.
Be sure to use a tried and true leave-in meat thermometer so you can monitor the temperature without opening the lid any more often than necessary. I am using the Smoke X in the image below which is capable of 4 unique inputs. You can read my review of this excellent piece of equipment HERE.
Here it is about 6 hours in after mopping it for the first time.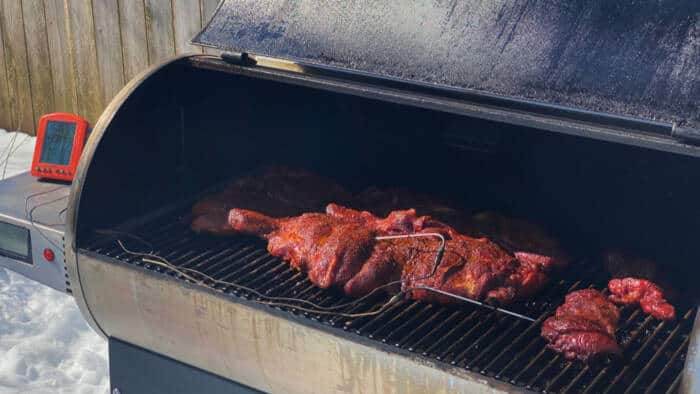 You might be thinking that it should have gotten done a lot faster since it was butterflied however, it was around 25°F during the cook, there was snow on the ground with plenty of cold wind. On a nicer day, it may have cooked faster. I also opened the door quite often to snap pictures, apply my rub/butter mop, etc.
I could have wrapped it once it reached about 160°F but since I wanted maximum bark, I opted to let it cook open even if it took longer.
See my butter/rub mop recipe at Jeff's Butter and Rub Mop Sauce
Once it reaches its done temperature, bring it into the house to rest.
Step 4: Rest the Meat
I recommend letting the meat rest for 10-15 minutes before slicing it to let the juices settle down a little bit.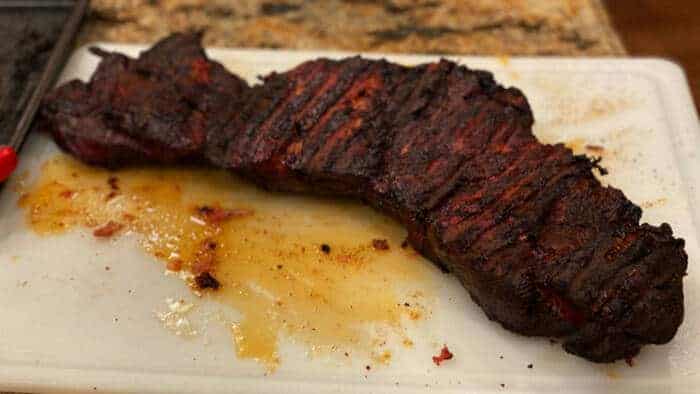 Look at that smoke ring and the juicy meat!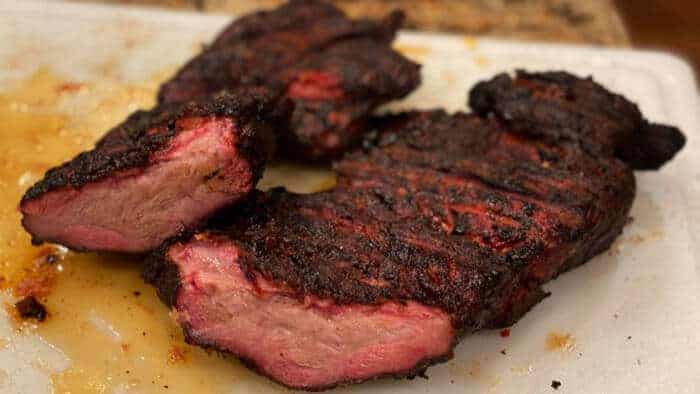 I sliced mine like ribs but it was really tender even at 190°F internal temperature and so I had mostly slices with some pulled meat by default. No complaining on my end!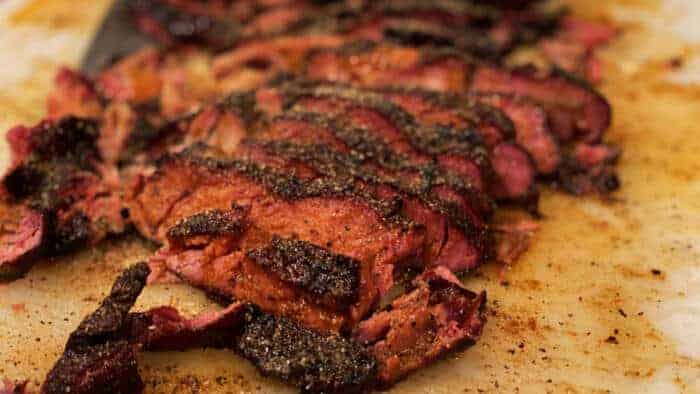 Step 5: Serve
Place the meat into a pan or platter depending on how fancy you wanna be and call dinner!
You'll notice that I poured the extra rub butter mop over the top and sprinkled on some of my Texas style rub (Purchase formula here | Purchase bottled rub) for some extra saltiness which I thought it needed.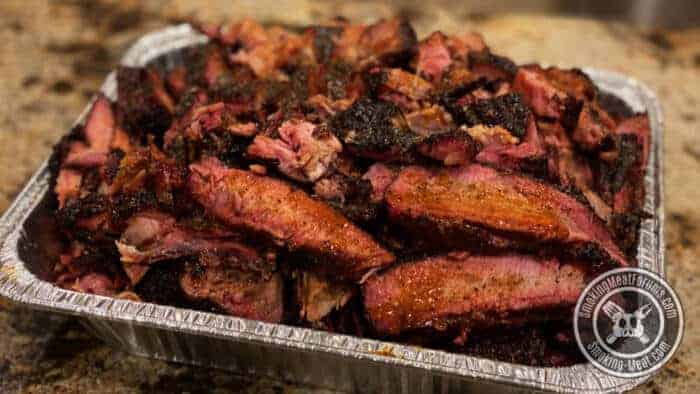 Comments
These slices were about ½ inch thick and made some amazing sandwiches.  Also good on fajitas, tacos, etc.
Opening these pork butts up probably doubled or tripled the amount of bark and that alone was worth it in my opinion.
In a future recipe, I will use this butterflied pork butt method to stuff the meat with something and then roll it back up, tie it and cook it in the smoker. Feel free to jump the gun and try that option. If you come up with something really good, let me know!
Order Jeff's Rubs and Barbecue Sauce TODAY!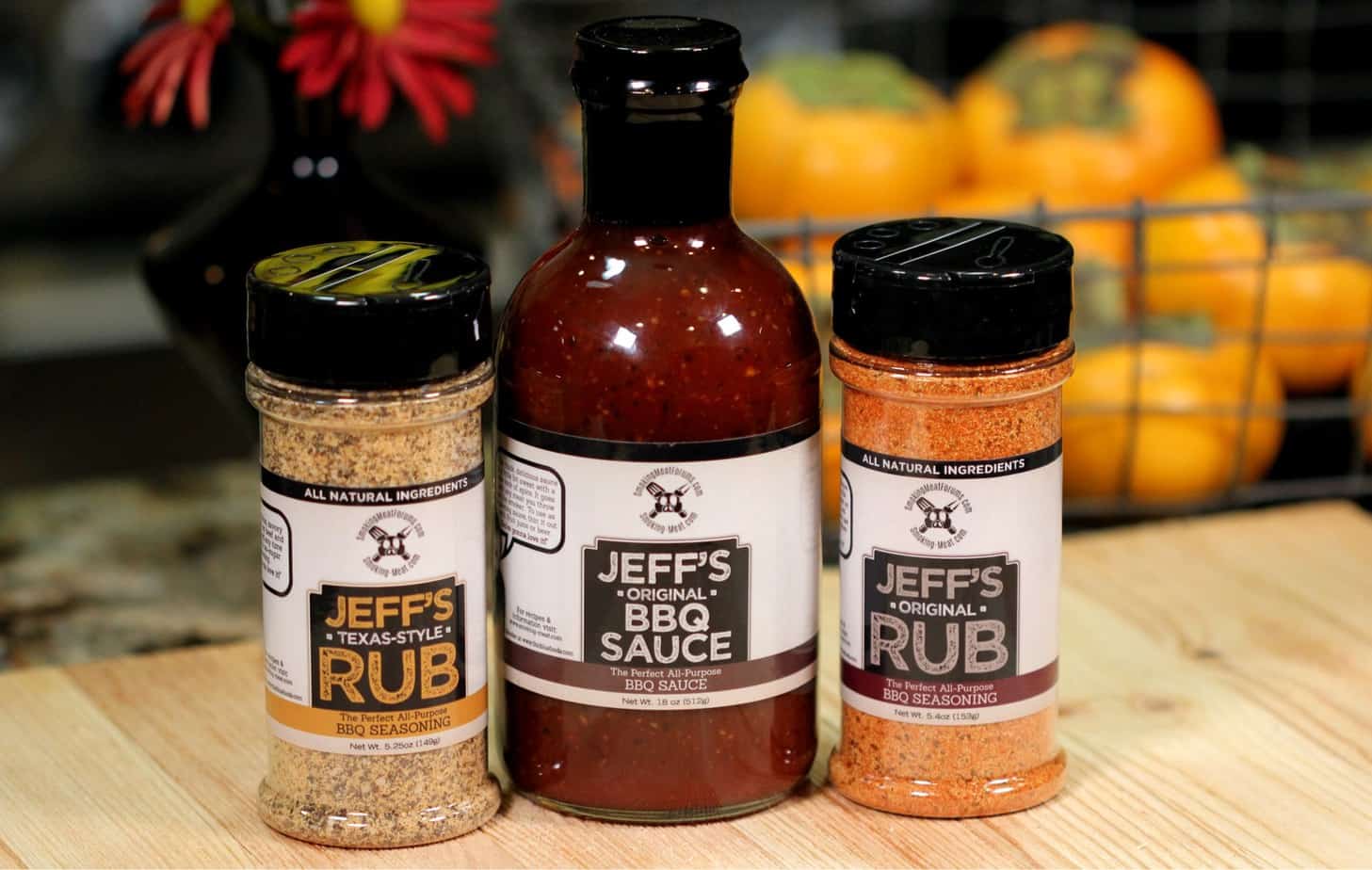 ✅ If you haven't ordered my rubs or sauce yet you can do that HERE. They are the best thing you've ever tasted and it's a great way to support what we do!
We ship blazingly fast and orders over $50 ship free!
You can also order the formulas for my rubs and sauce and make these yourself at home. Grab those HERE and download immediately.
Jeff's Smoking Meat Books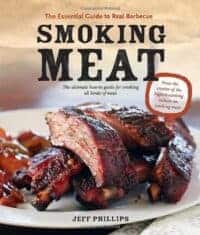 Smoking Meat: The Essential Guide to Real Barbecue – The book is full of recipes and contains tons of helpful information as well. Some have even said that "no smoker should be without this book"!
With more than 1000 reviews on Amazon.com and a rating of 4.7 out of 5 stars, it comes highly recommended and is a Bestseller in Barbecuing & Grilling books on Amazon.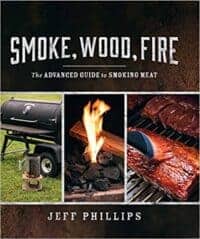 Smoke, Wood, Fire: The Advanced Guide to Smoking Meat – Unlike the first book, this book does not focus on recipes but rather uses every square inch of every page teaching you how to smoke meat. What my first book touched on, this second book takes it into much greater detail with lots of pictures.
It also includes a complete, step-by-step tutorial for making your own smoked "streaky" bacon using a 100 year old brine recipe.
Get Almost Anything at Amazon
If you enjoy the newsletter and would like to do something helpful, then..
The next time you decide to order something at Amazon.com, use THIS LINK to get there and we'll get a small commission off of what you purchase.
Thank you in advance for using our special link: http://www.smoking-meat.com/amazon
---
Printable Recipe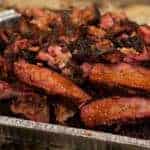 Print Recipe
Butterflied Pork Butt in the Smoker
Ingredients
1

each Pork Butt

((boneless))

1

cup

Jeff's original rub

1/4

cup

yellow mustard

1/4

cup

Jeff's Texas style rub
Instructions
Trim and Butterfly
Remove the fat cap with a sharp knife.

Find the cavity where the bone was removed, lift up on the area where the bone was attached and finish cutting through the meat so that opens up like a rack of ribs.
Season
Apply a thin coat of mustard to the top of the meat then apply Jeff's original rub liberally.

Flip the meat over and repeat the mustard and rub on the other side.

Leave the meat sitting on the counter for about 15 minutes while the rub adheres to the meat.
Smoke
Set up your smoker for cooking indirect at about 225 . If your smoker uses a water pan, fill it up.

Once the smoker is ready, place the meat directly on the grates and let it cook unhindered for about 5-6 hours or until it reaches 160 degrees.

When the meat reaches about 190 degrees it is finished and can be removed from the heat.
Rest and Slice
Allow the meat to rest on the counter for about 15 minutes before slicing.

Slice the meat into 1/2 inch pieces.
Serve
Place all of the meat into a pan or platter and serve to your guests with sides.

Works great as sandwiches, fajitas, tacos, etc.