ThermoWorks Smoke X (X2 and X4) Review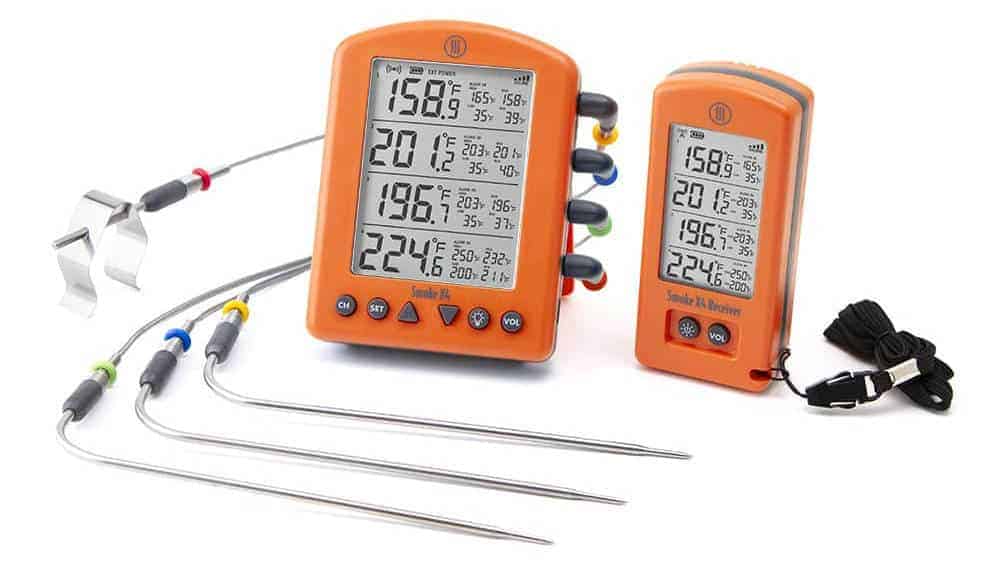 Smoking-Meat.com is supported by its readers. We may earn an affiliate commission at no extra cost to you if you buy through a link on this page.
Read this article without ads
If you haven't heard of the new wireless thermometer from ThermoWorks called the Smoke X– you will! This is the original Smoke on steroids and to say I'm impressed is an understatement!
I was able to get my hands on one of these pre-launch and from the moment I pulled it out of the box, I knew it was going to be a big deal in the barbecue world!
I've been using the Smoke from Thermoworks for a number of years now and it's just one of those smoking/grilling tools that I don't like being without. It has great range, a dedicated receiver (in other words, I don't need my phone or an app to use it), not to mention it's tough, has large enough digits that I don't need my glasses to read it and it's easy to operate. All of the things that make me fall in love with it again and again, every single time I use it.
ThermoWorks has created several newer thermometers such as the Signals but I've just sort of gotten attached to the Smoke and couldn't move on to the "better thing".
Well, in walks the Smoke X and it's everything great about the original Smoke thermometer plus some and I have to say, I may have found a new meat smoking partner!
If you're already know you want one.. you can get it HERE now!
For the rest of you, let's just step back and talk about all of the features of this new Smoke X one by one:
The Packaging
You may think this is not important, but you would be wrong.
How a product is packaged to make sure it arrives to you safe and sound is an attention to details that says a lot about the company making the product. If they claim it's a superior product but skimp on the packaging, how great of a product is it really?
This thermometer came packaged in a tray that had a spot for everything. And all of those cutouts are made so the item is held securely and did not move.
Even though it was held securely, I did not have to fight with anything to get it out of the package and into use.
The packaging was well though out and that mattered to me as a consumer.
The Main Unit
The main part of this thermometer is the part that stays at the smoker. It has 6 buttons on the front, 4 buttons on the back, a large screen with large, easy-to-read digits, a kickstand to help it stand up, inset magnets for mounting it to a metal object, 4 inputs for probes*, an input for a fan controller and of course the battery compartment.
*The X4 has 4 inputs and comes with 1 air probe and 3 meat probes, the X2 has 2 inputs and comes with 1 air probe and 1 meat probe.
This part of the unit, like the receiver is molded in color heavy duty plastic that has a great texture to it. It looks tough, feels solid and looks aesthetically pleasing.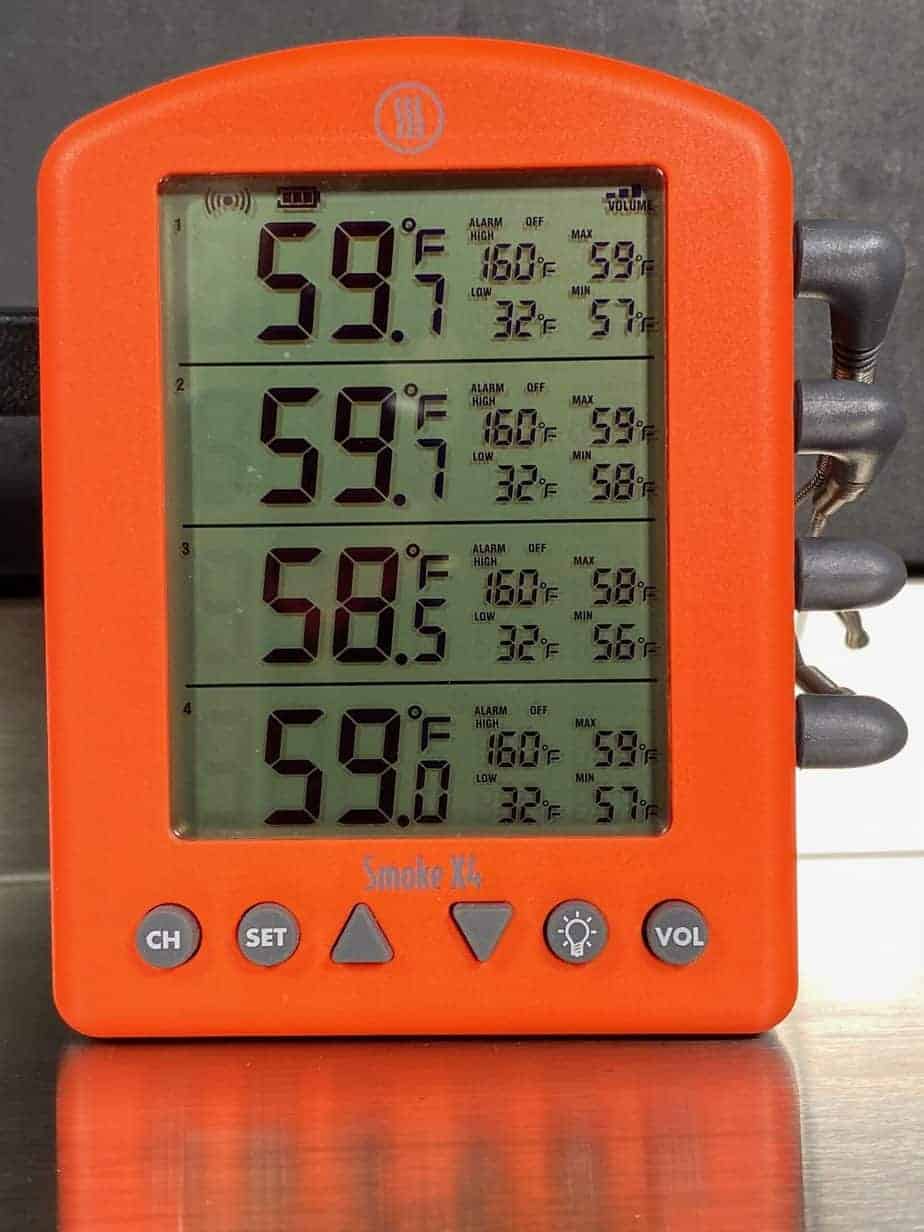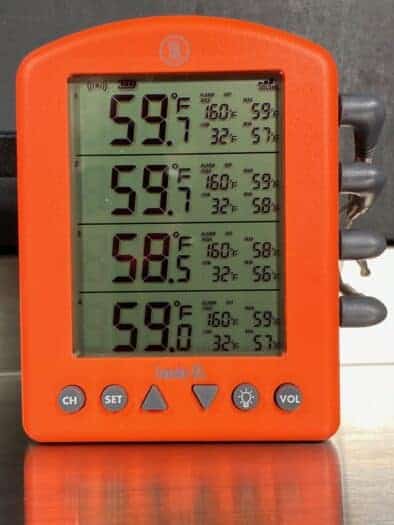 The 6 Buttons (left to right)
Ch (channel) button – This is simply used to select a channel so you can make adjustments to the high/low alarms or turn off the alarm for that channel.
Set button – Once a channel is selected, this button cycles between low alarm, high alarm and alarm off so you can make any necessary adjustments.
Up button – adjusts the selected setting in a forward or up direction.
Down button – adjusts the selected setting in a backward or down direction.
Light button – Turns on the backlight for 20 seconds.
Vol (volume) button – Cycles through the 4 alarm volumes from loud to soft and then off.


The 4 Buttons on the back (left to right)
On/Off
°C/°F – Select to see temperature readings in Celsius or Fahrenheit.
Cal – Allows you to calibrate the thermometer if needed.
Sync – Sync new or extra receivers to the sending (main) unit.


The Large Screen
The screen is divided up into sections, one for each channel/probe. At the far right in very large digits is the temperature and just to the right of that is the high alarm setting at top and low alarm setting at bottom. Further to the right is the max temperature at top and min temperature at bottom.
This maximum and minimum temperatures are very handy as it tells you the highest and lowest temperature that have been achieved for that particular cook. It resets each time you turn the thermometer off and back on.
As mentioned previously, the screen has a backlight that can be activated for 20 seconds by hitting the light button at the bottom.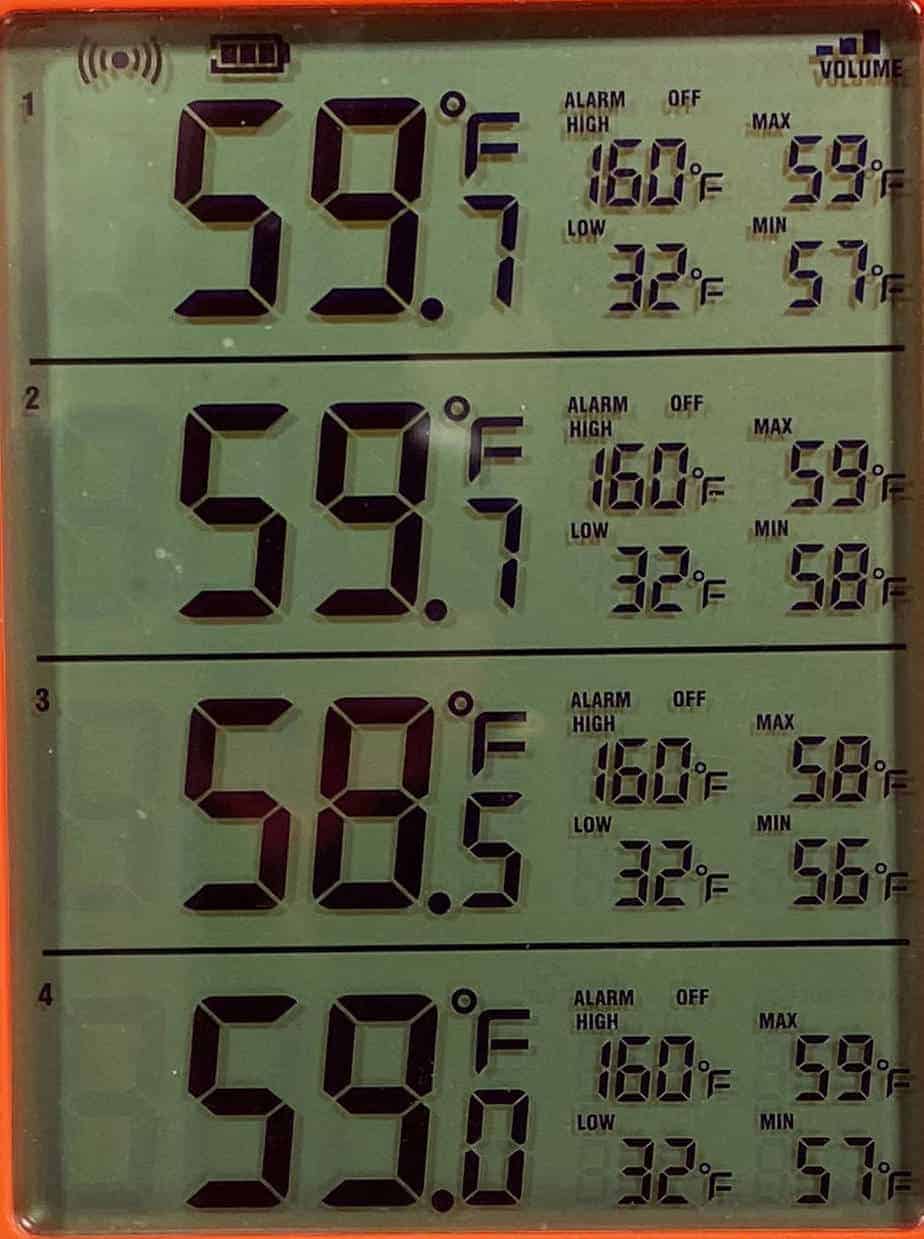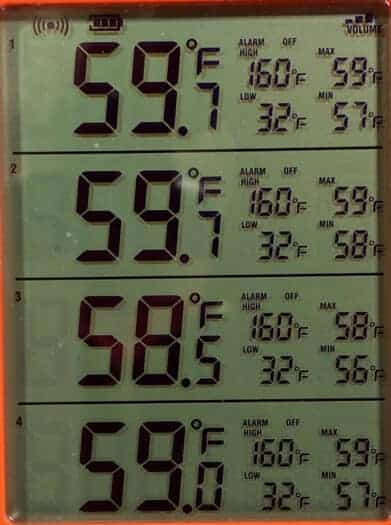 Kickstand
The kickstand on the back can be pulled out to give you a stand for holding the main part of the thermometer at about a 30° angle.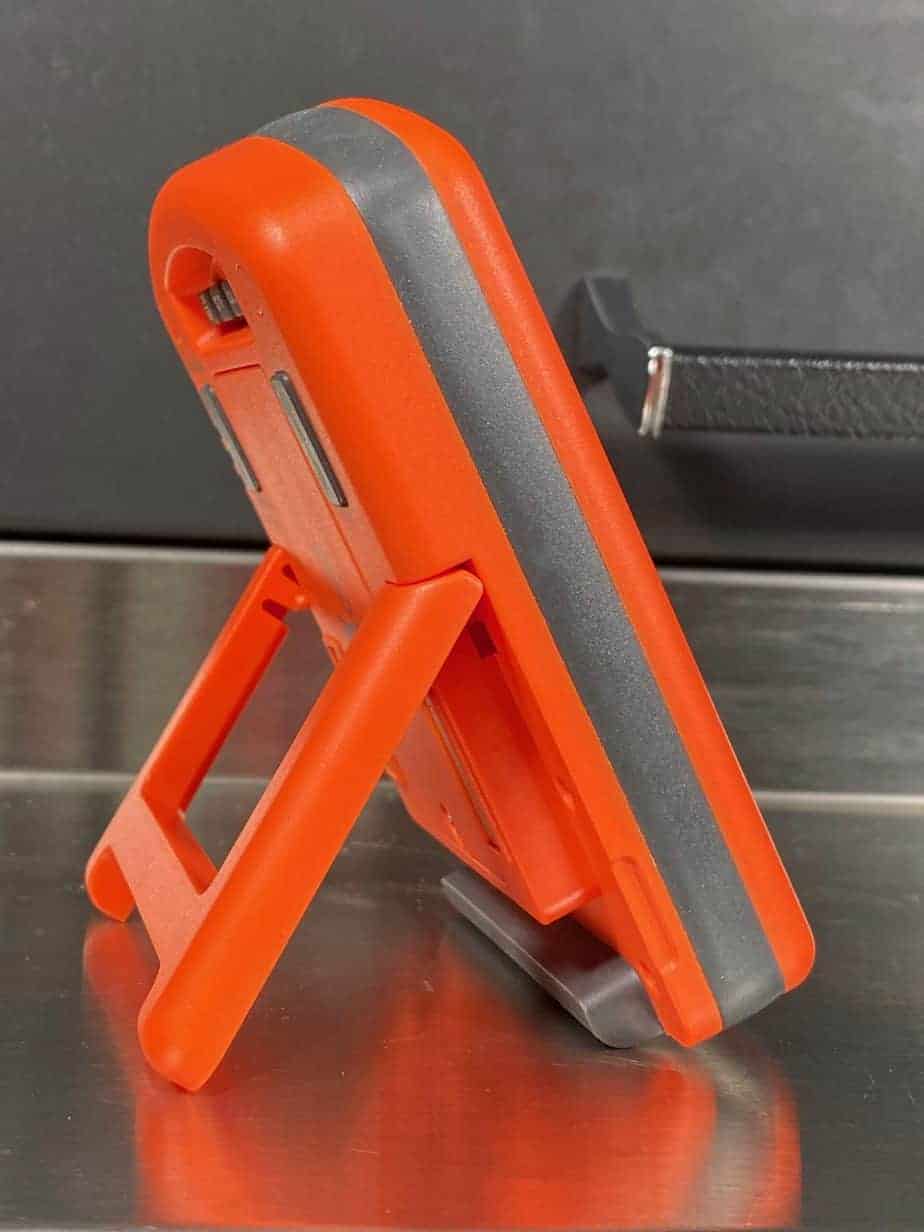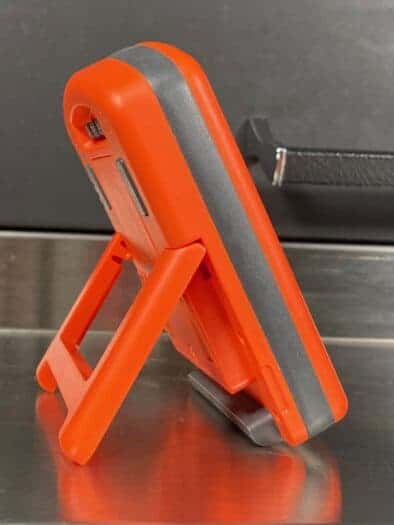 Magnets
Two magnets are inset on the back of the main unit so you can attach it to another smoker or other piece of metal.
Probe Inputs
The Smoke X4 (the version I received) is a 4-channel meat thermometer. It ships with one ambient probe and three meat probes. I typically stick with channel 1 for the ambient temperature and use the other channels for meat probes but you can mix this up however you like.
USB-C Input
Just below the probe inputs, is a usb-c input. This is designed to allow the main unit to be powered with an available power adapter. The USB-C input is also where you would connect the Billows fan controller if you want to use the Smoke X to control the temperature in your charcoal smoker in addition to monitoring the temperature. You can learn more about the Billow fan controller HERE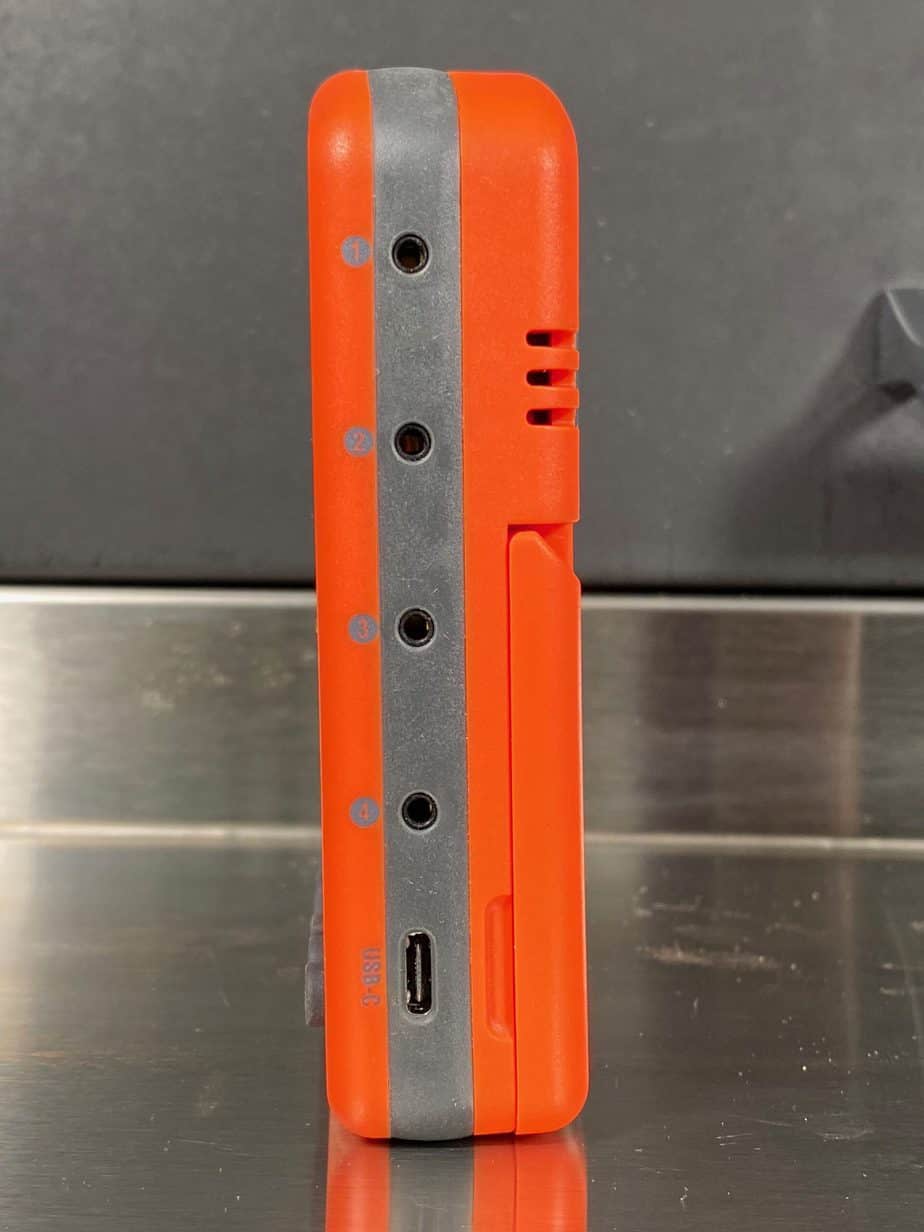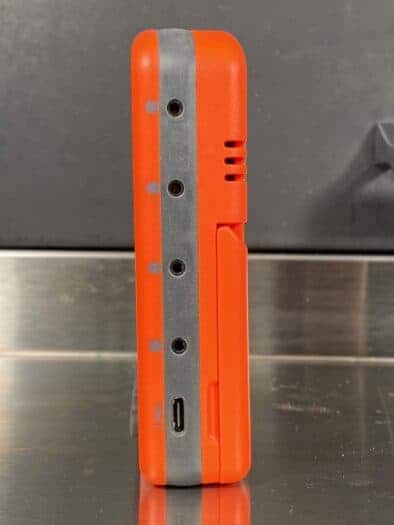 The probes
The probes are ThermoWorks pro series probes with 47-inch cables with a temperature range of -58 to 572°F (-50 to 300°C). The cables are able to withstand temperature up to 700°F (370°C).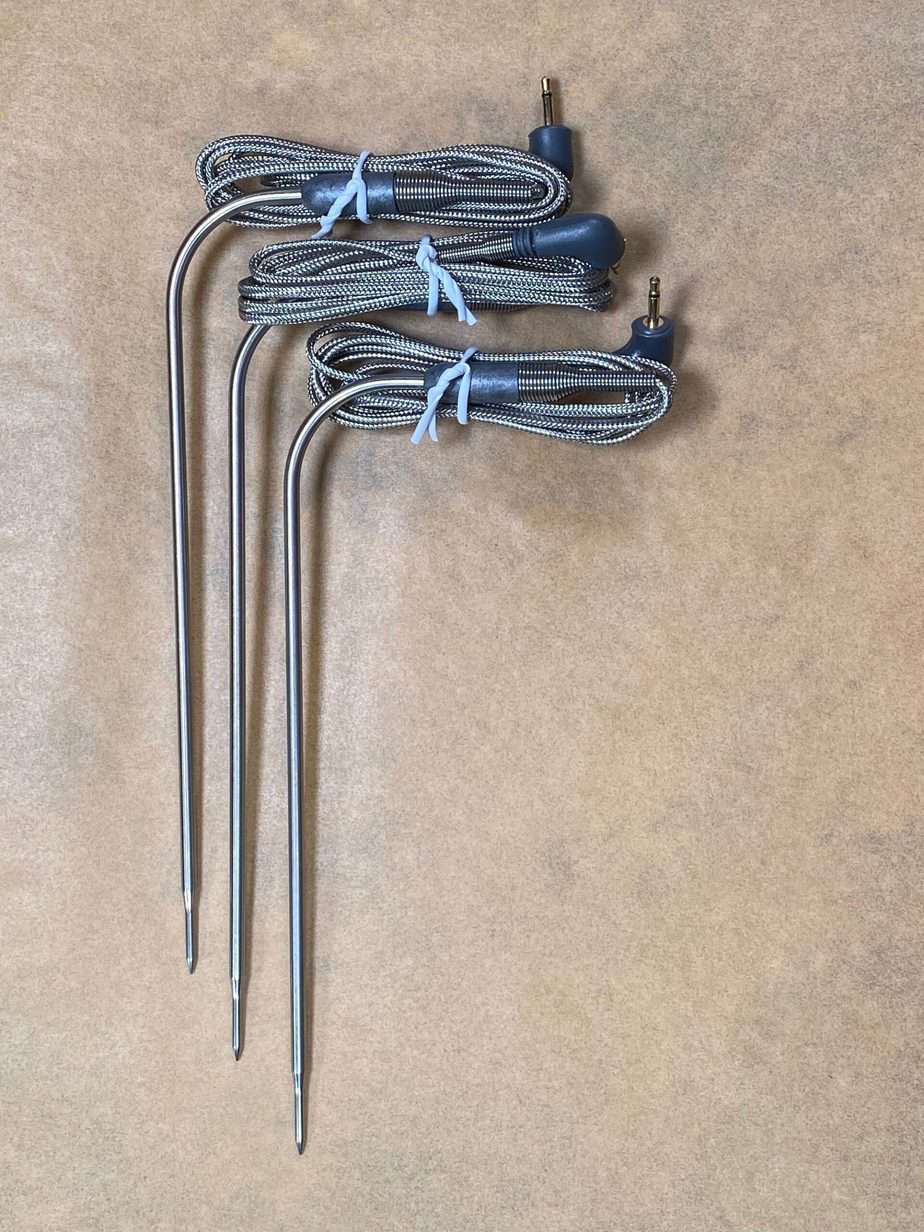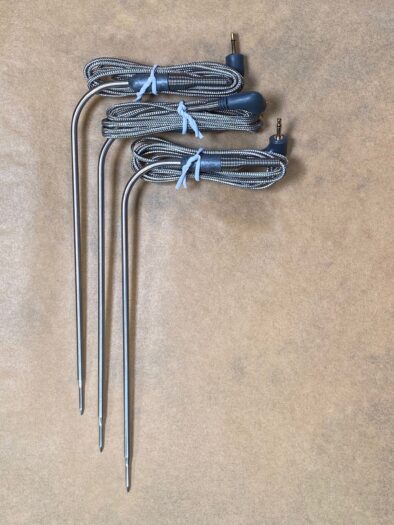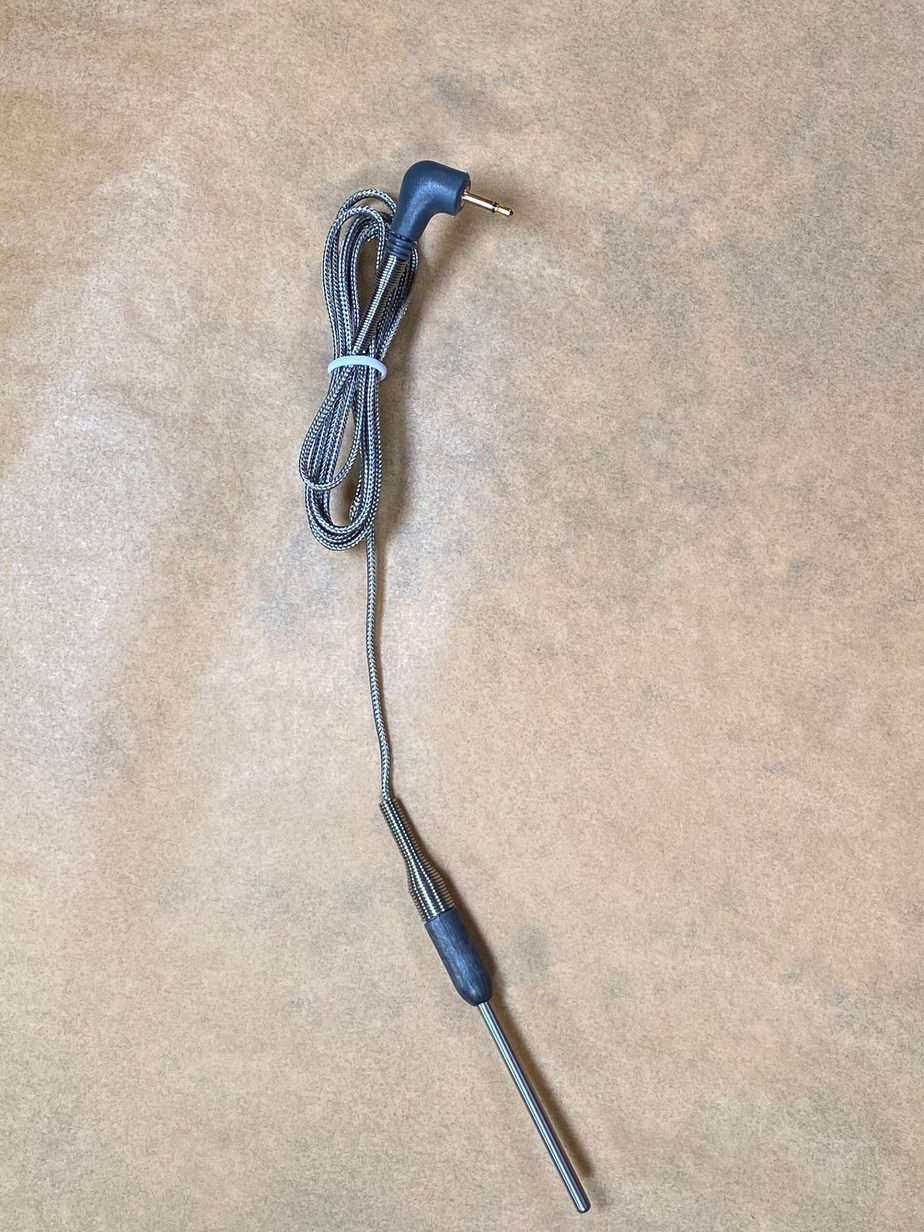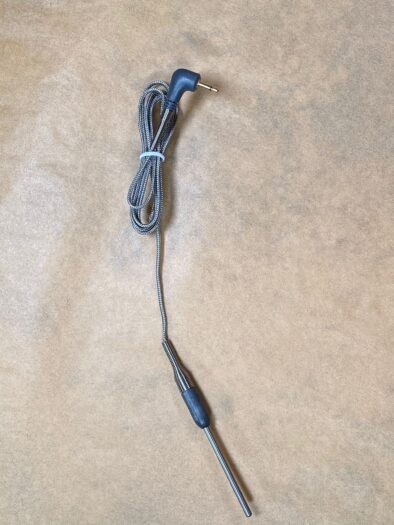 Grate Clip
The ambient probe is made to pass through the two holes in the grate clip. The grate clip can be attached to the grate of your smoker or grill. You may need to bend it in in or out carefully to make it fit properly on your particular grate.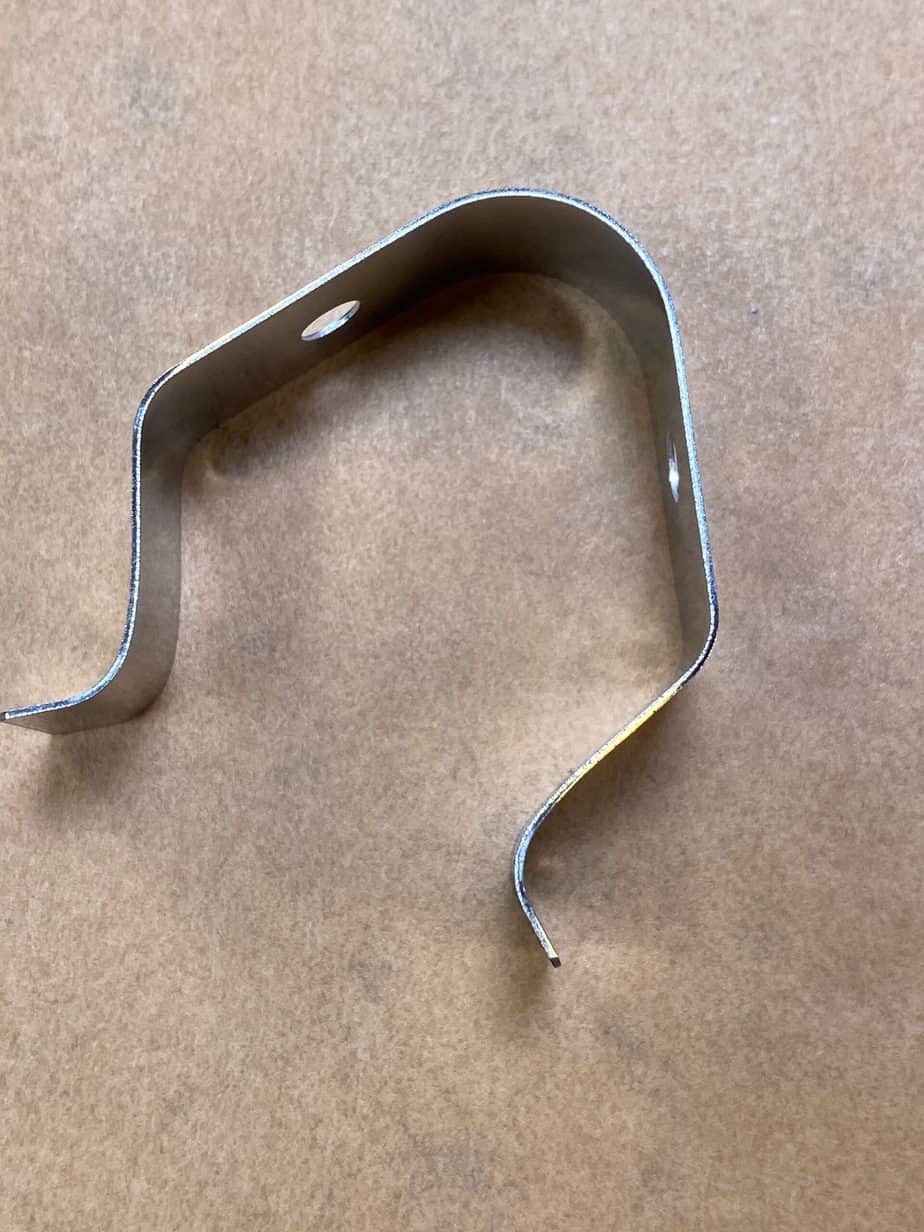 Colored Silicon Rings
This product ships with (8) silicon rings– four colors, two of each color. The rings are placed on the probe end and on the plug end of the probes to color-code them and help keep things straight. When you have multiple probes running every which way, color coding will help you to know what probe goes to which piece of meat.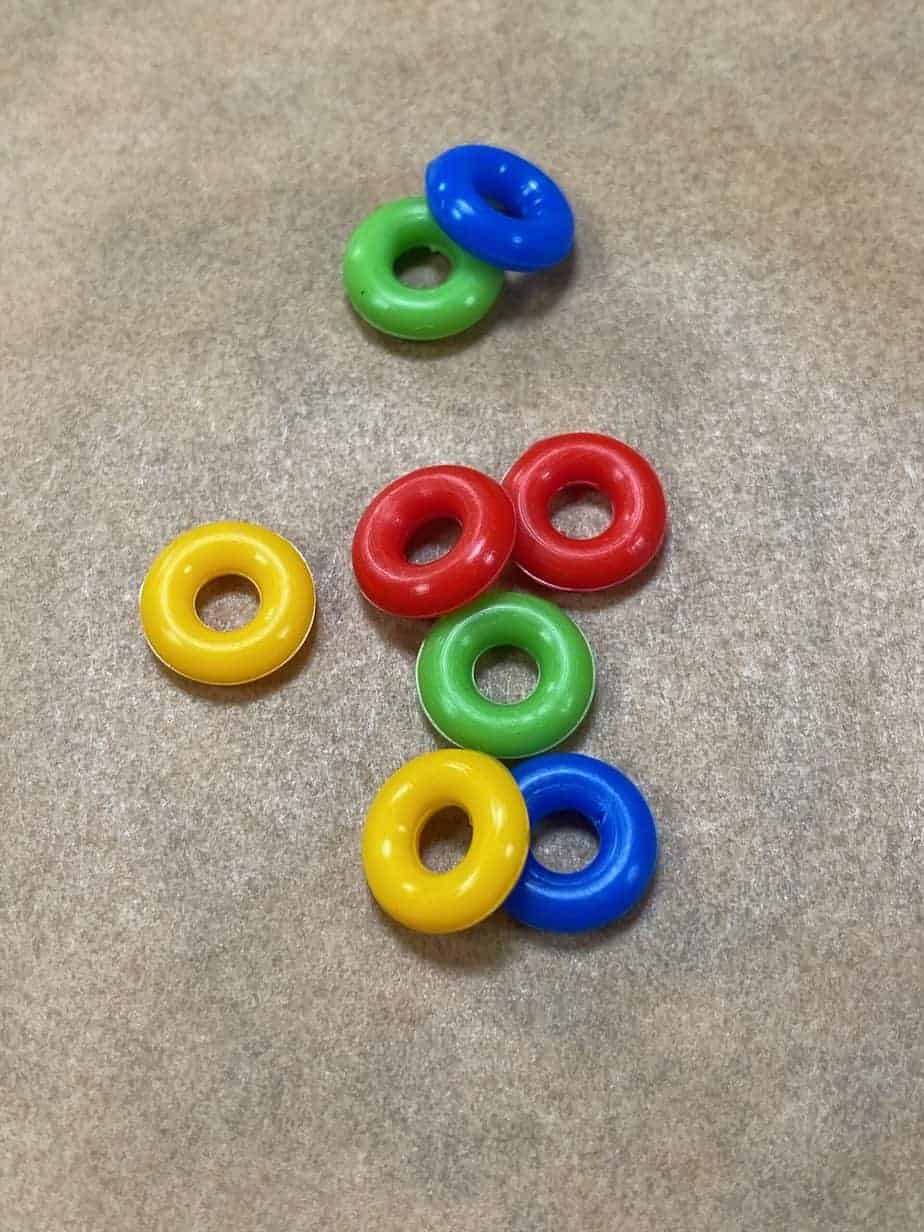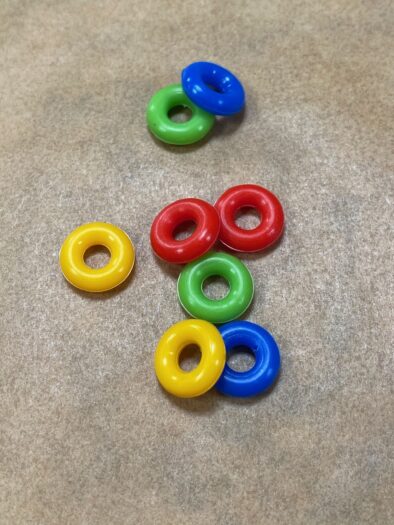 The Receiver
This is the part of the unit that you carry with you wherever you are whether that's next to your favorite chair, by the pool, on the bedside table or around your neck using the included lanyard.
Like the main unit, it's screen is divided into sections and shows you the temperature as well as the alarm on or off setting and the high/low alarm settings.
The receiver has 2 button on the front, 2 inset magnets on the back and a battery compartment.
I complained about the rounded bottom on the original Smoke receiver and I was so happy to see that the new Smoke X receiver has a flat bottom side on the receiver so it can easily sit on the table.. no special holder needed.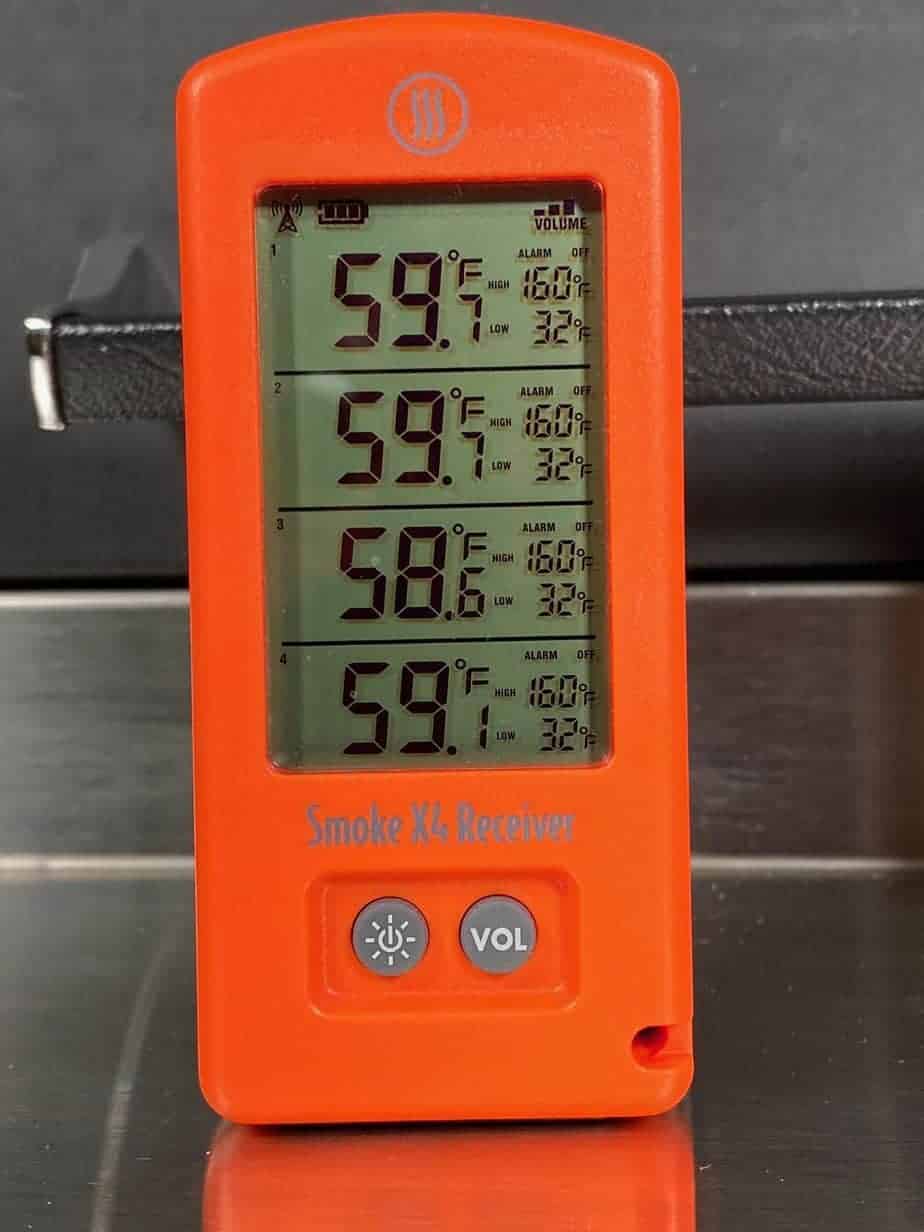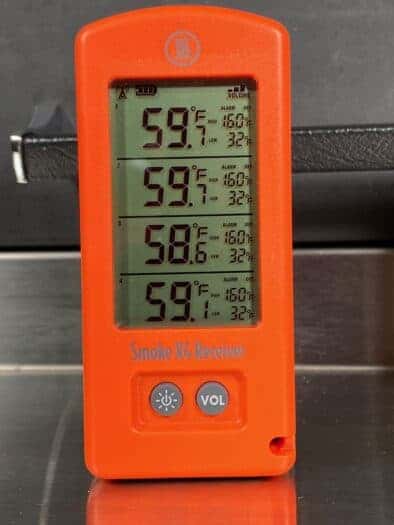 Buttons
Light/Power button – Turns the light on for 20 seconds. Also works the same as the on/off button on the main unit– press once to turn the receiver on or hold it for 3 seconds to turn the receiver off.
Vol (volume) – Cycles through the 4 alarm volumes from loud to soft and then off.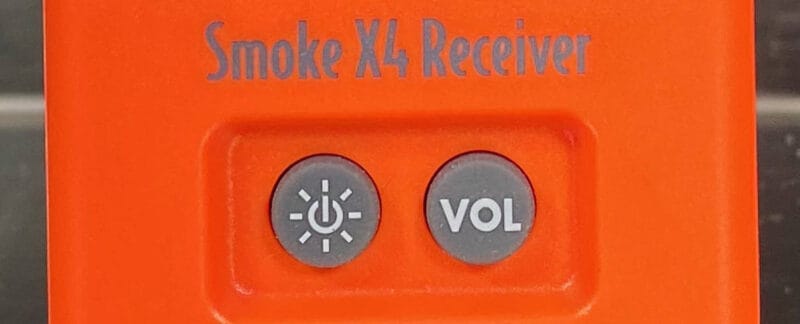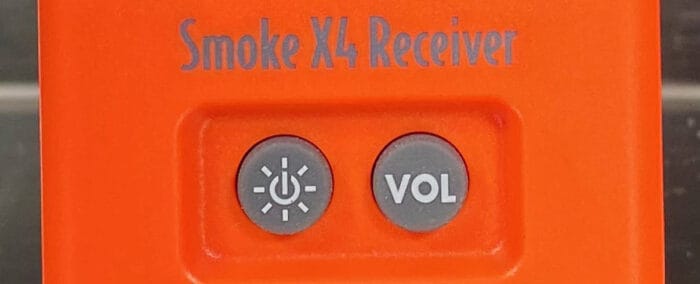 Lanyard
The lanyard attaches to the hole in the bottom of the receiver and is designed to allow the unit to hang around your neck for each access while you are doing other things.
Battery Compartment
Both the main unit and the receiver have a battery compartment accessible with a single phillips head screw. Once the cover is removed, there are (2) AA batteries that power each unit.
The batteries are designed to last about 330 hours (wow!) under normal use.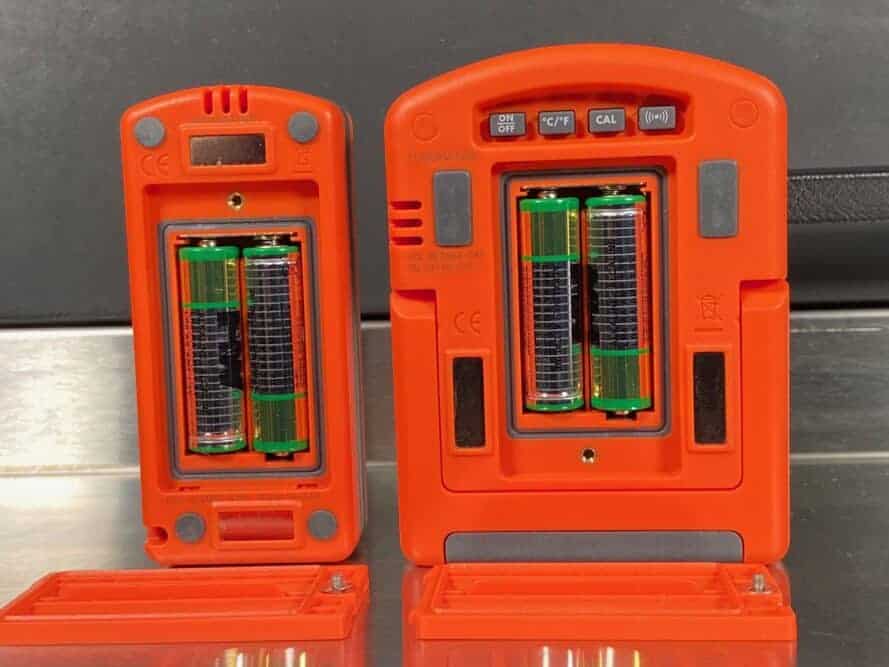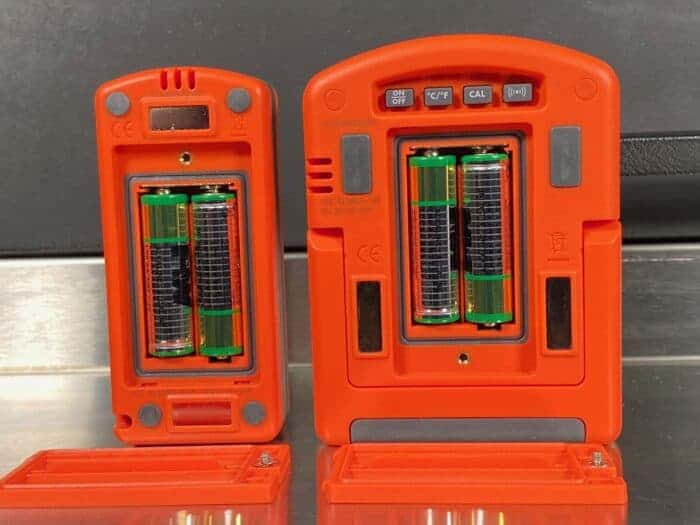 Transmission Range
One thing that I think is going to be very handy is the extended transmission range.. the original Smoke had a range of about 300 feet (plenty for me most of the time) but the new Smoke X has a line-of-sight range of 1.24 miles!
Because this is line-of-sight, it doesn't necessarily mean you can run to the grocery store up the street but because it has this much range, but you can be assured that it will reach all parts of your house and then some.
I decided to give this a try in my own neighborhood and I was able to get about 2 blocks away with 6 houses or more between us before it cut out.
Sync Multiple Receivers
And in case you weren't aware, you can sync multiple receivers to a single main unit.. another great feature for barbecue competitors. Everyone on your team can know what is going on at the smoker, at all times.
My overall opinion of the Smoke X meat thermometer
There are plenty of thermometers available that I don't rave about.. they're just not all that amazing. When I rave about one, it's because it's worthy of raving and one that I think all of you are going to love using.
As I said early on, I love the original Smoke thermometer and the X is everything great about the original Smoke plus a lot more.
=>Here's a comparison chart between the original Smoke and the new Smoke X
I love having a dedicated receiver instead of having to connect to an app on my phone via bluetooth or Wi-Fi. smart phone connection is nice for some applications but it's also really nice to not have to bother with opening, syncing, connecting, etc. Just turn them on and it's magically working.. throughout the entire house and beyond.
Anything I don't like about the Smoke X?
So far, I have not found anything to complain about.. it's well though out and that just means the manufacturer really did their homework to find out what people liked and did not like about other multi-channel meat thermometers and then used that information to create something amazing.
How to Purchase
Go to https://thermoworks.com/smokex now to purchase one of these. If you want an extra Smoke X receiver or if you want to pick up the Billows fan controller while you're there, you can do that to.
Get Jeff's Products!